Flashback: The Beatles Release The 'White Album'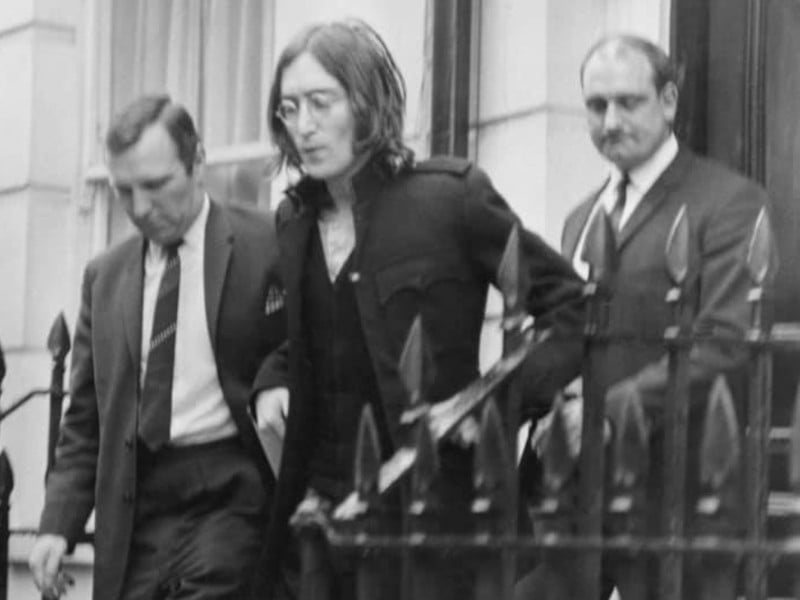 It was 54 years ago today (November 22nd, 1968) that the Beatles released their 30-song self-titled double album, which was commonly known as the "White Album." The album's release followed the group's extended stay in Rishikesh, India where they studied transcendental meditation under the Maharishi Mahesh Yogi. Most of the songs from "The White Album" were written while the group was in India, including "Back In The U.S.S.R.," "Yer Blues," "I Will," "The Continuing Story Of Bungalow Bill," "Revolution 1," "Rocky Raccoon," "I'm So Tired," "Ob-La-Di Ob-La-Da," "Dear Prudence," "Mother Nature's Son," and John Lennon's thinly-veiled attack on the Maharishi, titled "Sexy Sadie."
Other highlights on the album included Eric Clapton guesting on George Harrison's "While My Guitar Gently Weeps," "Julia," "Helter Skelter," "Glass Onion," "Martha My Dear," "Birthday," and Ringo Starr's first composition, the country-flavored "Don't Pass Me By."
Several songs originally intended for the "White Album" turned up on later solo albums, such as "Junk," which Paul McCartney released on his 1970 solo debut McCartney; "Child Of Nature," which Lennon rewrote as "Jealous Guy" for his 1971 album Imagine; "Not Guilty," which made its way onto Harrison's 1979 self-titled album; "Circles," which saw release on his 1982 album Gone Troppo; and McCartney's "Cosmically Conscious" which appeared on 1993's Off The Ground album — with an extended version appearing on the B-side of the title track's single.
Paul Saltzman, the author of the photo book, The Beatles In India, spent weeks within the group's inner circle at the Maharishi's ashram. He says that he never so much as saw the Beatles smoke a cigarette — let alone partake in any illicit drugs: "That was their single most creative period of time in their history. Dennis O'Dell, (who) used to be the head of Apple Films in the '60s, said to me about a year ago: 'Do you know how many songs they wrote in India?' — and I said, 'Do you know how much?' And he said, 'I sure do. When John and Paul came back I asked them how many songs did they write? And Paul answered '48.' In less than eight weeks. Paul was only there five weeks, George and John eight weeks and of course Ringo, 11 days."
In a sick example of the Beatles' growing influence in popular culture, Charles Manson and his "family" members credited the "White Album" as their inspiration for the vicious August 1969 Tate-LaBianca murders in Los Angeles.
Not long before his 2016 death, producer George Martin, who was behind the boards for all the Beatles albums and a handful of solo McCartney discs, told us that McCartney's 1968 "White Album" classic "Blackbird" as one of his all-time favorites: "I always liked the finger-picking style of guitar playing, from both John and Paul. And when Paul did 'Blackbird' it was such a simple way of performing a song — all by himself, nothing else — just tapping away with his foot."
Martin said that the album still sounds more like the work of four solo artists rather than one unified band: "They came back from abroad. . . They'd been away for quite a while after the death of (manager) Brian Epstein. They came back and presented me with 33 songs, which they all wanted to record at once, literally. They said, 'Well, you've got another studio. George has something going in one studio, and I can go in another,' says Paul. I was running from one studio to another, doing a kind of executive role."
George Martin recalled that the material seemed to not be up to the Beatles' usual standards when they first presented it to him: "A lot of the recordings, they would have a basic idea, and then they would have a jam session to end it, which sometimes didn't sound too good. But this was fairly small criticism. When they did The White Album, I thought we should have made a very, very good single album out of it, rather than make a double album out of it. I think it was an album that could have been a fantastically good album if it had been compressed a bit and condensed. But a lot people I know think its the best album they made. So, it's not my view."
Paul McCartney didn't buy into Martin's revisionist beliefs that it could have made a single album on par with Revolver and other single-disc Beatles masterpieces: "Well, y'know, you can always say that. Perhaps I'll go with — but not definitely — in fact I think it's a fine little album. I think the fact that it's got so much on it is one of the things that's cool about it, 'cause they're very varied stuff, y'know 'Rocky Raccoon,' 'Piggies,' 'Happiness Is A Warm Gun' — that kind of stuff. I think it's a fine album. I'm not one for that: 'Maybe it was too many of that — what do you mean? It's great, it sold, it's the bloody Beatles' White Album — shut up!"
George Harrison defended the group's decision to release a 30-song album: "But y'know, what do you do when you've got all them songs and you want to get rid of them so that you can do more songs? Y'know, there was a lot of ego in that band, and there was a lot of songs (on The White Album) that should have been elbowed, or maybe made into B-sides." 15
The Beatles' late-chief engineer Geoff Emerick — who was the first engineer to score a Grammy for his work on Sgt. Pepper — told us that the band finally moving to an eight-track recording console for the "White Album" changed the way Beatles records were mixed forever: "Because of the way we had been working in the past, and basically mixing the finished sounds to tape with echo and almost the right EQ's and everything else; Now we could just — we still approached the recording like that, with the finished sounds. And this was like icing on the cake, 'cause now I had extra tracks and I could actually record the drums in stereo. So this was like magic."
With tensions in the band so high, Geoff Emerick quit the sessions rather than face further attacks by the band. Engineer Chris Thomas stepped in and later went on to produce key albums for the Sex Pistols, the Pretenders, Pete Townshend and McCartney. Emerick was asked if he ever regretted his decision to miss out on engineering the "White Album" and Let It Be classics such as "While My Guitar Gently Weeps," "Back In The U.S.S.R.," and later on, "Get Back" and "The Long And Winding Road": "Not at all. And thinking about it afterwards, I think it was good because it certainly jolted them. It's something that should have been done a long time ago. Looking back, I'm glad I did it. I didn't lose any respect (from them) because I went back and worked at (the Beatles' company) Apple and recorded (their album) Abbey Road."
Beatlefan magazine executive editor Al Sussman recalls at the time that less than a year after Magical Mystery Tour, the Beatles had amazingly dropped all vestiges of psychedelic production: "This was 30 songs! It was much simpler than Sgt. Pepper had been. But we were kind of expecting that, because of the fact that in England, there had been this kind of 'back to the basics' thing — 'Lady Madonna' was part of that, certainly (the Rolling Stones') "Jumpin' Jack Flash' was part of that — "Street Fighting Man." Y'know, it wasn't as grandiose as Sgt. Pepper or Magical Mystery Tour had been. It was very kind of basic."
The group's biggest hit, "Hey Jude" — and its B-side, "Revolution" — were both recorded during sessions for the "White Album," but were left off the album after being released as a single the previous August.
The Beatles' the "White Album" hit Number One on December 28th, 1968 and went on to top the charts for nine non-consecutive weeks.
FAST FORWARD
November 2018 saw the Beatles back in the Top 10 with the 50th anniversary reissue of the band's "White Album." The set jumped back onto the Billboard 200 album charts hitting Number Six.
The massive six-CD, one Blu-ray "Super Deluxe" version of the "White Album" features the album's 30 tracks newly mixed by producer Giles Martin and mix engineer Sam Okell in stereo and 5.1 surround audio, joined by 27 early acoustic demos and 50 session takes, most of which are previously unreleased in any form.
This was the first time the "White Album" had been remixed and presented with additional demos and session recordings. The album's new edition follows 2017's universally acclaimed Sgt. Pepper's Lonely Hearts Club Band "Anniversary Edition" releases.
To create the new stereo and 5.1 surround audio mixes, Martin and Okell worked with an expert team of engineers and audio restoration specialists at Abbey Road Studios in London. All the new "White Album" releases include Martin's new stereo album mix, sourced directly from the original four-track and eight-track session tapes. Martin's new mix is guided by the album's original stereo mix produced by his father, the late-George Martin.
The "White Album" has now been certified 24-times Platinum.