Flashback: The Doors Release Their Debut Album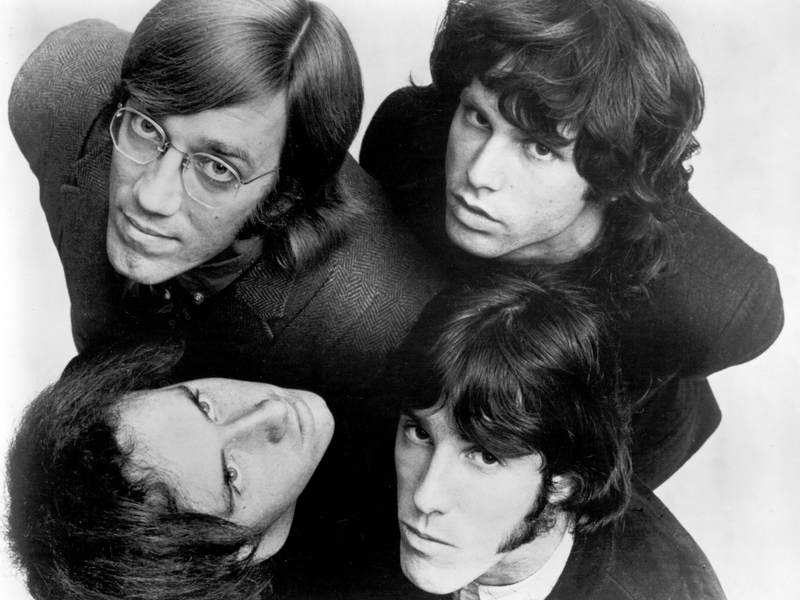 It was 56 years ago today (January 4th, 1967) that the Doors released its groundbreaking and iconic self-titled debut album. The album, which hit Number Two on the Billboard 200 albums chart, featured such instant classics as "Break On Through (To The Other Side)," "Soul Kitchen" "The Crystal Ship, "Alabama Song (Whiskey Bar)," "The End" — and the band's first of two chart-toppers, "Light My Fire."
On July 29th, 1967, "Light My Fire" began its three-week run at Number One, launching the Southern Californian Doors internationally and immortalizing the band's iconic frontman, Jim Morrison. Although the 2:52 single version of the track, which was edited from the 7:02 album version, was created specifically for the AM market — many stations decided to spin the full version with keyboardist Ray Manzarek and guitarist Robby Krieger's sprawling solos. Upon its initial release, the Doors' "Light My Fire" sold over a million copies and scored Elektra Records its first Number One single.
When the group performed "Light My Fire" on The Ed Sullivan Show on September 17th, 1967, they were asked to change the line "girl we couldn't get much higher." The band agreed, but when they went onstage, Morrison went ahead and sang the line anyway. In 2017, in commemoration of its 50th anniversary, a new 45 r.p.m. single was reissued with the song's original B-side, "The Crystal Ship."
The song, which ended the Association's month-long dominance of the Billboard Hot 100 with the soft pop of "Windy," was ultimately knocked out of the top spot by the Beatles' own classic "Summer Of Love" anthem, "All You Need Is Love."
Robby Krieger recalled how the band-credited "Light My Fire" came to be composed, telling Billboard's Fred Bronson, "Ray had the idea for the opening, part, which was the real hook. Jim helped me out on some of the lyrics. . . and the beat was John (Densmore's) idea."
"Light My Fire" was is ranked Number 35 on Rolling Stone's list of The 500 Greatest Songs of All Time. In 1968, newcomer Jose Feliciano's ballad version of the song topped out at Number Three and snagged him the 1969 Grammy Award for Best Male Pop Vocal Performance and helped earn him the award for Best New Artist.
2016 saw the release of The Doors: 50th Anniversary Deluxe Edition. The collection is packaged in a 12-inch by 12-inch hardcover book, along with a newly remastered version of the album's original stereo mix — and for the first time on CD — the album's original mono mix.
In 2012, Rolling Stone ranked The Doors 42nd on the magazine's list of The 500 Greatest Albums Of All Time. To date, the album has sold over four million copies in the U.S. alone.
In 2015, the Library of Congress announced The Doors would be included in its National Recording Registry.
We asked drummer John Densmore to recall the earliest days of the Doors before he, Ray Manzarek, Robby Krieger, and the legendary Jim Morrison had become household names: "Ray and I were listening really carefully to each other, 'cause his left hand was the bass. So, Ray and I kind of laid down the bed for Jim and Robby to float on top of. And then we get a record deal and that's another stage; but really, I would say, when we started playing small concert halls, second bill, or something — out of the clubs — I thought, 'Oh my God. . . I'm gonna make a living and this is gonna. . . this train is leavin' the station!' That's really almost more exciting as playing Madison Square Garden, because it's this dream coming true, y'know?"
Guitarist Robby Krieger says that looking back, the Doors' short time together was relatively free of ego problems or star trips: "It was really, like, the perfect group, y'know, as far as working together and stuff. There was no ego problems, y'know, and petty jealousies and stuff like that that a lot of groups go through."
Shortly before his death in 2013, Ray Manzarek told us that whether they liked it or not, the Doors ended up being spokesmen for their generation: "There was a war in Vietnam and, y'know, that had to be stopped, and we were gonna try to clean up the environment, and do all those good things that hippies were trying to do. And everyone was angry, man, so, y'know, we tried to make the music as hard and as powerful and as exciting as possible. And when you got Jim Morrison as your lead singer, well, y'know, that's an extra plus. So that's what it was all about."
In 1968, while the Doors were on tour in Europe, Jim Morrison spoke about the type of music he'd like to see the band tackle: "I'd like to do a song, or a piece of music that's just a pure expression of joy. Like, a celebration of existence. Y'know, the coming of spring, or, like, the sun rising, or something like that. Just pure unbounded joy, y'know? I don't really think we've done that yet."