Flashback: The Rolling Stones Perform 1969 Altamont Speedway Concert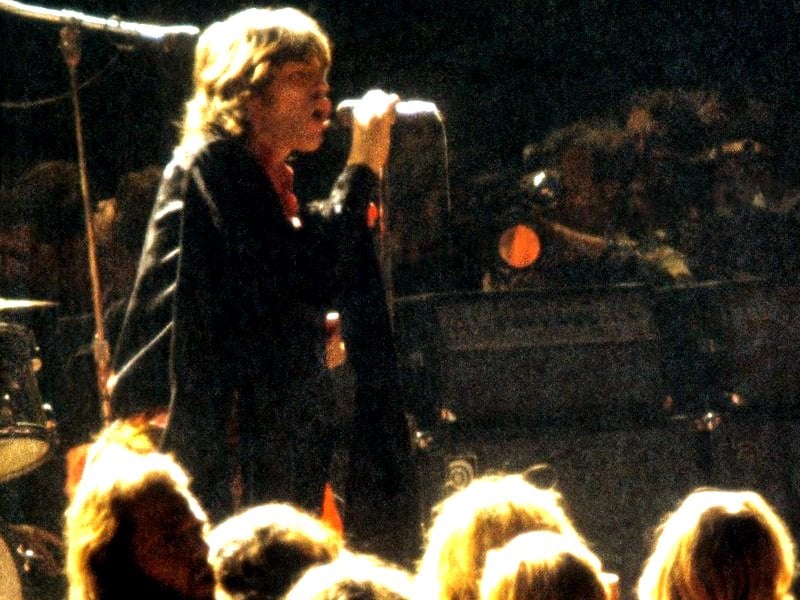 It was 53 years ago today (December 6th, 1969) that the Rolling Stones held their ill-fated free concert at the Altamont Speedway in Livermore, California. The bill, which also included Santana, the Jefferson Airplane, the Flying Burrito Brothers, and Crosby, Stills, Nash & Young, is mainly remembered for the violence instigated by the Hells Angels motorcycle gang, whom the Stones had hired as security — and the murder of concert-goer Meredith Hunter by Hells Angel Alan Passaro. Passaro was later acquitted of the stabbing after claiming he acted in self-defense.
The Stones' Madison Square Garden shows and the Altamont event were filmed by filmmakers Albert Maysles, David Maysles, Charlotte Zwerin, and assisted by George Lucas, among others. The film was released in 1970 as Gimme Shelter.
At the New York City press conference on November 26th, 1969, Mick Jagger said he thought that the free Northern California concert would follow in the footsteps of the Woodstock festival, in terms of how people would get along: (Mick Jagger): We are doing a free concert in San Francisco. . . (Reporter): When? (Mick Jagger): December 6th — and the location is not Golden Gate Park, unfortunately, but it someplace adjacent to it which is a bit larger. . . It's creating a sort of a microcosmic society, y'know, which, it sets an example to the rest of America as to how one can behave in large gatherings."
Keith Richards, who had opted to spend the previous night at the raceway concert grounds, hanging out and partying with fans, revealed the moment he knew things were going to go south with the event: "When I got a bad vibe about it was when I saw the condition of the Angels. Now, I can tell these guys are on acid and ripple wine. And they're already (wasted) in the early afternoon. They're startin' to get antsy. These guys were out there just lookin' for trouble."
Jefferson Airplane guitarist Jorma Kaukonen (pronounced: YOR-ma COW-co-nen) said that his only thought was to keep playing after he saw lead singer Marty Balin get punched in the face by one of the Hell's Angels: "I remember thinking that — of course, if you look at the footage, Jack (Casady) and Spencer (Dryden) and I pretty much keep on playing — I remember thinking at the time, 'I'm just gonna keep playing and see what happens.'"
Shortly before his death in 2018, Marty Balin looked back at Altamont and described to us the fight scene between him and the Hell's Angles that took place while the band performed "The Other Side Of This Life": "I was singin,' I open my eyes, and they're beating this guy in front of me in (front of) the stage with these pool cues. About 10 of 'em around this guy and the whole crowd, en masse, just kind of stepped back. And that pissed me off and I just leap off the stage and I start pushing these Hell's Angels back: 'You're ruining my set,' y'know, and they. . . (imitates drunken Hell's Angel) 'Hey Marty, whaddaya doing man, you should be up there singing, and y'know. . . ' — I said, 'Nobody's listening to me, get away from me,' y'know? And so, they quit and I got back onstage and I started to sing again, the same opening, y'know? And behind me, they're fighting this guy again. And so, I said, well, nobody's paying any attention to what I'm doing at all, y'know, so I went back and their leader — the guy with the wolf's head, y'know, he was there. So, him and I started punchin' it out, y'know. And then bam — I blacked out. They knocked me out, y'know? And I woke up, I had all these boot tattoos all over my body, y'know? I left, went home. I told everybody, I says, 'Forget it. I'm outta here.'"
The Rolling Stones had dealt with the Hells Angels before, when the London chapter showed up in force the previous July during the Stones' legendary free concert at Hyde Park. The late-Charlie Watts recalled the subtle difference between them and the bikers that turned up at Altamont: "Except that these were actual, proper Hells Angels (laughs). It was a bit like asking the Nazi party to sort out the front of the auditorium."
The show's low standing stage eventually became overcrowded with fans and Angels alike. The Stones' tour manager Sam Cutler pleaded with the people to give the musicians room to play: "There are a number of people on and around this stage who should not be here. Consequently. . . consequently the musicians on this stage are playing with something like 200 people breathing down their necks. Now can I please ask that everyone leaves the stage, and as I say we'll go back to playing music and nothing else."
Both Mick Jagger and Keith Richards sought to get the crowd in line so that the Stones could play their set: "(Mick Jagger): People, who's fighting and what for?! Why are we fighting?! Why are we fighting?! We don't want to fight! Come on! Who wants to fight? (crowd noise) Every other scene has been cool. . . (Keith Richards): Look, cat. . . That guy there, if he doesn't stop it man! Listen man, either those cats cool it, or we don't play! (crowd noise). (Hell's Angel): Hey, if y'don't cool it, y'ain't gonna hear no music! Now y'all wanna go home or what?! (Crowd noise) (Announcer): We need doctors down here now please. Can we have a doctor now to the front? (Crowd noise)
Although the Grateful Dead were scheduled to play, they refused to take the stage in the middle of what was obviously a very ugly situation unfolding. Drummer Bill Kreutzmann says that the scene at Altamont was as tragic in real life as it appears in the Gimme Shelter footage: "Yeah, it was horrible. It was a war. It felt really uncomfortable. It was a dark day. It was so dark that that night, we were playing that weekend for Bill Graham at the Carousel, and I refused to play that night, I was feeling so bad about what had happened that day. I didn't feel like going and celebrating it musically."
Chris Hillman of the Flying Burrito Brothers told us that from top to tail, Altamont was a dangerous mess. He recalled getting a warning from his former-Byrds bandmate, David Crosby, before playing the Burritos' set: "I'll tell you this, having been there — it wasn't the people, it was the Hells Angels. And before that last note on the bass stopped ringing, I was gone. From the time it was offered to us, I didn't want to do this (gig). I didn't like it and it felt bad — and it was bad. It was the worst experience I've ever had. When David Crosby's walkin' down the stairs from the stage, and I'm starting to go up and he says, 'Be careful. Be careful — pay attention.' And they left immediately. There ya go — that's Altamont."
In 1972, during a chat with Dick Cavett while back in the States on tour with the Stones, Bill Wyman was asked about Altamont: "I'd sooner forget about it. It was just a very unfortunate thing. It was the last show of a tour. Y'know, we weren't going to do it. It was just a free concert that was set up a few days before and I mean . . . There was 300,000 people there. It was only 30 people fighting. Almost all the audience never even saw it. Didn't even know it was going on, y'know?"
In May 1970, while on tour with the Grateful Dead in Europe, Jerry Garcia took time out to compare and contrast the previous year's era-defining concerts: "With Woodstock and Altamont, the same situations were prevailing. It was free — essentially — and it was also completely without control of any sort. Y'know, there were no police. There's no way you can realistically control that size, really. You can't expect to. The way I saw it, both of those situations were being, like, two sides of the same coin. It's like two ways that that kind of expression can go; y'know, a huge number of people and no rules. And one of the ways, obviously it can go is a terrible bummer — like Altamont, and one of the other ways is into an immensely joyful scene — like Woodstock."
Although only a handful of songs from the concert were shown in Gimme Shelter — giving the appearance that the show was cut short due to the unruly crowd and violence — the band actually performed a full 15-song set — including the world premiere of "Brown Sugar."
The Stones' full setlist at the Altamont concert was: "Jumpin' Jack Flash," "Carol," "Sympathy For The Devil," "The Sun Is Shining," "Stray Cat Blues," "Love In Vain," "Under My Thumb," "Brown Sugar," "Midnight Rambler," "Live With Me," "Gimme Shelter," "Little Queenie," "Satisfaction," "Honky Tonk Women," and "Street Fighting Man."
Out now is Get Yer Ya-Ya's Out! The Rolling Stones In Concert 40th Anniversary Deluxe Box Set. The set features three CD's and one DVD, with the first disc including the full 1970 Get Yer Ya-Ya's Out album, and the second disc including five additional cuts left off the original set. The third disc features performances from Ike & Tina Turner and B.B. King who served as the Stones' opening acts on November 27th and 28th, 1969 at New York's Madison Square Garden.
In August 2015, Keith Richards recalled the Altamont Speedway concert, during an appearance on Britain's Absolute Radio. Richards remembered the band being extremely on edge as the crowds started to surge, due to the continuous scuffles between the fans and the bikers: "I don't know if it was scary, it was just like, 'Wow you have got to do something about this before it turns into a full scale riot. We handled it the best way we could. Basically I just stopped playing and it happened to work. . . As events turned out security wasn't what it should be."
Although Meredeth Hunter was killed only yards away from the band, the show went on — mainly, as the Stones have said over the years — because more violence would've occurred had they quit. Richards explained: "We didn't know the cat was dead or anything, but we saw what was going on. . . It was a matter of 'quick do something, and distract people from the Hells Angels.'"
In 2016, renown rock writer Joel Selvin published the definitive account of the 1969 concert, titled, Altamont: The Rolling Stones, The Hells Angels, And The Inside Story Of Rock's Darkest Day.
2018 saw the publication of author Saul Austerlitz's Just A Shot Away: Peace, Love, And Tragedy With The Rolling Stones At Altamont.