Flashback: The Rolling Stones Release 'It's Only Rock N' Roll'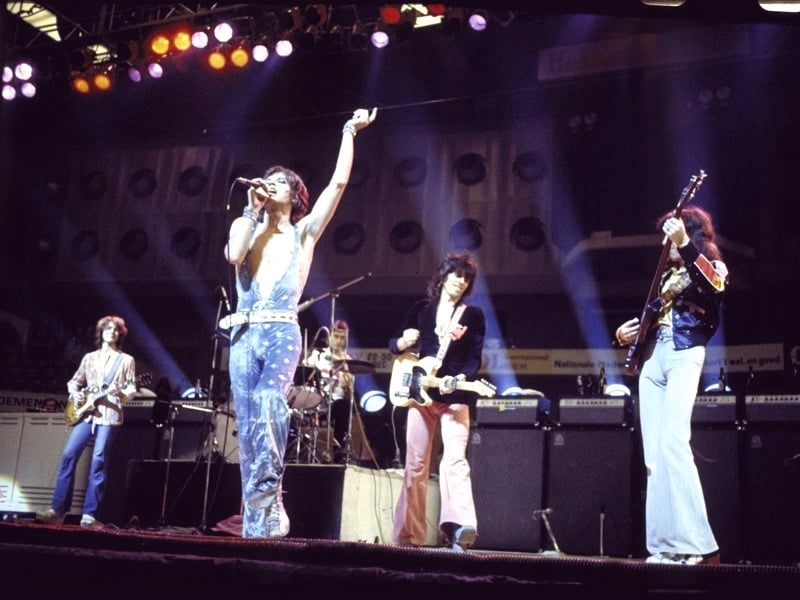 It was 48 years ago today (October 18th, 1974) that the Rolling Stones' released It's Only Rock N' Roll. The album marked the Stones' first without Jimmy Miller — their producer since 1968's Beggars Banquet — with production duties handled by Mick Jagger and Keith Richards under their joint pseudonym, "The Glimmer Twins." The album topped the Billboard 200 albums chart for one week, starting on November 23rd, 1974 and spent a total of seven weeks in the Top 10.
Although the set featured several cuts that reached extensive FM airplay, the album's two singles both failed to reach the Top 10, with the title track hitting Number 16 and its followup, a cover of the Temptations' 1966 hit "Ain't Too Proud To Beg" only reaching Number 17.
The song "It's Only Rock N' Roll" grew out of a jam session between Jagger, David Bowie, soon-to-be Rolling Stone Ron Wood, his Faces bandmate Kenney Jones, and bassist Willie Weeks. Keith Richards reportedly wiped Wood's contributions off the master tape, replacing the guitar tracks and Wood's name on the songwriting credits. Jagger cut a deal with Wood, trading him full copyrights and credits for their other co-write — "I Can Feel The Fire" — so that he could keep the song and credit it as a Jagger/Richards original. "I Can Feel The Fire" — which Jagger sings on — can be found on Wood's 1974 solo debut, I Got My Own Album To Do.
It's Only Rock N' Roll proved to be the sixth and final Stones album to feature Brian Jones' replacement, Mick Taylor. Taylor was responsible for some of the Stones' most famous solos during their early '70s heyday and was highlighted on Sticky Fingers' seven-plus-minute, Latin-infused workout "Can't You Hear Me Knocking." He has gone on record over the years claiming that he actually co-wrote many Stones songs for which he's never been credited or compensated, including "Moonlight Mile," "Sway," "Winter," and It's Only Rock N' Roll's ballads "Till The Next Goodbye," and "Time Waits For No One," among others.
At the time of the album's release, an obviously drug addled Keith Richards appeared on BBC's The Old Grey Whistle Test to talk about the album: "Basically, everybody's together to cut the tracks, after that, everybody sort of disappears and leaves it to Mick and I, because they get confused after a while. And everybody sits in the studio saying, 'No, this should be louder, this. . ." We end up usually, Mick and I, struggling along by ourselves (laughter)."
The following year, Mick Taylor appeared on the program and shed light on his exit from the Stones' camp: "It had been in the back of my mind for quite a long time. I mean, my role as lead guitarist has always been very satisfying, especially playing live onstage, which is where I feel I make my greatest contribution toward the group. But as my own music started to develop, it became more and more difficult to express myself within the style of the group. And, I mean, it's the style of the Stones that makes them so good." (:29 OC: . . . them so good."
After leaving the Stones in December 1974 and eventually being replaced by Ron Wood, Taylor briefly teamed up with Jack Bruce, with less than successful results.
In Marc Spitz' 2011 biography, Jagger: Rebel, Rock Star, Rambler, Rouge, Carly Simon revealed that at the same time that Jagger laid down backing vocals on Simon's 1972 track and eventual chart-topper, "You're So Vain," she and Jagger co-wrote the It's Only Rock N' Roll album track "Till The Next Goodbye'" and co-credited Keith Richards instead of her. Simon is quoted as saying, "We wrote a song together that became a song on the next Stones album (It's Only Rock N' Roll) called, 'Till The Next Goodbye.' I thought that was going to be a joint venture, but I'd never heard from Mick about how he'd like me to share the royalties."
Upon hitting the road in 1975, the Stones included six tracks from It's Only Rock N' Roll in their setlitsts: The album's opening cut "If You Can't Rock Me" (played in medley with "Get Off My Cloud"), "Ain't Too Proud To Beg," "Luxury," "Fingerprint File," "Dance Little Sister," and "It's Only Rock N' Roll."