Flashback: The Traveling Wilburys Release Debut Album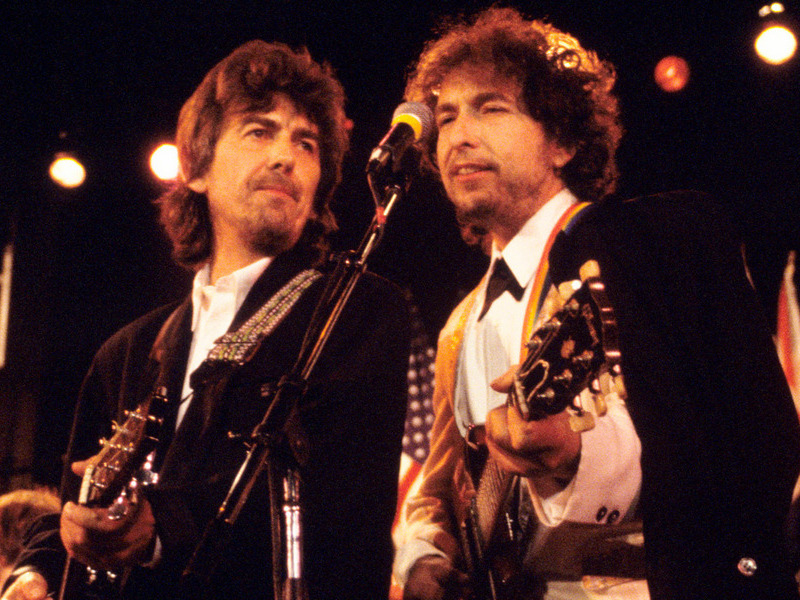 It was 34 years ago today (October 18th, 1988) the Traveling Wilburys' debut album, Vol. 1, was released. The album peaked at Number Three on the Billboard 200 album charts and featured included a veritable Mount Rushmore of rock — George Harrison, Bob Dylan, Tom Petty, ELO's Jeff Lynne, and Roy Orbison. Orbison died only two months after Volume 1 was released and still riding high on the charts.
In 1990, Vol. 1 went on to score the Traveling Wilburys their only Grammy for Best Rock Performance By A Duo Or Group and has since been certified triple platinum.
The tracklisting to 'The Traveling Wilburys' Vol. 1′ is: "Handle With Care," "Dirty World," "Rattled," "Last Night," "Not Alone Any More," "Congratulations," "Heading For The Light," "Margarita," "Tweeter And The Monkey Man," and "End Of The Line."
Jeff Lynne was serving as George Harrison's co-producer and collaborator for his 1987 comeback album Cloud Nine. He recalled the exact moment the seed of the Traveling Wilburys was first planted: "George had this great idea and he said, 'Y'know what? You and me should form a group' — while we were making his album, Cloud Nine. I said, 'Really? That sound great to me, mate!' Sure enough, we formed a group. I said, 'Who should we have in it?' — and he said, 'Bob Dylan.' 'Of course, yeah. Who else?' And then I said, 'Can we have Roy Orbison there?' 'Yeah, great! That'd be good.' And we both loved Tom Petty, so we had him, as well. And it was just a marvelous time. It was probably one of the most marvelous times I can ever remember."
George Harrison explained that the Traveling Wilburys came to be almost by accident — with help from Jeff Lynne — when his record label demanded a new B-side for his latest single: "I was in Los Angeles and he was producing Roy Orbison and we were having dinner one night and I said, 'I'm gonna have to write a song and just do it',' y'know? And we were saying 'Where can we get a studio?' And he said, 'Well, maybe Bob' — 'cause he's got this little studio in his garage. And it was that instant, y'know, we just went back to his house, phoned up Bob, he said 'Sure, come on over.' Tom Petty had my guitar and said, when I went to pick it up, he said, 'Ah, I was wondering what I was gonna do tomorrow,' and Roy said, 'Well give us a call tomorrow if you're gonna do anything, 'I'd love to come along.'"
FAST FORWARD
Traveling Wilburys Vol. 3 was released on October 29th, 1990. The platinum selling collection just missed hitting the Top 10, stalling at Number 11.
The Wilburys never performed live in concert.
Tom Petty & The Heartbreakers performed "Handle With Care" during 2002's Concert For George at the Royal Albert Hall.
Jeff Lynne performed "Handle With Care" during his recent shows with ELO.