Flashback: The Who Releases 'Quadrophenia'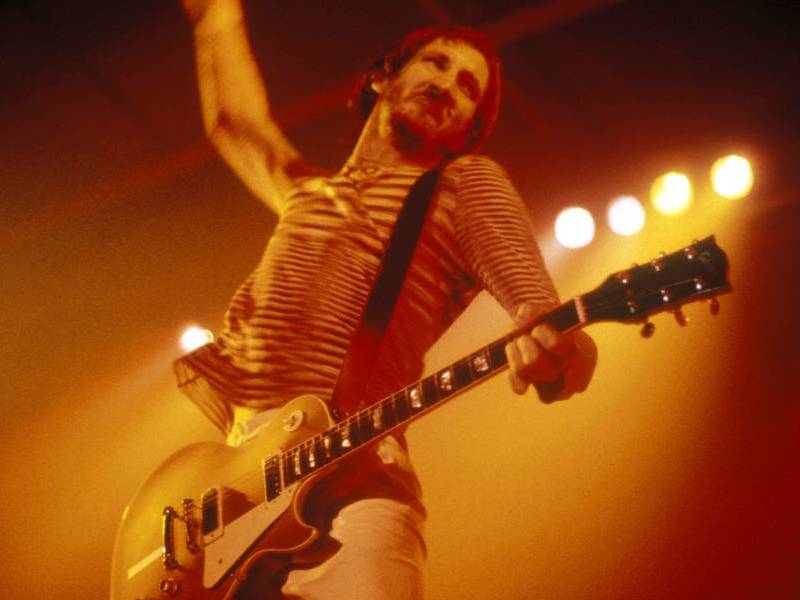 It was 49 years ago today (October 19th, 1973) that the Who released their second double album, the watershed 1973 collection, Quadrophenia. The set featured such classic Who songs as "The Real Me," "5:15," "I'm One," "The Punk And The Godfather," "Drowned," "Sea And Sand," and "Love Reign O'er Me," among others. A film version based around the album was produced by the band and released in 1979. The Who returned to the road in North America and Europe in 2012 and 2013 for their critically acclaimed "Quadrophenia & More Tour," which saw the band reviving the album with a new, state of the art production.
Pete Townshend's long-awaited orchestral version of Quadrophenia, titled Classic Quadrophenia, premiered on July 5th, 2015 at London's Royal Albert Hall starring Townshend and Alfie Boe singing Roger Daltrey's original parts with the Royal Philharmonic Orchestra and the London Oriana Choir conducted by Robert Ziegler. The new 'symphonized' version was orchestrated by Townshend's wife, musician and composer, Rachel Fuller, with a studio version of the work also released on CD. The team hit the road last year for five high-profile performances of the production in New York, the Chicago area, and Los Angeles.
In June 2014, the Who released the live package, Quadrophenia: Live In London. The set was recorded on July 8th, 2013 during the band's tour-closing concert at London's Wembley Arena. The collection is released in seven different configurations — including a five-disc metal box. In 2012, the Who released the critically acclaimed Quadrophenia "Director's Cut" Box Set. The collection marked the first release of all of Pete Townshend's fully produced one-man-band demos for Quadrophenia — including the tracks which ended up on the 1979 film soundtrack, along with previously unheard titles.
For Quadrophenia, Pete Townshend created a song cycle chronicling the life of "Jimmy" — a pill-popping fashion conscious R&B loving "Mod" from London in the mid-'60s. The album focused on Jimmy's battles with his parents, the mod nightlife, his demeaning office job, and the mods' legendary beach rumbles against their cultural nemesis, the "Rockers."
The character of Jimmy was supposed to represent the four facets of the Who: Keith Moon (insane), John Entwistle (romantic), Roger Daltrey (bad), and Townshend (good).
During his guest lecture at 2007's South By Southwest festival, Townshend was asked which he prefers; the band's 1971 album Who's Next, which features only a selection of tracks recorded for his unrealized sci-fi follow-up to Tommy, called Lifehouse, or the more grounded Quadrophenia: "I like Quadrophenia better because it's purer. Y'know, it's complete. I had complete control of it, and I think that hurt the band a bit that I had such control over it — particularly Roger, who had a feeling that he was on the outside, even though he is very much a pillar. Quadrophenia is also an iconic rock piece. Quadrophenia was also more self-contained. If in a way the failure of Lifehouse led to Quadrophenia then I'm happy, because I think I will never surpass it."
Townshend told us that for Quadrophenia, when writing and demoing the material, he simply followed the same template he had used for the Who's previous projects: "I put my brain into gear, y'know, get my guitar and keyboards out, go into my studio, and then try to start to serve the band in response. And I'd done it a few times. Y'know, I'd done it in the early days with a bunch of pop singles, I'd done it with Tommy, I'd tried to do it again with Lifehouse — which led to Who's Next — and with Quadrophenia, it just landed beautifully."
Roger Daltrey's tour-de-force lead vocal on the album's finale "Love Reign O'er Me" is one of dozens of examples of him taking a Townshend song and completely reinventing it as his own: "That's what I used to try and do is to leave people with a mood in a note, and a passion in the song. That in somehow or the other, either went against the lyric, or took the lyric to somewhere where you didn't think. . . It's like 'Love Reign O'er Me' for instance. Pete never, ever saw that as a loud screaming plea, the way I sang it. He saw it as a quiet song — which obviously you can do. In the terms of the way Quadrophenia was, I saw it as that scream of desperation from the street. He didn't like it. He didn't like what I did with it (laughs) probably still doesn't!"
The Who began performing Quadrophenia as a whole in 1973, but eventually cut many of the songs out of the live shows due to problems in syncing the various live tapes and synth loops to the band's performance. Using various guest stars and supplemental musicians, the Who reunited in 1996 and 1997 and performed Quadrophenia in full. A stage production of Quadrophenia recently ran in the UK.
Even before first joining the Who in 1996, Quadrophenia has always been a family affair for Simon Townshend, who as part of the Who's touring band, performs the album's "The Dirty Jobs" in the Quadrophenia shows. In addition to his brother Pete writing and producing the project — middle brother Paul Townshend and Simon's future wife Janie were actually featured as "Mod" teenagers in the album's booklet: "I didn't know a lot about it happening at the time. I guess I was about 12, Paul was about 16. I mean, y'know, I was heavily into music at that time, but, y'know, this was something that Paul was approached about and kind of passed me by, 'cause had I known about it I would've killed to be there. I probably was a bit young for the scene they were trying to create."
Pete Townshend told us that when writing the album in 1972 and 1973, he hoped that Quadrophenia would once again connect them with their early fans who followed the Who back in 1964 when they played such regular haunts as the Goldhawk Club and Railway Hotel: "I kind of hit on this notion that what had happened to the Who, was that we lost contact — not with our audience, per se — but with our original audience, with our very first audience. And it would be interesting to look at what somebody, like a kid y'know, from, y'know, the early days of the band; what they would feel looking at the Who — not so much in the present day, but, y'know, in three or four years on — and whether they would find themselves in that band or not. And if they did find themselves in that band, what would they find?"
In 1979, the plot of Quadrophenia was slightly altered for the cult classic movie version, which was produced by the Who. Although the band doesn't appear in the film, one rocker who shone in the Frank Rodham-directed Quadrophenia — starring as "Ace Face" — was none other than Sting in his first major movie role: "The movie came out just as the Police were having our first success, so there was a sort of double whammy of me (laughs) as a singer and then a figure in Quadrophenia — which was quite a small part, but I seem to have made a big impact with a sort of iconic look. I'm not taking much credit for it, I didn't do very much in the film, but I thought it was a good film. I thought it was one of those films that summed up an era."
During the Who's 2006-2007 tour, the band dropped most of the material from Quadrophenia from their set lists after Daltrey complained that singing the material from their then-new album Endless Wire along with songs from Quadrophenia was too taxing on his voice. By their 2008 dates, Daltrey was back on board, tackling both "5:15" and "Love Reign O'er Me."
The Who's ongoing "Moving On!" tour sees the band — backed by a local orchestra — performing a total of five songs from Quadrophenia — "The Real Me," "I'm One," "5:15," "The Rock," and "Love Reign O'er Me."
The Who next performs on Wednesday (October 20th) in Portland, Oregon at the Moda Center.