Happy Birthday, Billy Joel!!!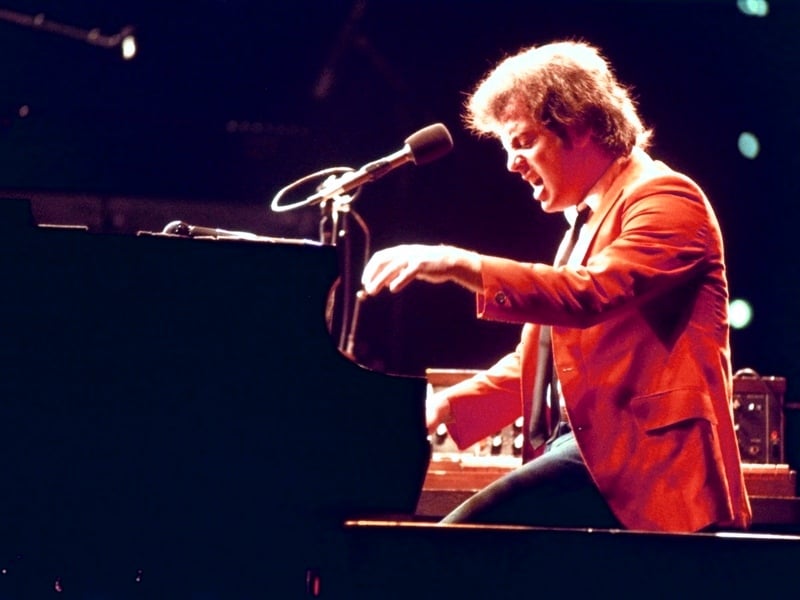 Happy Birthday to Billy Joel, who turns 74 today (May 9th)!!! In addition to his ongoing monthly Madison Square Garden residency, Billy Joel has been doing incredible business out on the road with a string of select joint stadium dates with Stevie Nicks.
Back in March, Billy revealed he's been sober for two years. During a chat with The Los Angeles Times, the "Piano Man" was asked about his drinking these days, and admitted, "I stopped a couple of years ago. It wasn't a big AA kick. I just got to a point where I'd had enough. I didn't enjoy being completely inebriated, and it probably created more problems in my life than I needed."
Out now is Billy Joel – Live At The Great American Music Hall – 1975. The album was originally issued back in 2021 as part of the multi-disc Billy Joel – The Vinyl Collection, Vol.1, with the new issue marking its first standalone release.
The concert was captured back on June 8th, 1975 at San Francisco's The Great American Music Hall during Billy's tour behind his third album — 1974's Streetlife Serenade. The show features the earliest available recordings of future Turnstiles classics "James" and "New York State Of Mind" — along with Billy's between-song, loving imitations of Joe Cocker, Elton John, and Leon Russell.
Last fall saw the big screen premiere of the 1990 concert film, Billy Joel: Live At Yankee Stadium. The newly re-mixed and re-edited 1990 concert shot in 16mm color film, featured new music and behind-the-scenes footage. In connection with the screenings, for the first time, Billy released Live At Yankee Stadium as a double-disc CD and Blu-ray containing 22 performances from his historic two-day run at "The House That Ruth Built" on June 22nd and 23rd, 1990. All tracks were remixed from the original multi-tracks and feature 11 completely unreleased performances, including "Uptown Girl," "Only The Good Die Young," "Allentown" and more.
Last year it was announced unauthorized Billy Joel biopic is currently in pre-production and will focus on his early days, according to Variety. The film, titled Piano Man, is being developed via Michael Jai White's Jaigantic Studios, with Adam Ripp set to write and direct the film. Ripp is the son of Joel's early manager Artie Ripp, whom he spent years trying to extricate himself from professionally. Jaigantic Studios has acquired the "life rights" of another early Joel manager Irwin Mazur and will base the story around that.
According to the report, "The biopic will follow Joel's early years — from being discovered by Irwin Mazur, who managed the band the Hassles that Joel joined as a teenager, to his breakout performance in 1972 that captured the attention of Clive Davis."
Billy Joel is not involved in the project in any way, and according to a representative, "no rights in music, name/likeness or life story will be granted" to the project.
In 2020, Billy and wife Alexis have announced that their Joel Foundation would be making a series of donations amounting to $500,000 for aid and relief for the coronavirus pandemic. The couple issued a statement explaining, "Our first donation will be $500,000 in the form of Personal Protective Equipment (PPE). BStrong (Bethenny Frankel's disaster relief initiative) will immediately purchase masks, corona (virus test) kits and hazmat suits for the doctors and nurses in hospitals that are in dire need."
The Joel Foundation also donated $25,000 to Greenwich Village's Smalls Jazz Club & Mezzrow. The club has created a nonprofit organization called SmallsLIVE Foundation for Jazz Art and Education.
Released in 2019 was the digital playlist, titled Live Through The Years, features 20 performances captured in concert between 1977 and 2006 — a few of which have only been available via concert video sets. Included on the set are previously released and unissued live cuts recorded at such historic venues as Carnegie Hall; Nassau Coliseum; Yankee Stadium; Frankfurt, Germany's Festhalle; the L.A. Sports Arena; and of course — Madison Square Garden.
Highlights on Live Through The Years include "Scenes From An Italian Restaurant," "Prelude/Angry Young Man," "She's Got A Way," "Allentown," "The Ballad Of Billy The Kid," "Piano Man," "We Didn't Start The Fire," "My Life," "Big Shot," "River Of Dreams," and more.
Among the deep dives featured on the set are: "Sleeping With The Television On," "Vienna," "You're My Home," "Get It Right The First Time," and "A Room Of Our Own."
In July 2015, Billy married longtime girlfriend Alexis Roderick with the couple welcoming their first child, daughter Della Rose, the following month. On October 22nd, 2018 Billy's third daughter, Remy Anne Joel, was born at Manhattan's New York University Hospital, weighing seven pounds, three ounces. Billy has a daughter — 37-year-old musician Alexa Ray Joel — from his second marriage to Christie Brinkley.
August 2018 marked the 25th anniversary since Billy Joel released his last studio rock album, River Of Dreams. The album, which peaked at Number One on the Billboard 200, featured the Top Three hit — and Billy's last Top Ten hit to date — "The River Of Dreams."
During Billy's quarter-century exile from releasing rock music, aside from three live albums, he composed the 2001 classical album Billy Joel: Fantasies & Delusions (Music For Solo Piano) and in 2007 recorded two "pop" songs, the big band-inspired "All My Life" — which was produced by the late-Phil Ramone — and the rocker "Christmas In Fallujah" featuring vocalist Cass Dillon.
In March 2011, Billy released the CD/DVD set Billy Joel: Live At Shea Stadium, featuring appearances by Paul McCartney, Roger Daltrey, Steven Tyler, Garth Brooks, and Tony Bennett. That November, Billy underwent successful bilateral hip replacement surgery.
Billy Joel always credits the unique upbringing he received growing up as a baby boomer on Long Island as the son of a German father and a British mother: "A lot of music being played in the house — mostly classical music, when I was a kid. Broadway musicals, y'know, pop music from New York radio. (My) father would play piano, my mother would sing in Gilbert & Sullivan operettas; that's where my parents met. It was a Jewish family, although I wasn't brought up with any religious upbringing. I used to go to mass, 'cause all my friends were Catholic. I thought that's what you did on a Sunday — you went to mass, that's what everybody did. Um, so, interesting mix of things."
Although Billy is known as one of the top musicians in all of rock, he says that his musical limitations could actually be responsible for helping him creating his greatest songs: "I never really applied myself the way I should. I never practiced my scales. I'm limited, and in a way, I think my limitations have helped me as a pop music writer. Sometimes I'll paint myself into a corner, and I don't know how to get out, so I just come up with my own solution to get myself out of that corner. And that, in a way, is what may make my material original."
The late-Phil Ramone was Billy's closest musical confidante and produced such classic multi-platinum albums for Billy as The Stranger, 52nd Street, Glass Houses, Songs In The Attic, The Nylon Curtain, An Innocent Man, and The Bridge. He told us shortly before he died in 2013 that Billy's was a multifaceted man: "But, y'know, he's a wonderful animal. He's just so smart. And of course he comes off playing this tough Long Island kid — which is part of his background — but the rest of him is just amazing. He's an amazing guy. Extremely intelligent and well read."
Despite his fans clamoring for a new album, Billy says that he's happy touring and playing his greatest hits and deep album cuts, but is equally content quietly writing instrumental music: "I guess these days I just think of myself as a classical composer. I have a piano at home and I write classical pieces — I don't ever wanna call it classical pieces, it's piano music. They could be used for an orchestra; some of these things might end up being used for a movie soundtrack. I'm not even all that anxious to have them performed. Right now all I'm interested is just composing."
Wings drummer Denny Seiwell produced the early sessions for Billy's 1971 solo debut Cold Spring Harbor. He recalls being amazed at his talent years before the rest of the world discovered "Billy Joel": "I started producin' Billy out in Long Island. All I remember was Billy was just awesome. He was phenomenal. In fact one night we were having a problem, we couldn't get him to — he really had unbelievable piano chops and we couldn't get him to slow this (sings piano riff). He wouldn't slow down, so we said, 'How 'bout we get you a bottle of booze, man?' So we got him a bottle of gin (laughs), and he sat it on the piano bench and he just started sluggin' away at this thing. We said, 'Just let him chill out for a little while. We'll slow him down.' And the more he drank, the faster he got!"
Over the past two decades, Billy's problems with alcohol popped up frequently in the press, resulting in his last stay at the Betty Ford Clinic in 2005. Two years before that, he appeared on NBC's Dateline and spoke candidly about his relationship with the bottle: "I can abuse alcohol if the demons get me. I'll go on a bender. It's happened to me before. That's why I went into rehab, I was on a binge, I was on a bender. And I said, 'This is stupid, I've got to stop.' Then I went and I did stop and I've learned to recognize what those signs are."
Billy Joel drew upon his high school years in Levittown, New York for his 1977 classic from The Stranger, "Scenes From An Italian Restaurant" — rated among his best by die-hards. He explained the song's genesis during his appearance on Inside The Actors Studio: "That song started out, the middle part was called 'The Ballad Of Brenda And Eddie.' The thing I was trying to get across, and I'm sure we all know, there were people who peaked a little too early in life. When we were in high school, there were the people we thought were so cool — I thought, 'Man, I wish I was that guy!' With a perfect pompadour, he always had great clothes, he always had the coolest shoes, he always went out with the coolest girl. And then I saw him at the 10-year reunion, and this guy was like a caved-in ashtray. In high school, it was so important to be with the right crowd — in my era, maybe it's the same in this era, I'm assuming there's a certain amount of this that still goes on. But they were my heroes, these people. But then I said — 'that's not enough.'"
Billy Joel explained that it was written in the cards that barring a two-year jaunt in L.A., playing in a piano bar — Long Island was his natural habitat: "My perspective of things all come from a Long Island point of view. I've realized that. I've traveled all over the world, I've traveled a lot in the United States — I wasn't really sure where I was gonna end up — but the more I traveled, the more I felt this is where I'm from. I'm from this island that sticks out to the East of New York City. There really isn't a lot of other places like Long Island. Sure, there's a little bit of it in Jersey, a little bit of it in New England — a little bit of it. But Long Island is an Island. We're isolated from everything else. We're with each other — we all rub off on each other (laughs) for better or for worse, and that's what makes us Long Islanders."