Happy Birthday, Heartbreaker Mike Campbell!!!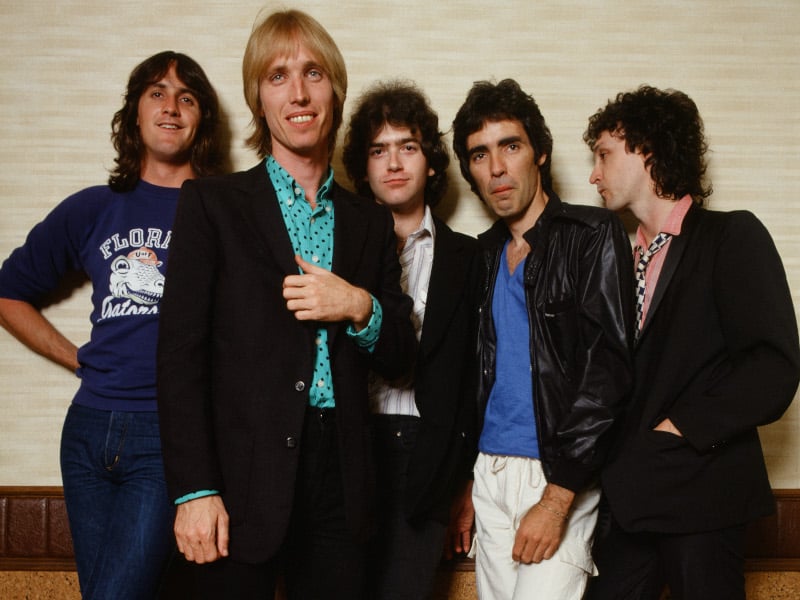 Happy Birthday to Tom Petty's right-hand man, Heartbreakers co-founder and lead guitarist — Mike Campbell, who turns 73 today (February 1st). Campbell was part of Mudcrutch with Petty prior to the pair founding the Heartbreakers in 1975, and along with Petty reunited with the band for their 2007 self-titled album. Throughout the years, Campbell co-wrote many of Petty and the Heartbreakers" most beloved songs, including, "Refugee," "Here Comes My Girl," "A Woman In Love," "Love Is A Long Road," and "You Wreck Me," along with "Jammin' Me" — which they co-wrote with Bob Dylan, and "Runnin' Down A Dream" which the pair co-wrote with Jeff Lynne.
Released last March was External Combustion, Mike Campbell's second album with his band the Dirty Knobs, with whom he opened for the Who in 2022.
In 2018, Mike Campbell became an official member of Fleetwood Mac. In 2018, he and Crowded House leader Neil Finn were enlisted by Stevie Nicks and Mick Fleetwood, respectively, to replace the band's ousted driving force, Lindsey Buckingham.
In addition to his years performing with and writing for the Heartbreakers, Mike Campbell is perhaps best known for co-writing two of Don Henley's biggest solo hits "The Boys Of Summer" and "Heart Of The Matter" — not to mention co-writing with Tom Petty, Stevie Nicks' first solo hit, "Stop Draggin' My Heart Around." Campbell was asked about how he came to be Fleetwood Mac's latest in a long line of guitar virtuosos: "It was my birthday and I was sitting in my backyard and I got a call: 'Hi, this is Mick Fleetwood.' I was wondering what I was gonna do — I had a few things, but nothing quite as (laughs) big as this. I'm making this my priority until whenever."
Following Tom Petty's sudden accidental drug overdose on October 2nd, 2017 at age 66, a saddened Mike Campbell recalled to Rolling Stone the Heartbreakers' final gig at the Hollywood Bowl on September 25th, 2017: "It was magical, it was spiritual. Everybody was so happy, especially Tom — full of glory and hope. I'm just so sad to think that I'm not going to play those songs again."
In addition to his work with Tom Petty, Stevie Nicks, and Don Henley, Mike Campbell's also written songs for and with Johnny Cash, Fleetwood Mac, Lone Justice, Roger McGuinn, John Prine, Patti Scialfa, Brian Setzer, J.D. Souther, and Cheap Trick's Robin Zander. Campbell co-produced four songs on Roy Orbison's 1989 posthumously-released album Mystery Girl, and played guitar on the Wallflowers' 1996 hit "Sixth Avenue Heartache." In 2009, Campbell supplied guitar and mandolin to Bob Dylan's Together Through Life album.
On April 6th, 1992 when Eric Clapton was unable to perform with his band at what turned out to be George Harrison's final concert at London's Royal Albert Hall, Harrison deputized Campbell to play the show as the former Beatle's lead guitarist.
Over the years Campbell co-produced the Heartbreakers' albums Southern Accents, Pack Up The Plantation: Live!, Let Me Up (I've Had Enough), Into The Great Wide Open, Songs And Music From She's The One, Echo, The Last DJ, Hypnotic Eye, as well as the Petty solo albums Full Moon Fever, Wildflowers, and Highway Companion. Campbell also co-produced the Mudcrutch reunion set, and recently co-produced 2018's An American Treasure, 2019's The Best Of Everything, 2020's Wildflowers And All the Rest, and 2021's Finding Wildflowers: Alternate Versions and Angel Dream (Songs and Music from the Motion Picture 'She's The One').
We asked Mike Campbell, why it took until the Heartbreakers' 1999 album Echo to step up front and sing one of his solo compositions "I Don't Wanna Fight": "For a long time I would just write music. And then I got so much of that and got so tired of writing music and waiting for someone to come up with, y'know, something to sing on it that I just started doing it myself, just to amuse myself. And then I showed some stuff to Tom, he'd go, 'Wow, that sounds like me.' So I kept showing stuff to him. And then, when he heard that one, he thought, 'Well, you should just do that one, 'cause that'll fit on the record and you do it fine.' So that just sorta happened that way."
Campbell, who had been by Tom Petty's side through thick and thin over the decades, explained how the first Mudcrutch reunion fell into place 33 years after they split up: "It started from a phone call from Tom Petty, who got the idea of calling the guys up and seeing if we could finish some of the things up that we intended to do back in the day, and we all thought it was great idea so we put it together. And it's just kind of snowballed from there. It was something that I hadn't thought about, but when I thought about it, I thought yeah, that'd be really cool. Let's see if those guys can still play and if we have any chemistry. And it was very intriguing. It's actually turned out better than we could've hoped."