Happy Birthday, Linda Ronstadt!!!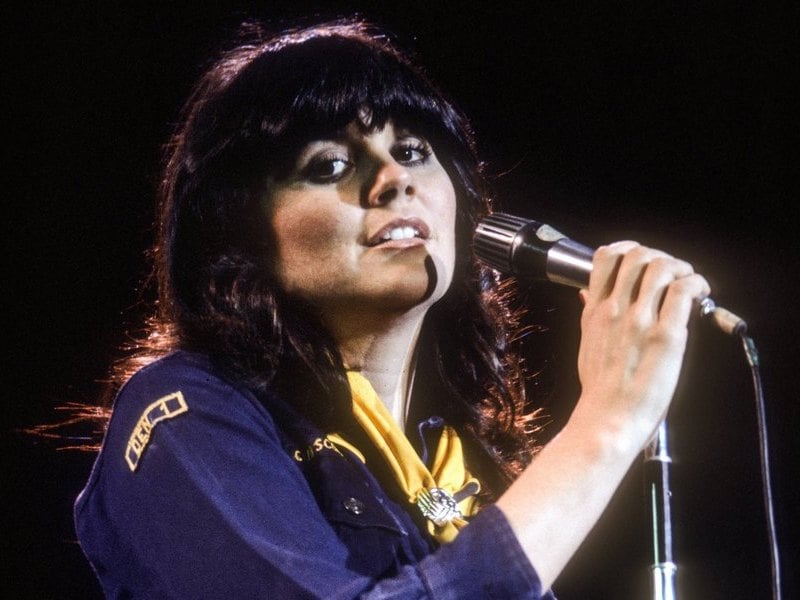 Happy Birthday to Linda Ronstadt, who turns 76 today (July 15th)!!! Despite being born and raised in Tucson, Arizona, Ronstadt, who was inducted into the Rock and Roll Hall of Fame in 2014, came to embody the '70s California soft-rock sound, alongside such acts as the Eagles and Jackson Browne.
In March 2021, Ronstadt joined David Crosby and the Beach Boys in selling her musical assets to music mogul Irving Azoff's Iconic Music Group. Ronstadt's deal differs from Azoff's others in that unlike the Beach Boys, it doesn't include her intellectual properties, or as with Crosby, her songwriting publishing. Ronstadt instead inked a deal in which Iconic "has acquired Ronstadt's assets, in a sale that includes name and likeness to promote the masters."
According to Rolling Stone, "Iconic's partnership with Ronstadt, her longtime manager John Boylan, and personal assistant Janet Stark will aim to preserve her legacy in the digital era — including working with streaming services and social media, rolling out reissues, focusing on anniversaries, and more."
In December 2019, Linda Ronstadt drew applause for her rebuke of Secretary Of State Mike Pompeo in Washington, D.C. The incident took place during the State Department reception for Ronstadt and her fellow 2019 Kennedy Center honorees, which preceded the official gala, and where the recipients are actually awarded the medals. Pompeo, in his opening address, spoke of Ronstadt and quoted her 1975 hit cover of the Everly Brothers' "When Will I Be Loved," asking, "As I travel the world, I wonder when will I be loved?" Ronstadt, who suffers from Parkinson's disease, has limited her public outings over the past few years.
Variety reported: "Ronstadt has been an outspoken critic of (President) Trump. When it came her turn following dinner to receive the honor and make optional remarks, Ronstadt rose to the microphone a few feet away from the host's table and looked straight ahead. 'I'd like to say to Mr. Pompeo, who wonders when he'll be loved, it's when he stops enabling Donald Trump.' Then she sat down. The line drew immediate gasps from the audience, followed by slowly building applause, and then cheers."
2020 saw the CNN Films premiere of Linda Ronstadt: The Sound Of My Voice. The doc, which opened in 2019 at the Tribeca Film Festival, scored the Documentary Audience Award at the Provincetown International Film Festival. The Sound Of My Voice features interviews with Ronstadt spanning 50 years, with performances and interviews with such friends and frequent collaborators as Emmylou Harris, Dolly Parton, Bonnie Raitt, Jackson Browne, and JD Souther. The Sound Of My Voice went on to snag the Grammy Award for Best Music Film.
In February 2019, Linda Ronstadt released her very first official live album. Live In Hollywood features a dozen classic tracks recorded on April 24th, 1980 during Ronstadt's performance at L.A.'s Television Center Studios for her famed HBO special. Highlights on the set include such favorites as "Blue Bayou," "Poor Poor Pitiful Me," "It's So Easy" "You're No Good" — along with a sampling of Ronstadt then-recent new wave-tinged Mad Love album, featuring "I Can't Let Go," "How Do I Make You" and "Hurt So Bad."
In December 2018, Ronstadt canceled two spring 2019 speaking appearances. After revealing her battle with Parkinson's disease in 2013, Ronstadt has been performing a select bunch of multi-media speaking engagements, titled "A Conversation With Linda." The scrapped shows at Town Hall in New York City and the Mayo Performing Arts Center in Morristown, New Jersey would have marked her first East Coast events.
In 2013, Ronstadt published her autobiography, called Simple Dreams, via Simon And Schuster. The book chronicled her early years, her '70s super-stardom, her 1980's career on Broadway, recording standards — and eventually Mexican folk music, all leading up to her 2009 retirement from the business.
In 2015, Linda Ronstadt received the prestigious National Medal of Arts from President Obama at the White House.
In 2017, Ronstadt released a 40th anniversary expanded edition of Ronstadt's chart-topping Simple Dreams album. Simple Dreams, which was produced by Peter Asher, hit Number One on December 3rd, 1977. The five-week chart-topper snagged Ronstadt three Top 40 hits, with her cover of Roy Orbison's "Blue Bayou" peaking at Number Three, her remake of Buddy Holly's "It's So Easy" hitting Number Five, and her version of good friend Warren Zevon's "Poor Poor Pitiful Me" topping out at Number 31. The new collection features three live 1980 recordings of the album's classic hits.
Linda Ronstadt, who is of Mexican and German heritage, first broke on the scene in 1967 with her group the Stone Poneys, who scored a Top 20 hit with "Different Drum," which was written by the Monkees' Mike Nesmith. Ronstadt went solo soon afterwards, and her initial solo back up band included Don Henley, Glenn Frey, Bernie Leadon, and Randy Meisner, who went on to become the Eagles.
Although Ronstadt did write some of her own music, all of her biggest hits were covers. Among her most famous hits were her versions of the Everly Brothers' "When Will I Be Loved," Martha Reeves & The Vandellas' "Heat Wave," Smokey Robinson & The Miracles' "The Tracks Of My Tears," Roy Orbison's "Blue Bayou," Chuck Berry's "Back In The U.S.A.," Buddy Holly's "It's So Easy," and the Rolling Stones' "Tumbling Dice." In the late-'80's and early-'90s she scored such duet hits with Aaron Neville on "I Don't Know Much" and James Ingram on "Somewhere Out There."
In later years, Ronstadt branched out into theatre, appearing on Broadway in Gilbert & Sullivan's The Pirates Of Penzance, recording a trio of standards albums with legendary arranger Nelson Riddle, doing two country albums with Dolly Parton and Emmylou Harris, a trio of albums of traditional Mexican music, and an album of lullabies.
Throughout the years, Ronstadt has been linked romantically to many high-profiled suitors, including then-California Governor Jerry Brown; musicians such as Gram Parsons and the Eagles' Don Henley; actors Bill Murray, Albert Brooks, and Jim Carrey; and director George Lucas. As a single mother, Ronstadt has adopted two children, Carlos and Mary.
During his 2014 speech inducting Linda Ronstadt into the Rock and Roll Hall of Fame, the late, great Glenn Frey touched upon how the Eagles learned their craft while serving as her backing band: "Obviously the first thing we all noticed was what a great singer she was. And for Don (Henley) and I, to be the two harmony singers to be singing with all these incredible songs that she loved, y'know, was just the step in the right direction for us. We both loved harmony singing, and to be able to do it with Linda was a treat." (17 OC: . . . was a treat)
Linda Ronstadt says that she has mixed emotions on every facet of her career: "My music has always been 80 percent private music and twenty percent what I did for the public, but the public part of it just became so dominant, and I. . . it didn't need to be that way. And I, y'know, I've done it, I've been on the road. I've had an unusually long career. Most people's career's (laughing), don't last as long as mine and nobody would want to, unless you're mentally imbalanced. Nobody would want to keep going out on the road. It's a horrible. . . it's not a nice existence. There's nothing natural about it."
Linda Ronstadt has admittedly shared a microphone with the best in the business — and she says that all our secrets and personal information are audible by the sound of our voices: "I can hear their life, I can hear the state of their health, I can hear, y'know, whether they feel good about singin' that note — I mean, you can hear so much. I don't always listen with that intensity — I can hear lying, y'know? I think people in law enforcement get really good, they have a talent for it to start with. My brother was, is a good singer, but he was the chief of police in Tucson for years and you do not ever want to tell him a lie, because he's gonna know (laughs) in one word. He's gonna know halfway through the sentence, you're lying. So, you can hear that kind of stuff in a voice. I don't think we have very well trained ears in a lot of ways."
When we last caught up with Ronstadt, she admitted to us that life on the road was always the least enjoyable part of her career: "My idea of a great week is when I don't set foot off my property. I really like to be at home, I've always been a homebody. I've never liked traveling; I've never liked performing. And it was just something that I had to do in order to get to the music. I always loved the music and I always wanted the music to get better and better, and I was thrilled to have success because it meant that I was able to get better musicians to work with. And that's the beginning and end of it. But I've never been comfortable on the stage and it's not anything that I want to do."
Ronstadt's last album was her 2006 collaboration Adieu False Heart with Ann Savoy. In May 2009 Ronstadt — along with Smokey Robinson and merengue pioneer Juan Luis Guerra — was awarded an honorary degree at Boston's Berklee School of Music's graduation.
Recently released is Linda Ronstadt's compilation, Duets. The collection, which spans Ronstadt's entire career includes team-ups with Don Henley, J.D. Souther, Emmylou Harris, James Taylor, Dolly Parton, Aaron Neville, Bette Midler, James Ingram, and "The Chairman Of The Board" himself — Frank Sinatra, among others.