Happy Birthday, Mick Jagger!!!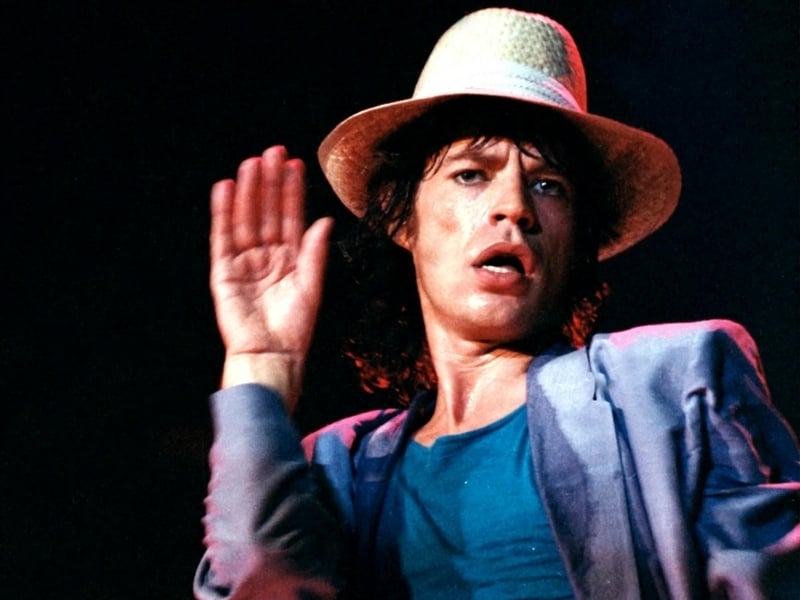 Happy Birthday to the Rolling Stones' Mick Jagger, who turns 79 today (July 26th)!!! Jagger will always be best known as being's rock's preeminent frontman and along with Keith Richards, has written some of the most enduring and important songs of the rock era, including "(I Can't Get No) Satisfaction," "Under My Thumb," "Gimme Shelter," "You Can't Always Get What You Want," "Ruby Tuesday," "Get Off My Cloud," "Brown Sugar," "Let's Spend The Night Together," "As Tears Go By," "Street Fighting Man," "She's A Rainbow," "19th Nervous Breakdown," "Jumpin' Jack Flash," "Honky Tonk Women," "Angie," "Paint It, Black," "Tumbling Dice," "Waiting On A Friend," "Miss You," "Emotional Rescue," "Fool To Cry," "Wild Horses" "Sympathy For The Devil," "It's Only Rock N' Roll," "Start Me Up," and literally hundreds of others.
The Stones are currently on tour in Europe and perform tomorrow night (July 27th) in Gelsenkirchen, Germany.
Coming to Epix on August 7th is the four-part docuseries, My Life As A Rolling Stone. The specials, produced in conjunction with the band in celebration of its 60th anniversary, will feature an hour-long look each on Mick Jagger, Keith Richards, Ron Wood, and the late-Charlie Watts. Neither former members Bill Wyman nor Mick Taylor will be given their own spotlight docs.
Out now is the latest Stones vault release, Licked Live In NYC. The set is available as a DVD/two-CD, SD Blu-ray/two-CD, as well as a standalone two-CD and triple-LP. Originally released in 2003 as an HBO special and as part of the Four Flicks package, the band's January 18th, 2003 Madison Square Garden concert has been fully restored and remastered with four previously unreleased songs.
In April 2021, Jagger and Dave Grohl have joined forces for the new track, titled, "Eazy Sleazy," which spotlights life during the pandemic. The song, which was co-written by the two, features Jagger on rhythm guitar and vocals, and Grohl supplying drums, lead guitar, backing vocals and bass. "Easy Sleazy" was produced by Jagger's longtime collaborator and Rolling Stones live keyboardist, Matt Clifford.
In the spring of 2020, the Stones released the single, "Living In A Ghost Town," which seemed to foreshadow the coronavirus pandemic. The tune soared to the Number One spot on the iTunes Song Chart
Mick Jagger's first acting performance in over a decade hit the big screen in September 2019. The Burnt Orange Heresy starred Donald Sutherland, Claes Bang, and Elizabeth Debicki. According to the press release for the thriller, "The art world and the underworld collide in director Giuseppe Capotondi's neo-noir thriller, set in present-day Italy." Jagger's last big screen role was as a bank clerk in the 2008 Jason Statham movie, The Bank Job.
Mick Jagger was given a clean bill of health a month after undergoing heart valve replacement surgery in April 2019 in Manhattan.
Back in December 2016, Jagger became a father for the eighth time when his then-29-year-old girlfriend, ballerina Melanie Hamrick, gave birth to his fourth son, Deveraux.
The Rolling Stones' 2016 return to their roots, Blue & Lonesome, snagged the band the Grammy for Best Traditional Blues Album. Although it topped the charts in no less than 10 countries, including Britain — Blue & Lonesome — the Stones' first studio set in over a decade, fell short Stateside, peaking at Number Four. In addition to England, the album went all the way to Number One on the Australian, Belgian, Dutch, German, Norwegian, Scottish, Swedish, and Swiss album charts.
Bad news came to Jagger in March 2014 with the suicide of his longtime girlfriend, 44-year-old L'Wren Scott. He rallied for a string of massively successful international Stones dates, as well as serving as the co-creator and executive producer of HBO's ill-fated '70s music drama, Vinyl, which also featured his son, James Jagger.
Mick Jagger, who over the years has also dabbled with acting and producing, told us that for a project to truly be successful, it needs to connect with its entire prospective audience: "When you put out a piece of work, you want to have, first, you want to feel 'I like it' and the rest of the musicians, band, whatever, have to like it — everyone has to like it. And then your friends have to like it, and then you want the public to like it, and you want the critics to like it, so it can work on many levels. So you can be very happy with an album, but nobody else (laughs) likes it — that's not a success. But it's a big success if you get all of those groups liking it."
Out now is Under Their Thumb — How A Nice Boy From Brooklyn Got Mixed Up With The Rolling Stones And Lived To Tell About It, by rock writer Bill German. German, who's best known in music circles as being the editor of the legendary Stones fanzine Beggars Banquet, explains that Jagger has always put distance between him and the public as a means of survival: "He is more famous than the others, and I think he values his time more because of that, or he puts up more of a wall around himself. Because if the three of them, Mick, Keith, and Woody, let's say, were walking down the street, who's gonna be recognized the most I would say? Like, if you ask you grandmother or your mother to name one member of the Rolling Stones, it's going to be Mick Jagger. So there's going to be more demands on his time from fans and the medium — there's more demands on his time from the business people, because he's the guy that's handling the business. So, I think maybe that's why he's a little standoffish."
Keith Richards says that no matter what the circumstance — or how much the press plays up their skirmishes — both he and Mick Jagger have always known exactly what time it was with one other: "Mick and I have always had little jousting matches. Always. It only became public when we had nothing to do (laughs). So, I say, as long as we work, we're cool. I mean, we've known each other so long, it's unbelievable. I've seen him selling ice creams outside the library in my hometown. I know Mick."
With 60 years in the public eye, we asked Mick Jagger what he recalls about his and the Stones' early fame: "You kind of always say that it was great to get the band going the very first time, because you start to be successful the first year or first couple of years and like, all your little teenage dreams (laughs) are sort of coming true. And so, you feel very young and you're very ambitious and you're starting to be successful and that feels very good. Like, getting your first job, isn't it, y'know?"
In 2014, Mick Jagger became a great-grandfather through his daughter Jade Jagger. The baby was born to his then-23-year-old granddaughter Assisi Jackson. 50-year-old Jade is Mick's second daughter and only child from first wife Bianca, whom he was married to from 1971 to 1980.
In addition to Jade, James, and the infant Deveraux, Jagger has five other children — daughter Karis, 51 is his firstborn with actress/singer Marsha Hunt; Elizabeth, 38, Georgia, 30, and Gabriel, 24 with second wife, model Jerry Hall, and Lucas, 23, from his relationship with model and TV personality Luciana Gimenez.
Mick Jagger says that the ultimate job of any parent is rear their kids to being fully self-sufficient: "The thing is about children is just teaching them to be independent, look after themselves. That's the challenge. That's the whole idea of it, it is that they are helpless at the (laughs) beginning, and then as they go on, and they learn to feed themselves and it's hard, sort of, letting go as a parent with that. That's one of the problems that's actually the parent's problem, is y'know, letting go of the child to some extent."
Jagger's last major solo project away from the Stones was the 2011 self-titled debut album from SuperHeavy. The group also included Eurythmics founder Dave Stewart, Joss Stone, composer A.R. Rahman, and reggae artist Damian Marley — the youngest son of the late Bob Marley. Jagger and Stewart shared production duties for the album, which peaked at Number 26 on the Billboard 200 albums chart and hit Number Eight on the magazine's Rock Albums list.
Although Mick Jagger would be the first to admit that he's led a full and very colorful life, he remains amazed that people choose to believe that there's no difference between his private life and the person they see onstage: "Sometimes people find it hard to understand that you could be all of these things at once (laughs). And y'know, people put their own image on you, y'know, like they do on an actor or actress, or any other popular figure. They put their own idea on you. And that's what you're for, just a personal interpretation."
During a recent chat with Sky Arts, Mick Jagger proved that he's a good sport when getting ribbed about his advancing years: "I once did a show in the Southern United States and there was a poster outside this college, and it said, 'Mick Jagger slept with your grandmother.' It was a joke, quite funny, really. At least I can laugh about it (laughter), yeah."