Happy Birthday, Neil Young!!!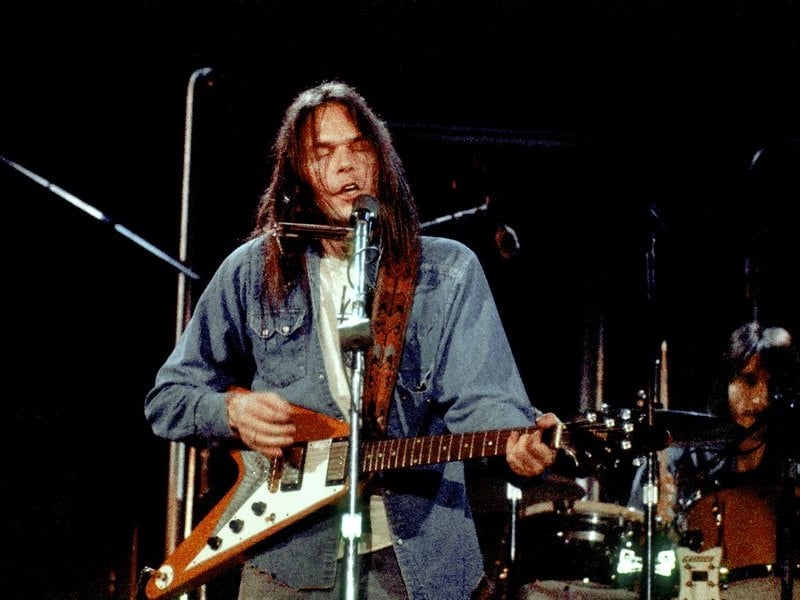 Happy Birthday to Neil Young, who turns 77 on Saturday (November 12th)!!! Neil Young & Crazy Horse will release their latest album, World Record, on November 18th. The new 10-track collection was produced by Rick Rubin and recorded at his Shangri-la Studios in Malibu — which was originally the Band's headquarters after being used as a brothel for years.
Coming on December 2nd will be Young's 50th anniversary edition of his 1972 classic, Harvest. The triple disc set features a trio of session outtakes and a live BBC concert from February 1971. The collection also features a DVD of the BBC show along with the two-hour documentary, titled Harvest Time, featuring footage from in and around the Harvest sessions.
Back in 2019, Young, who is Canadian but had lived in California for the previous 56 years, finally became a U.S. citizen.
Neil Young married actress Daryl Hannah on August 24th, 2018.
Although Neil Young has tried extremely hard to keep his life private over the course of his career, he wants it known, he's hardly a recluse: "The fact that I don't, y'know, that I don't go out of my way to be seen and go to places where I know that my picture's gonna be taken and things like that makes them think that I'm hiding. I'm not hiding from anything. I'm just not interested in any of it. I have other things that I'm more interested in that don't have to do with getting my face on People magazine."
Graham Nash says that making music with Young as part of Crosby, Stills, Nash, & Young has always led to fascinating results: "I love to make music with Neil. It's very different with Neil. Y'know, it's a very different band — there's more edge, it's darker, it's funkier. It's just different."
Although Waging Heavy Peace marked Neil Young's own personal autobiography, 2002's semi-authorized Shakey, written by Jimmy McDonough, was based on 300 new and exclusive interviews — including a reported 50 hours of taped chats with Young himself. Graham Nash told us at the time, that like many readers, he found Shakey to be illuminating, particularly its anecdotes about Young's often nasty treatment of his musical colleagues: "I learned a lot about my friend that I didn't know, and I learned a lot about my friend that I thought I knew (laughs). To me, that's not the way I want to live my life. I am consumed by creation, but in my life, creation takes a second. . . not second, but a, certainly an equal footage to my life. I don't want to hurt people — ever — because to me, there's enough pain in this world."
Retired Crazy Horse guitarist Frank "Poncho" Sampedro says that despite Young's constant need to shake things up by playing with different musicians, he seems to consider the band his musical home: "When you look at it, there is only one band that Neil continues to play with. He's played with a lot of different bands, but I'd have to say that we are, overall, the most consistent of all the bands he's played with — even though he's played with Crosby, Stills & Nash quite a bit, but I think he's even played with us more than them."
David Crosby told us that Neil Young's moral integrity has always stood side-by-side with his talent: "That's basically the deal. I think it's one of the things that I've always admired about him, is that right, wrong or indifferent, he continues to grow. And I think that's always been something that I've always wanted to do and continue to do."