Happy Birthday Rock Pioneer, Dion!!!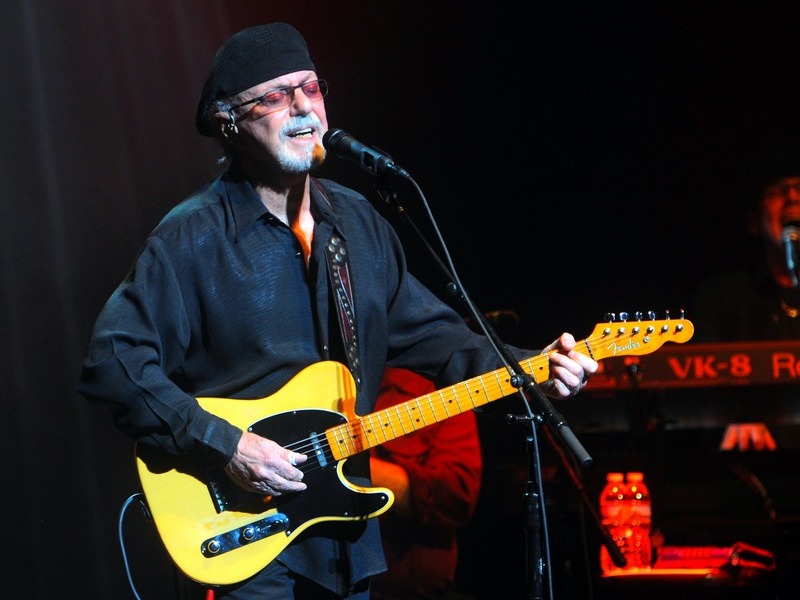 Happy Birthday to Rock and Roll Hall of Famer Dion DiMucci, who turns 83 today (July 18th)!!! Dion and his original backing group the Belmonts helped bring white doo-wop from the Bronx to the national charts with such hits as "I Wonder Why" and "A Teenager In Love." The group went on to tour nationally, and were co-headliners on the ill-fated "Winter Dance Party" tour that took the lives of Buddy Holly, Ritchie Valens and J.P. "The Big Bopper" Richardson on February 3rd, 1959. Dion went solo from the group in 1960, and immediately scored with hits such as "The Wanderer," "Runaround Sue," "Donna The Prima Donna," "Ruby Baby" — and later in the decade with "Abraham, Martin, And John."
Dion's latest album, Stomping Ground ,was released on November 5th, 2021. Pete Townshend supplied the liner notes for the set, which includes contributions from such legends as Bruce Springsteen & Patti Scialfa, Eric Clapton, Peter Frampton, Mark Knopfler, Bon Scaggs, Billy F. Gibbons, Rickie Lee Jones, Sonny Landreth, Joe Bonamassa, G.E. Smith, Keb' Mo', and many others.
Townshend wrote in the album's notes: "Dion, like a circling star that never fades, generates the energy and fire we need to pull ourselves up and start again. Dion is a star who knows well how to start again, how to keep shining. He looks at his watch every few years. Damn! Let's make a record. Take care. This one will blow those little white things in our ears right into your brain."
In 2020, Dion's album Blues With Friends, hit Number One on both the Billboard Blues Albums, and iTunes Blues Albums charts. The set has also topped the UK's Official Jazz & Blues Albums chart. Joining the Bronx legend for the set are such heavyweights as Bruce Springsteen & Patti Scialfa, Paul Simon, Jeff Beck, Van Morrison, Brian Setzer, Steve Van Zandt, Joe Bonamassa, and Billy F. Gibbons
Recently released is Dion's long lost 1965 collection, Kickin' Child, which was originally recorded for Columbia Records but left unreleased until now.
In 2016, Dion released his critically acclaimed album, New York Is My Home. The collection, which was produced by Conan bandleader Jimmy Vivino, features a duet with Paul Simon on the album's title track. Plans are currently in the works for a jukebox musical based on his life.
Dion told us that the deeper he got into discovering music as a kid, the more similarities he found there to be among various genres: "Country music, it's American music. Blues people must've heard country, country heard blues and putting those two together, that's what we called rock n' roll in the '50s. It just seems that country music was in a major key and blues was in a minor key. Pretty much the same three chords, but only major and minor."
Dion remembered that by the early-'60s, he felt that his music was slowly losing its New York street edge: "I was the first rock n' roll artist signed to Columbia Records and Aretha Franklin was there. And I'd be sitting on a piano stool with her, and we'd be doing Al Jolson songs they had us doing. They had me doing '(My) Mammy' and they had her doing 'Rock-A-Bye My Baby (sic).' They didn't know what to do with us."
One longtime fan who's sure to be catching Dion on the road is old friend Tony Orlando: "He's always been a man of the times; he's always been a visionary. Y'know, he's one of the really great, great performers. Do you know how long I know Dion? I hate to tell you this — since 1961. And if I see him tomorrow, it's like we never had a week or a day go by. I have great respect for him."
Dion is a native New Yorker and has been spending more time in the "Big Apple" after migrating down south to Florida over 50 years ago: "I've been in Florida a long time. And I don't know if my accent got worse or what, but you'd think you'd lose some of it. But I come back here — I just got an apartment here. I told (my wife) Susan, I said, 'I go to New York, I feel like I'm part of the mortar.' I went to Florida for a reason; the drugs, the alcohol, I was on a fast track that I would've died. So I kinda ran out of New York and I kinda found salvation down in Florida."
Dion, who had been a heavy drug user since his early teens, finally cleaned up in 1968. The next year, after a five-year chart absence, he scored a Top Ten hit with "Abraham, Martin And John," which eulogized fallen American heroes including President John F. Kennedy, Senator Robert F. Kennedy, and Dr. Martin Luther King Jr.
Throughout the years, Dion has continued to perform in a number of genres, including rock, pop, country, gospel, and blues. He's recorded and performed live with artists such as Phil Spector, Billy Joel, Lou Reed, Paul Simon, Dave Edmunds, Bruce Springsteen, and Steven Van Zandt, among many others.
Dion DiMucci next performs on July 20th at Staten Island, New York's St. George Theatre.