Happy Birthday To Sam Moore Of Sam & Dave!!!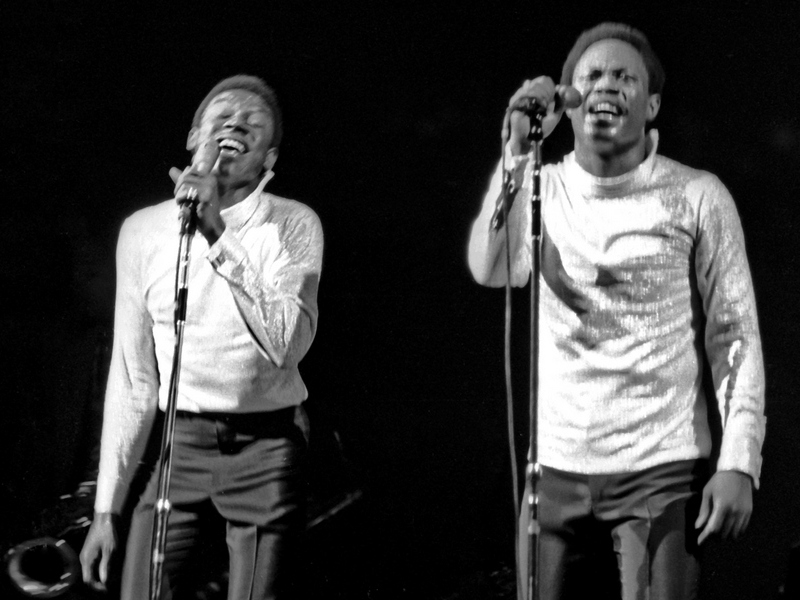 Sam Moore — one half of the legendary R&B duo Sam & Dave — celebrates his 87th birthday today (October 12th). Moore and Dave Prater are best remembered for their historic '60s hits for the Stax label, including "You Don't Know Like I Know," "I Thank You," "Hold On! I'm Comin'" and 1967's Top Three hit "Soul Man." The duo recorded the majority of their work at Memphis' Stax studios under the guidance of songwriter/producers Isaac Hayes and Dave Porter, with Booker T. and the MGs often serving as their backing band. Sam & Dave officially split in 1969, only to reform from 1972 to 1975.
Sam Moore is featured on a pair of tunes on Bruce Springsteen's upcoming soul covers set, titled Only The Strong Survive, which drops on November 11th. Moore guests with "The Boss" on both "Soul Days" and "I Forgot To Be Your Lover."
After the success of the Blues Brothers' 1978 cover of "Soul Man" Sam & Dave teamed up again and toured extensively through 1981. Prater died in a car accident in 1988 and Moore has continued to record and remain a top concert draw. Sam & Dave were inducted into the Rock and Roll Hall of Fame in 1992. That same year, Moore was featured singing on several cuts on Bruce Springsteen's Human Touch album.
In 2020, Sam Moore appeared on PBS' Grammy Salute To Music Legends, as part of the network's Great Performances series. The show captured the fourth annual all-star concert spotlight for the Academy's 2019 Special Merit Awards recipients. In addition to Sam & Dave, the honorees were Black Sabbath, George Clinton & Parliament-Funkadelic, Billy Eckstine, Donny Hathaway, Julio Iglesias, Dionne Warwick, Lou Adler, Nickolas Ashford & Valerie Simpson, Johnny Mandel, and Saul Walker.
In October 2015, Sam & Dave were inducted into the Memphis Music Hall of Fame along with such legends and stars as Alberta Hunter, Al Jackson, Jr., Memphis Slim, Scotty Moore, Charlie Rich, and Justin Timberlake.
In 2017, Sam Moore released his latest album, titled, Sam Moore: An American Patriot. In addition to his renditions of "America The Beautiful," "The Battle Hymn Of The Republic," and "The Star-Spangled Banner," Moore covers John Lennon's "Imagine," Lee Greenwood's "God Bless The U.S.A.," and Marvin Gaye's "What's Going On."
Sam Moore told us that he feels lucky to be constantly working — be it on the road or in the studio: "Fortunately, I've been blessed to do other things. I've recorded with other people like Bruce Springsteen and Don Henley, I've done movies, I've done shows where I could make a couple of bucks. I've been fortunate that a movie will come up, or a soundtrack will come up, and I can do that. So in that way, I've been able to get away to do those kind of things, y'know, to make a living."
Moore told us that when he hits the road again, he'd like to branch out and perform other types of music besides just R&B: "I think I deserve to walk on stage and sing songs that no one would ever expect Sam Moore to do. I'm going to have to do 'Soul Man,' I know that. I don't kid myself about that. I know, if given a chance, I can also do '(I did it) My Way.' I think I can do that kind of stuff!"
He told us that the music business — and what's expected of working musicians — is a world away from what it was in the 1960's: "We had to stand there and sing. We had to prove that we belonged on that stage. From the Jackie Wilsons to the Sam Cookes to the Marvin Gayes, the Sam & Daves, the James Browns, Al Greens and what not — Aretha Franklins — we had to count on that God-given talent. So I think that in itself is the difference."
Sam Moore says that as the years have passed he's been amazed at what he's been able to accomplish in his lifetime: "I have recorded with some of the biggest stars in the industry. I have performed before many high-level officials — presidents, congressmen, senators, queens, kings. I've appeared at the Shea Stadium. I've appeared at Madison Square Garden. I've been all. . . halfway around the world."