Jimmy Page & Jack White Are Big Fans Of Metallica's 'St. Anger'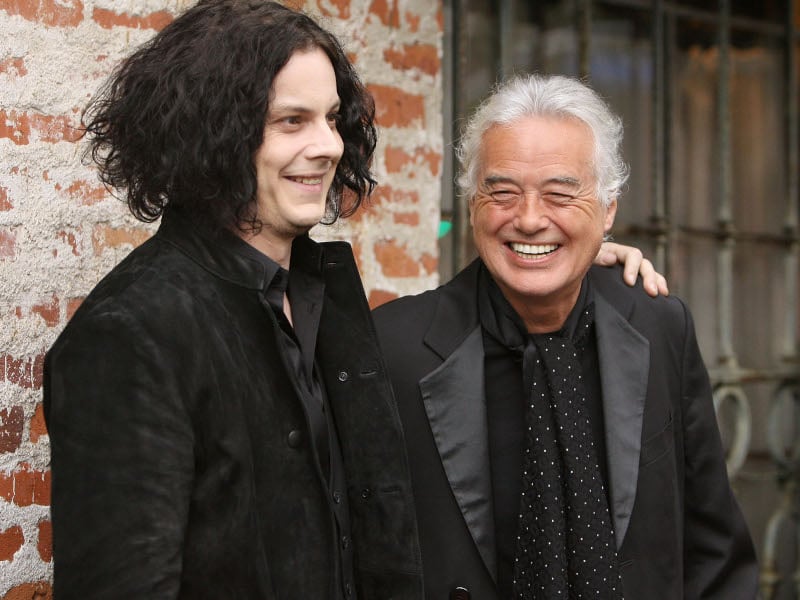 Producer Bob Rock revealed that none other than Jimmy Page and Jack White were fans of Metallica's 2003 St. Anger collection. The album, which alienated some of the band's fan base, featured Rock handling bass duties during a turbulent time in Metallica's history — with bassist Jason Newsted quitting while the band dealt with their own personal issues.
Blabbermouth transcribed Bob Rock explaining how he received the nod of approval for St. Anger during his recent appearance on the Talk Is Jericho podcast: "Jimmy Page — not to drop names, but he's kind of a friend — he was at Sunset Marquis (in L.A.) He was sitting, eating breakfast on the other side of the pool. And somebody walked by and said, 'I'm here seeing Bob Rock.' Jimmy said, 'Oh, Bob's here?' He came over and talked to me, which blew my mind, coming from Winnipeg — that Jimmy Page even knows my name, y'know? And he said, 'By the way, I love St. Anger. It's a great album.'"
Rock went on to share how Jack White let him know he was a fan of the album during a screening of the documentary, It Might Get Loud, which also co-starred Jimmy Page: "I happened to be in Toronto (at the premiere of the film and Jack) came up to me from across the room, and he says, 'By the way, I love St. Anger. It's an amazing album.' And (then) he left. . . So I'm okay. Those two guys bought the record. With those two (liking it), I'm fine, right?"
James Hetfield admitted to us a while back that he too had issues with St. Anger and spoke about the one aspect of the album that always bothered him: "Well, my hindsight is somewhat similar to what it was in the studio, which is I feel the songs were a little too long, and I wish they weren't that long. But, y'know, live, when we play them, we can always shorten them."
Lars Ulrich admitted to us a while back that the band was surprised by the hostile reaction to St. Anger by many fans: "It threw us a little bit sure, 'cause the whole thing was to just keep it as raw as possible. And I'd like to think that we accomplished that (laughs), to the point of obviously a little too raw for some people, and that's okay. I mean, it is what it is. I have not regret one about it. I'm proud of it, proud that we had the balls to see it through."
Metallica will next perform on June 8th at Castle Donington at the Download Festival at Donington Park.