John Lennon Remembered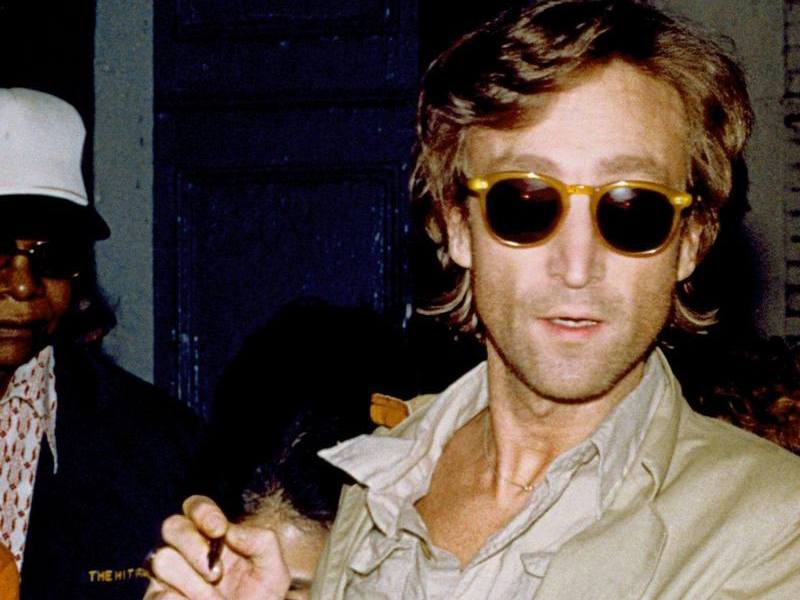 Today (December 8th) marks the 42nd anniversary of John Lennon's death. As is the custom every year, fans are expected to stand vigil for Lennon across the street from the Dakota building in Central Park's Strawberry Fields. The triangular patch of land was designated by the city of New York in 1984 to celebrate the former Beatle's life and work.
In the fall of 1980, the 40-year-old Lennon had re-entered public life after a self-imposed five-year hiatus to spend time with his young son Sean, travel, and recharge his creative batteries. On November 17th, 1980, Lennon and wife Yoko Ono had released their "comeback" album Double Fantasy, which included such future Lennon standards as "Woman," "Beautiful Boy," "Watching The Wheels," and the album's lead track and single "(Just Like) Starting Over."
On the night of December 8th, 1980 — with "(Just Like) Starting Over" sitting at Number Six on the singles charts — Lennon and Yoko returned home to their apartment building, the Dakota on Manhattan's Central Park West. They had spent the evening at the Record Plant East recording studio mixing a tune of Yoko's called "Walking On Thin Ice." Mark David Chapman, who had been stalking Lennon for several days and had received an autograph from Lennon earlier that evening, lay in wait for his return. Chapman, who was living in Honolulu at the time, had made an unsuccessful trip to New York the previous October with the intent of killing Lennon, but couldn't find him.
Lennon and Yoko returned from the studio at around 10:50 p.m., with their limousine dropping them off in front of the building on 72nd Street, rather than pulling into the building's courtyard as usual. As the couple walked in, they passed Chapman who called out "Mr. Lennon?" and fired five shots from a .38 caliber handgun, with four bullets entering Lennon's neck and back. Officers were quick on the scene, arresting Chapman and rushing Lennon in a squad car to nearby Roosevelt Hospital, where doctors worked on reviving the musician, who died from the severity of his wounds.
Dr. Stephan Lynn, the director of Roosevelt Hospital's emergency room, recalled Lennon's injures to The New York Post, saying that, "We made an incision in the left chest and separated the ribs and found a very large amount of blood. We looked for an injury to the heart or to the blood vessels. But what we discovered was that all of the major blood vessels leaving the heart were simply destroyed. There was no way that we could repair them."
The news of Lennon's death was broken by a reporter for New York's WABC-TV, who by coincidence was in the same emergency room after a motorcycle accident. The news was first reported by Howard Cosell during the Monday Night Football telecast.
Yoko returned home and called "the three people John would have wanted to know" — his aunt Mimi Smith, who raised him; his 17-year-old son Julian, from his first marriage; and Paul McCartney. Within hours of the news, thousands of fans had flocked to the Dakota to stand vigil for Lennon.
Radio executive Andy Denemark recalled getting the news of Lennon being shot: "On the night of the 8th of December, I was at home, I was in bed, I wasn't interested in the Monday Night Football game that night, and my phone rang — it feels like it was 11 o'clock, 11:30 at night, something like that. And it was a friend of mine who was a huge Beatle fan, and I could hear her shaking over the phone, that the news story had just broke that John Lennon had been shot. And it felt so surreal when she uttered those words to me that I kind of calmed her down and said, 'Don't worry, I'm sure it'll be fine,' and 'don't sweat it,' and 'I'm sure it's just a crazy rumor.' It just didn't feel real at all."
Denemark recalls how limited fans' options were in getting accurate news about Lennon's condition: "Radio was the only immediate medium. I did what I think everybody else did at that time, was you turn to the radio. Because any news source — CBS, NBC, all the big networks at the time — and don't forget, 1980 was pre-MTV, pre-the expansion of a lot of cable, so you would turn to the radio because that's where you would get news about rock bands."
Julian Lennon and Ringo Starr made immediate plans to head to New York, with George Harrison issuing a statement saying, "After all we went through, I had and still have great love and respect for him. I am shocked and stunned. To rob life is the ultimate robbery." McCartney also issued a statement, saying, "I can't take it at the moment. John was a great man who'll be remembered for his great contributions to art, music and peace. He is going to be missed by the whole world."
Paul McCartney — like George Harrison — decided to go in to the recording studio the day after Lennon's murder as a way to get his mid off the tragedy. It was while leaving George Martin's AIR Studios in London that an obviously distraught and devastated McCartney gave his first public comments regarding the previous night's murder of his longtime partner: (McCartney): "It's terrible news." (Reporter): "When did you find out about it?" (McCartney): "I got a phone call this morning." (Reporter): "From who?" (McCartney): "Uh, from a friend of mine." (Reporter): "Are you planning to go abroad for the funeral?" (McCartney): "I don't know yet." (Reporter): "Do you know. . . have you discussed the death with any of the other Beatles?" (McCartney): "No." (Reporter): "Do you plan to?" (McCartney): "Probably, yeah." (Reporter): "What were you recording today?" (McCartney): "I was just listening to some stuff. I just didn't want to sit at home." (Reporter): "Why?" (McCartney): "Well, 'cause I didn't feel like it." (Reporter): "What time did you hear the news?" (McCartney): "This morning some time." (Reporter): "Very early?" (McCartney): "Yeah. . . It's a drag , isn't it — okay, cheers."
In 1997 Paul McCartney spoke with the late David Frost and recalled the events of the morning he found out Lennon had been shot dead: "No, I remember it very well, yeah. I got a call from my office that morning and they gave me the news and I was just, sort of, totally stunned and just went blank and went pale. And Linda had actually taken the kids to school, so when she got back, she was quite happy: 'Hey, how ya doin'?' — just saw me and she said, 'God, what's happened?!' Y'know, 'What's going on?' So, I had to tell her and we just had a terrible day, really — like I think most people did. Y'know, it was on the radio everywhere. It was a terrible day. I was kind of in shock and somebody stuck a microphone in they car door and sort of said, 'What do you think?' And all I could blurt out was, 'It's a drag.' Of course, when that got translated to print, it looked horrible: 'He said, 'It's a drag.' It looked very, sort of, wrong. I was just stunned. It was a terrible day. Those kind of things are horrible, 'cause it alerts everyone to their own fragility and your own lack of security. It's not just stars, as you see, if you look at the news, it's everyone. Y'know, there's always that kind of thing happening: (Adapts newscaster's voice) '. . . and today, in McDonalds, so and so, somebody ran in with a gun and sprayed everyone.' It's our world, I'm afraid." (1:06 OC: . . . world I'm afraid)
George Harrison, who later on his life would also be attacked at the hands of a madman, felt it was unfathomable that his childhood friend and self-admitted hero would meet his fate in such and ugly and violent manner: "It was, I mean, obviously, such a shock because assassination is something which up until that time hadn't really gotten down to that level. I mean, it was always present in leaders, like that, and I wouldn't think that somebody who was a pop star was important enough to kill. Y'know, it's a terrible thing; I don't think anybody is important enough to kill, y'know, really. But I can see why, y'know, there's assassinations with political leaders and stuff, just extremist. And obviously, if it could happen to him, it could happen to anybody, y'know, who gets up on a stage, or walks out of a car."
Legendary bassist Stanley Clarke was recording with McCartney in the West Indies in the weeks following Lennon's murder and told us that McCartney was unable to escape the madness which followed his former partner's killing: "Y'know, we went to some island somewhere, I think it was. . . the Tug Of War record, that was right after or during the John Lennon (murder) — 'cause I remember those interviews, when they interviewed Paul McCartney, I think we were recording at that time. Yeah, 'cause I remember we were on this island and then the secret service came in and they wanted us to wear some (bullet-proof) vest, 'cause some people were saying — y'know, there was pranks, they were saying 'We're gonna bomb the island,' this is 'Kill a Beatle week,' and all that kind of mess, y'know? And he was cool. It's like, there's a price when you're really famous, y'know? Like that kind of fame."
Out now is author Keith Elliot Greenberg's book, December 8, 1980: The Day John Lennon Died. Greenberg, who is renowned crime writer and producer for America's Most Wanted, recalls just how different the security around the events of Lennon's murder were from how things are handled today: "Yoko Ono goes down to Roosevelt Hospital, and she leaves the hospital and Paul LaRosa — who worked for The Daily News at the time — points out; the police didn't even know how to handle a situation like that this — not because they were incompetent, they just never encountered it before. So fans are coming up right to her, where they can touch her. When Ringo Starr arrives at the Dakota, people are pulling his hair! They're pushing him and jostling him. Now, there would be a barricade around the block."
There was no funeral for Lennon, who was cremated almost immediately in Hartsdale, New York in Westchester County. Instead, tens of thousands of mourners gathered in New York's Central Park the following Sunday (December 14th) to observe ten minutes of silence at 2 p.m. The event was broadcast globally, with many radio stations ceasing all airplay during the memorial.
THE AFTERMATH
By December 8th, 1980 — the day Lennon was murdered — the album's first single, "(Just Like) Starting Over," had reached Number Six on the singles chart and Double Fantasy had just cracked the album charts. Less than three weeks following the tragedy, on December 27th, 1980, "(Just Like) Starting Over" topped the Billboard Hot 100 for the first of five weeks, while Double Fantasy went on to hold the Number One position for eight weeks.
After Lennon's death, two other singles were released from Double Fantasy — "Woman," which went to Number Two, and "Watching The Wheels," which peaked at Number Ten.
Double Fantasy went on to receive the 1981 Grammy Award for Album Of The Year. The ceremony marked five-year-old Sean Lennon's first public appearance, when he accompanied his mother to the podium to collect the award.
In 1984, Yoko released Milk And Honey, which included the additional songs she and Lennon had recorded during the 1980 sessions. The album peaked at Number 11 on the charts, with the single "Nobody Told Me" hitting Number Five and becoming Lennon's final Top Ten solo hit.
Both Paul McCartney and Ringo Starr contributed to George Harrison's 1981 Lennon tribute "All Those Years Ago," which hit Number Two in the spring of 1981.
McCartney's solo tribute to Lennon, called "Here Today," appeared on his 1982 album Tug Of War, and has been a part of McCartney's live set since 2002.
In early 1981, Chapman pleaded guilty to second-degree murder, and is currently serving a 25-years-to-life sentence in New York's Wende Correctional Facility. Chapman, a devout born-again Christian who is allowed conjugal visits, has refused all offers of psychotherapy since the murder. He has been turned down for parole 11 times.
Yoko has kept Lennon's legacy alive by consistently issuing previously unreleased recordings and videos along with reproductions of his artwork as lithographs, mugs, tee-shirts, baby clothes, and other items — to the chagrin of some Lennon fans.
Over three decades after Lennon's death, he now has had far more posthumous releases than he had solo albums by 1980.
In 1995, with Yoko's blessing, McCartney, Harrison and Starr teamed up to complete two of Lennon's unreleased demos — "Free As A Bird" and "Real Love" — for The Beatles Anthology project.
FAMILY, FRIENDS, AND FANS REMEMBER JOHN LENNON
We asked Yoko how she was able to carry on after watching her husband die so tragically in front of her eyes: "Well, it was very hard for me, really. I don't know how I managed in those days, y'know? I think that one of the reasons I survived was because I kept telling myself that I have to survive for Sean."
Yoko feels that Lennon's status as a public artist pushed conventional boundaries and ultimately had its consequences: "He was meant to do it, I don't know. . . I think he was an inspired artist — he could not control himself about it, he just dished out all the things he was inspired to dish out, but also he was aware that it was very, very dangerous. I knew that he knew that he was playing a dangerous game. 'Gimme some truth' is what he was thinking, y'know? And so he was pushing that, to the point that it might have been dangerous — and yes it was, I mean, y'know. . . I think that probably he was too daring for his own good."
Yoko says that she thinks Lennon would've embraced most of the artistic and cultural changes that came into place after his death: "Internet, website — all that would have driven him crazy, but also he would have said, 'I told you so. It was gonna be a global village, and this is it!' Y'know, that kind of thing. But also, I think he might have gone to rap music — y'know, the first white rapper kind of thing — because he was a real, y'know, real rocker — and a funky one at that."
In 1982 Julian Lennon explained that the first seeds of a mature relationship had been planted during his final trip to see John in the spring of 1979: "Late-'70s is when I saw him the most. It sort of started from a five-year gap to a three-year gap and then the last time I saw him, he sort of said to me, 'Well, now's the time you can come anytime you want, rather than me saying, 'Well, I'm busy now,' or 'I'll see you, y'know, in a few months time' — it was up to me then."
Julian says that the fact that he never truly became close with his father still weighs heavily on his mind: "We saw each other on and off. . . I saw him, probably, maybe 10 times before he was killed, y'know? And I think it would have been nice to find some resolve between us eventually, but unfortunately that was never going to be, y'know? So, there will always be that unresolved point in my life, whether I like it or not. Yes, there is forgiveness, but there is still bitterness, and still anger there as well. But, it's not something I think about on a day-to-day basis."
Shortly before her own death in 2015, Lennon's first wife Cynthia Lennon recalled being thrilled when she heard he was coming out of retirement in 1980 to begin making music again: "He was writing. He started to write again which was fantastic, y'know, Double Fantasy. I thought 'Thank God, he's coming back into the real world.'"
George Harrison was able to take a more spiritual view of Lennon's murder than most: "I know John was, um, y'know, he knew who he was — a soul that happened to be in this body for this period of time, and. . . It's just the method by which you die; y'know, I think its nicer if you can consciously leave your body at death, as opposed to some lunatic shooting you on the street, or having a plane crash — something like that. I think it's unfortunate the way he went out, but it doesn't really matter — he's okay, and life flows on within you and without you."
Paul McCartney says he looks back on his partnership with Lennon with great affection: "We had a great collaboration. I mean, I don't think there's any doubt about that. Certainly from my point of view, John was like a great person to work with. He must've thought I was a great person to work with 'cause we stuck together for all that time. We'd grown up together."
Double Fantasy producer Jack Douglas told us that 1981 was to see Lennon complete his Milk And Honey album, head to L.A. to record songs for Ringo Starr's upcoming album, then hit the road with the Double Fantasy band: "It was totally planned. I saw the. . . I saw the drawings of what the stage looked like. He designed it himself. It had these big crab arms that he designed that had cameras on them; the stage looked like a spaceship (with) two crab arms on it with their arms opened up. It was very revolutionary and there were video cameras on them and there was a big screen and the cameras rolled out, 'could go over the audience. It was going to happen, probably in the spring. Second album in the can and the Ringo album."
Upon re-entering the music business during the summer of 1980, Lennon gave exclusive in-depth interviews to only five media outlets — Playboy, Newsweek, Rolling Stone, and BBC and RKO Radio. Longtime friend and photographer Bob Gruen told us that the 1980 interviews luckily showed Lennon when all the pieces to his life finally seemed to fit: "He really seemed to have a lot on his mind at that point. Anybody who reads those interviews will learn something. They're the clearest. . . Y'know, it's the clearest time in his life, I think. He really seemed to understand what he'd been searching for and how to get it."
James Taylor, who was originally signed to the Beatles' Apple Records, maintained a relationship with Lennon up to the time of his death. In the days before the murder, he had encountered Lennon's killer in the 72nd Street subway station below the Dakota. Taylor feels that Lennon's murder was, sadly, inevitable: "I was in the building uptown from the Dakota in New York City — a building called the Langham — the night that John was shot. I heard the shots. I couldn't believe it. I have always thought that there was something almost inevitable about it. I often have the feeling that — I'm not sure exactly where this comes from — that too much exposure, or too much celebrity, too much of a sort of public profile, is toxic and dangerous. In John Lennon's case, he was so well known, so universally known and loved, that I almost felt that it was statistically inevitable that someone was gonna. . . he was so accessible, y'know?"
U2's Bono says that Lennon's artistic integrity was the blueprint for all that came after him: "Well, he wrote the book for us. Y'know, you're talking about Rubber Soul, other albums — we've had, y'know, the 'White Album' in the back of our head. He's the one who was ready to take the pratfalls — to make an idiot out of himself to make a point — if that's what it took to make a point — to take the jeers and the sneers to sing his life. I think the courage to be uncool, in music and in art, is everything."
Heart's Nancy Wilson, along with older sister Ann, saw the Beatles at their third-to last public concert on August 25th, 1966 at Washington's Seattle Coliseum. She told us that in addition to his music, it was Lennon's passion for social issues that helped shape an entire generation's outlook on freedom and justice: "He was really screwed up in so many ways and so dark, but he really believed that he could help change things and change the big political system and change the money grubbing, all-mighty dollar aspects of politics, and he could put love first, and he could help lead his generation — our generation — and the next ones to a better place. And so he did. And so he and Paul McCartney and the Beatles did, and they rubbed off on us all so much."
The Ronettes' late-leader, Ronnie Spector, who was married to Lennon's record producer Phil Spector, said that the world will never get over the loss of Lennon's talent: "He was the nicest guy. And then when I found out he was dead; I couldn't get out of bed for three days. I was stunned. Because he was heavy. Now here's a guy. . . Talking about writing — there will never be another John Lennon."
David Leaf, one of the directors of the critically acclaimed documentary The U.S. vs. John Lennon, says that more than anything else, the film shows the former Beatle's absolute bravery in trying to stop the war in Vietnam: "What John Lennon did was fearless. He was willing to put it all on the line in the campaign for peace starting in '69, and he did not consider or care what the consequences were. He was willing to make a fool of himself and he was willing to be mocked if it would save lives. He and Yoko should have won the Nobel Peace Prize."
Fred Seaman, who was Lennon's assistant from early 1979 until his death, recalls that Double Fantasy was originally conceived as solo Lennon project: "In 1980, he started thinking about recording. And then the question was, what kind of record would this be? And originally John was going to do a solo record — that was his idea. And he thought about it for a long time. He didn't think of it in terms of a 'comeback,' but in terms of an update on what he had been doing. And he had been writing songs throughout the '70s."
Finally out as an eBook is rock writer Ken Sharp's groundbreaking and definitive 2010 book, Starting Over: The Making Of John Lennon & Yoko Ono's 'Double Fantasy.' The book, which interviews nearly every person involved in the creation of John Lennon's final music, sheds new and important light on every facet of the album's writing, recording, and promotion. Ken Sharp underscored the importance of the studio comeback for Lennon — and ultimately his legacy: "For John, the Double Fantasy sessions were a return to what really drove him for his whole life — (it) was music-making. It was a creative renaissance and a creative rebirth for him when he went back into the studio. A new decade had arrived. John was writing very commercial songs, he was working with some amazing New York session players. Also, he did a session with two of the members of Cheap Trick, so, it was really a creative rebirth for him with the Double Fantasy sessions."
The recently departed Dennis Ferrante, Lennon's main engineer during his New York years, was working a session for the Four Tops that night when he first heard that Lennon had been shot. He immediately called Lennon's ex-girlfriend May Pang for confirmation: "So I went inside and I said, 'I don't believe it.' So I called May, and I got her on the phone, and I said 'Hello,' and she started screaming. And I said 'It's true?' And she was hysterical. I said 'Oh my God.' And I just dropped the phone, I turned around, I took my bag, and I walked out (of the session). I left everything on the machine, I left the lights on, the mic's up, I just walked out. I didn't even say goodbye. I was totally destroyed."
Ferrante, who worked closely with Lennon throughout the '70s on such classic albums as Imagine, Some Time In New York City, Mind Games, Walls And Bridges, and Rock 'N' Roll says that Lennon's death absolutely leveled him: "I cried all night. And I just couldn't get over it, it was like they shot my father, or my mother, or my brother. And I was so distraught, I didn't go back to work for almost a week. I stayed home. And it's funny because nobody called. 'Cause they knew that I had worked with him." (OC: . . . worked with him)
Ferrante told us that he resented the fact that he and many other of Lennon's close friends were denied the opportunity to pay their last respects to him: "Yoko stole John from everybody because she had him cremated that night, or the next morning. And nobody got to pay our last respects to him — we never got to see him. She just cut everybody off from that. And I thought that was heartless on her part — and I still think it was heartless. Because, y'know, it's not that it was just her husband, he had a lot of friends that wanted to be there to at least pay respects, and she stopped it from everybody — she stopped everybody from doing that. Her claim was that she didn't want to put everybody through it, and I don't believe it."
Stephen Bard, co-host of the groundbreaking adult-geared Beatles podcast, 'Fabcast,' summed up why John Lennon's murder went beyond the bounds of rock n' roll or celebrity and truly altered the course of humanity: "It was a tragic world event because it encompassed everything that is bad. Everything that is bad, and wrong, and evil in the world with the murder of this man. Beatles was everywhere. The onslaught of magazines and fanzines that sprung up in the wake of Lennon's death was macabre in nature. They painted the Lennon-Ono romance to glorified heights; they deified him — and with good reason. It's a little unfair and maybe a little unrealistic, but this was a truly great man. This was a world man. This was a man of the world. This was an international observer-messenger and giver of goodness.
Years after John Lennon's death Paul McCartney revealed that the emotions still remain very close to the surface when thinking and speaking about his partner and closest friend since he was 15-years-old: "It wells up, y'know, when I'm at home on the weekends, suddenly and I start thinking about him, or talking to the kids about him — and I can't handle it and it all goes, y'know? But most of the time, I can just about handle it. You sort of have to to get through the day."
In celebration of John Lennon's 80th birthday on October 9th, 2020 his sons, Julian and Sean Lennon, appeared on the BBC Radio special Lennon At 80, and apart from discussing their dad's music, they spoke candidly about their own relationship: "(Julian): Listen, more than anything, I'm just glad that we're here. That you and I love each other and are able to connect and talk so openly about any of this stuff. (Sean): Yeah, me too. (Julian): Um, um, this is, y'know — you are my family. (Sean): I know. The only brother I've got. (Julian): Don't get me cryin' over here (laughter). Next. . . Next subject, please! (Sean): I know. I honestly. . . I, I do worry about crying because sometime when I talk about songs that dad wrote. . . (Julian): Yeah. (Sean): They're just so emotional. They're hard for me to even think about — let alone listen to, some of them. Especially, y'know, the later stuff, just 'cause I have so many memories of them making Double Fantasy and some of that stuff just breaks my heart, because it just. . . it's like a time machine. It takes me right back to those moments. . . (Julian): Yeah. (Sean): . . . which were pretty tough."