Joni Mitchell Plays First Full Show In 23 Years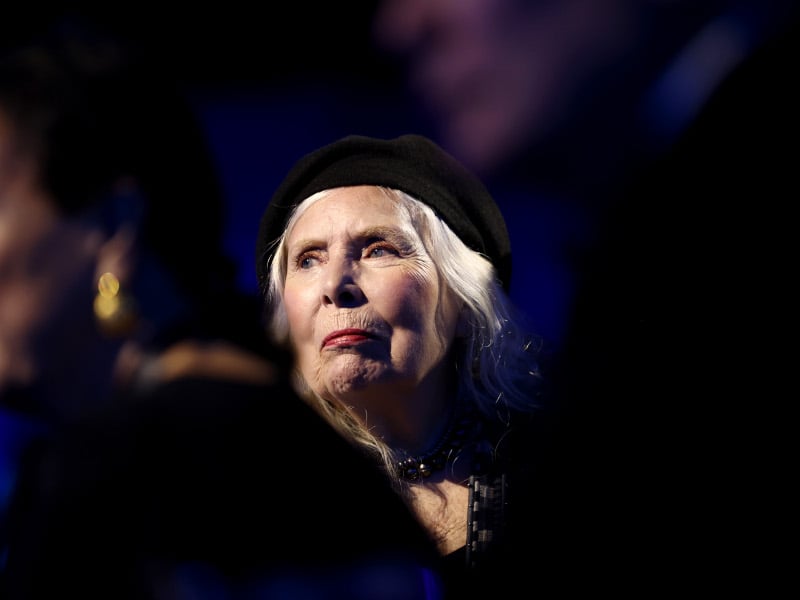 Joni Mitchell made her first full length concert performance in 23 years on Saturday (June 10th) in George, Washington at the "Joni Jam" at Gorge Ampitheatre. The show marked the singer/songwriter's first stage appearance since her July 24th, 2022 stage comeback at the Newport Folk Festival.
The Los Angeles Times reported special guests included Annie Lennox, the Revolution's Wendy Melvoin, Brandi Carlile, Sarah McLachlan, Marcus Mumford, Celisse, and Lucius, who all took guest turns during the 24-song set.
Classics performed during the set included "Big Yellow Taxi," "Carey," "Help Me," "A Case Of You," "Both Sides, Now," and "The Circle Game" — along with covers of George Gershwin's "Summertime," Lieber & Stoller's "Love Potion No. 9," Frank Sinatra's "Young At Heart," and Frankie Lyman & The Teenagers' "Why Do Fools Fall In Love."
We recently asked uber-fan Jimmy Page was asked if Joni Mitchell's influence can be found in Led Zeppelin's music: "Yeah, absolutely. I mean, I think anybody — any sort of, thinking people — were listening to Joni Mitchell's music. Apart from the fact that, y'know, I thought, she was absolutely gorgeous to look at and I really loved her music — right from the very, very first album onwards. Yeah, sure I listened to Joni Mitchell. Oh, we even make a reference to her in 'Goin' To California' on the fourth album."
Joni Mitchell's June 10th, 2023 setlist in George, Washington:
"Big Yellow Taxi"
"Night Ride Home"
"Raised On Robbery"
"Come In From The Cold"
"Amelia"
"Carey"
"Sex Kills"
"Summertime"
"Ladies Of the Canyon" (Performed by Annie Lennox)
"Help Me" (Performed by Celisse)
"Where There's A Will, There's A Way" (Performed and Written by Rick Whitfield)
"Love Potion No. 9"
"A Case Of You"
"A Strange Boy" (Performed by Wendy Melvoin)
"Cactus Tree" (Performed by Lucius)
"California" (Performed by Marcus Mumford)
"Blue" (Performed by Sarah McLachlan)
"Why Do Fools Fall in Love"
"Shine"
"Both Sides, Now"
"The Circle Game"
"Just Like This Train" (Instrumental)
"If"
"Young At Heart"