Journey Announces 'Live In Concert At Lollapalooza' Album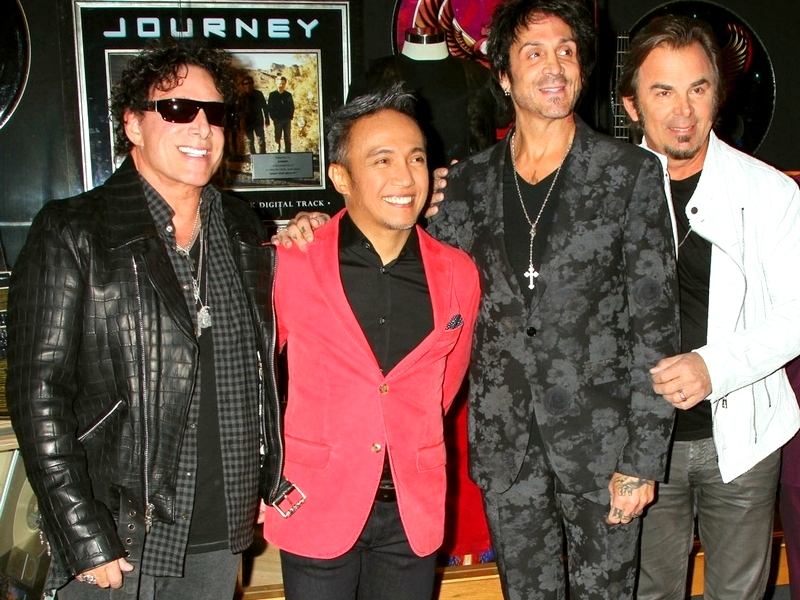 Coming on December 9th is Journey's Live In Concert At Lollapalooza. The new live collection follows their Freedom studio set released last summer and features the band's July 31st, 2021 performance at Chicago's Lollapalooza.
The album's lineup features classic members Neal Schon and Jonathan Cain along with longtime frontman Arnel Pineda. The band included the dual drumming by Deen Castronovo and Narada Michael Walden, Marco Mendoza on bass and Jason Derlatka on keyboards.
15 years on, Journey keyboardist Jonathan Cain told us that he and the band are not only thrilled with how Arnel Pineda has clicked with them musically — but rhe emains amazed at the courage and strength he's shown as a human: "Well, this guy is like right out of a Charles Dickens story. I mean, he's got an amazing tale to tell, and it's almost hard to believe he survived what he survived, y'know? So you gotta look at that and go, 'How tough is this guy?' He's as tough as they come, and I liked everything about him. (The) first week I spent with him I immediately liked him and took him to task and told him things I thought he needed to work on, certainly. But getting him out of the club was the main deal. We had to just get him to stop singing everybody else's music, y'know?"
IN OTHER JOURNEY-RELATED NEWS
Just released is a newly expanded version of The Season – Deluxe, Steve Perry's first-ever holiday album from last year. The 2022 edition adds two new, previously unreleased songs to the original LP's eight tracks: a brand-new composition called "Maybe This Year" and a soulful cover of Donny Hathaway's classic, "This Christmas."
Steve Perry said in the album's press release:
I wanted to write an original Christmas song of my own, so Dallas Kruse and I began writing what became, 'Maybe This Year.' I wrote the lyrical sentiment about how the holidays can bring such joy and sadness and how for me, both these emotions give me connection to feelings of gratitude for so many years gone by, and a desire to hold on to these holiday feelings we share throughout the coming year.
Along with "Maybe this Year" I have also added one of my favorite Donny Hathaway songs, "This Christmas." I dedicate both these tracks to my friend, Lamont Dozier.