Kiss Announces Deluxe 'Creatures Of The Night' Box Set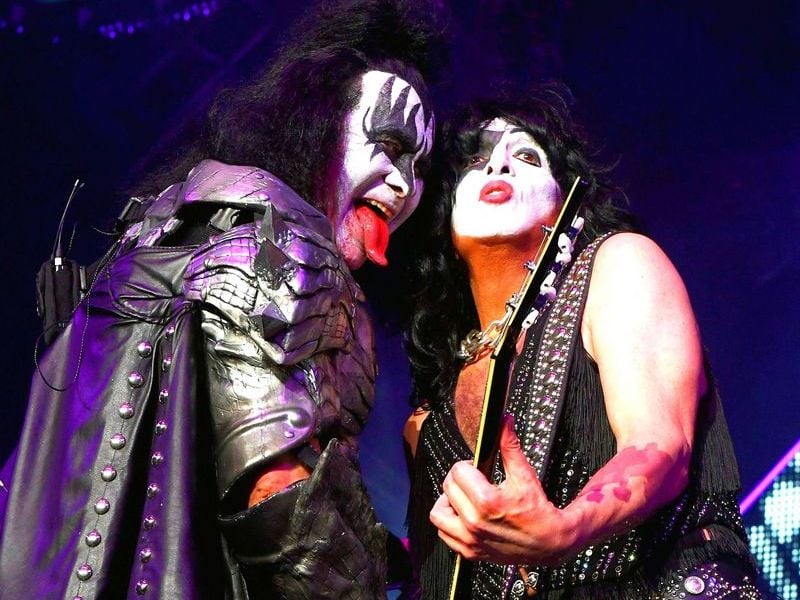 Set for release on November 18th is Kiss' "Creatures Of The Night – 40th Anniversary Super Deluxe Edition." The 103-track collection features 75 previously unreleased. The set features a newly remastered original album with two discs featuring 34 demos, rarities & outtakes including unreleased gems like "Deadly Weapon (Penny Lane Demo)," "Not For The Innocent (Demo)" and "Betrayed (Outtake)."
Discs Four and Five highlight 26 soundboard live recordings from the Creatures '82/'83 Tour and seven rare tour sound effects, all recorded and archived by the Creatures tour sound engineer Harry Witz. The Blu-ray Audio disc showcases a first-ever Atmos and 5.1 surround mix plus the high-resolution newly remastered 1982 stereo mix of the original album.
Creatures Of The Night was released on October 13th, 1982. Although Ace Frehley is pictured on the album's cover and is listed in the credits, he did not play on the album and had been replaced by Vinnie Vincent.
The album, a longtime fan favorite for its return-to-form songwriting and hardness, peaked at Number 45 on the Billboard 200. Creatures Of The Night was the band's final release for Casablanca and their last to be released while still wearing makeup until 1998's Psycho Circus.
Back in 1982, while promoting Creatures, Gene Simmons spelled out how important the band's true fan base remained even after a decade of success: "We keep in touch. We correspond with certain fans whose opinions we trust — that they don't try to flatter us by telling us that everything is great. And some fans tell us that she of the things we do are not that good — and that's very important. Someone who has an honest relationship with you. And we do have very close contact with our fans."
The tracklist to Kiss' "Creatures Of The Night – 40th Anniversary Super Deluxe Edition" is:
Disc One: Creatures Of The Night – Original Album Remastered:
1. Creatures Of The Night
2. Saint And Sinner
3. Keep Me Comin'
4. Rock And Roll Hell
5. Danger
6. I Love It Loud
7. I Still Love You
8. Killer
9. War Machine
Disc Two: Demos, Rarities & Outtakes:
1. I'm A Legend Tonight
2. Down On Your Knees
3. Nowhere To Run
4. Partners In Crime
5. Deadly Weapon (Penny Lane Demo)*
6. Feel Like Heaven (Penny Lane Demo)*
7. Nowhere To Run (Penny Lane Demo)*
8. Deadly Weapon (Original Demo)*
9. Feel Like Heaven (Original Demo)*
10. Nowhere To Run (Take 11 –Instrumental)*
11. Tell It To A Fool (Take 4 –Drums & Bass Instrumental)*
12. Chrome Goes Into Motion (Take 2 –Drums & Bass Instrumental)*
13. I'm A Legend Tonight (Mix 4 –Instrumental & Background Vocals)*
14. Don't Leave Me Lonely (Take 8 –Drums & Guitar Instrumental)*
15. Something Seems To Happen At Night (Gene Simmons Demo)
16. It's Gonna Be Alright (Gene Simmons Demo)
Disc Three: Demos, Rarities & Outtakes:
1. Legends Never Die (Gene Simmons Demo)
2. It's My Life (Gene Simmons Demo)
3. Not For The Innocent (Demo)*
4. I Still Love You (Take 1)*
5. I Still Love You (Take 2)*
6. Saint And Sinner (Take 1)*
7. Saint And Sinner (Take 2 –False Start)*
8. Saint And Sinner (Take 3)*
9. Betrayed (Outtake)*
10. Creatures Of The Night (Alternate Mix 19)*
11. Partners In Crime (Alternate Mix 16B)*
12. I Love It Loud (Alternate Mix 21)*
13. War Machine (Full-Length Version –Mix 11)*
14. Rock And Roll Hell (Take 2–9/10/1982)*
15. Rock And Roll Hell (Take 1 –Incomplete–9/15/1982)*
16. Rock And Roll Hell (Take 2–9/15/1982)*
17. I Love It Loud (Single Edit)
18. Creatures Of The Night (1985 Remix)
Disc Four: Creatures Tiur Live '82/'83 – Part One:
1. Creatures Of The Night (Rockford, Illinois–12/31/1982)*
2. Strutter (Sioux City, Iowa–12/30/1982)*
3. Calling Dr. Love (Sioux City, Iowa–12/30/1982)*
4. Firehouse (Sioux City, Iowa–12/30/1982)*
5. I Love It Loud (Rockford, Illinois–12/31/1982)*
6. Cold Gin (Sioux City, Iowa–12/30/1982)*
7. Keep Me Comin' (Sioux City, Iowa–12/30/1982)*
8. War Machine (Sioux City, Iowa–12/30/1982)*
9. I Want You (Houston, Texas –3/10/1983)*
10. Rock And Roll Hell (Rockford, Illinois–12/31/1982)*
11. I Still Love You (Sioux City, Iowa–12/30/1982)*
12. Shout It Out Loud (Sioux City, Iowa–12/30/1982)*
13. Gene's Bass Solo (Sioux City, Iowa–12/30/1982)*
14. God Of Thunder / Eric's Drum Solo / God Of Thunder (Rockford, Illinois–12/31/1982)*
Disc Five: Creatures Tiur Live '82/'83 – Part 2:
1. Paul's Love Gun Rap (Rockford, Illinois–12/31/1982)*
2. Love Gun (Rockford, Illinois–12/31/1982)*
3. Paul's Guitar Solo (Rockford, Illinois–12/31/1982)*
4. Black Diamond (Houston, Texas–3/10/1983)*
5. Detroit Rock City (Houston, Texas–3/10/1983)*
6. Rock And Roll All Nite (Houston, Texas–3/10/1983)*
Bonus Live Performances
7. Rock And Roll Hell (Sioux City, Iowa–12/30/1982)*
8. I Want You (Rockford, Illinois –12/31/1982)*
9. King Of The Night Time World (Pine Bluff, Arkansas–2/11/1983)*
10. Cold Gin (Houston, Texas–3/10/1983)*
11. I Still Love You (Houston, Texas–3/10/1983)*
12. Strutter (Houston, Texas–3/10/1983)*
Bonus Creatures Tour Sound Effects
13. Tank Start Of Show*
14. Turbine*
15. Firehouse Siren*
16. Drum and Ending Tank*
17. Bass Solo Wind and Gargoyles*
18. Bells*
19. Flames*
* Previously unreleased
Blu-ray Audio: Creatures Of The Night album:
*48kHz 24-bit Dolby Atmos / *48kHz 24-bit Dolby TrueHD 5.1 Surround / 96kHz 24-bit High-Resolution PCM Stereo