Myles Kennedy Names Favorite Tune From New Alter Bridge Album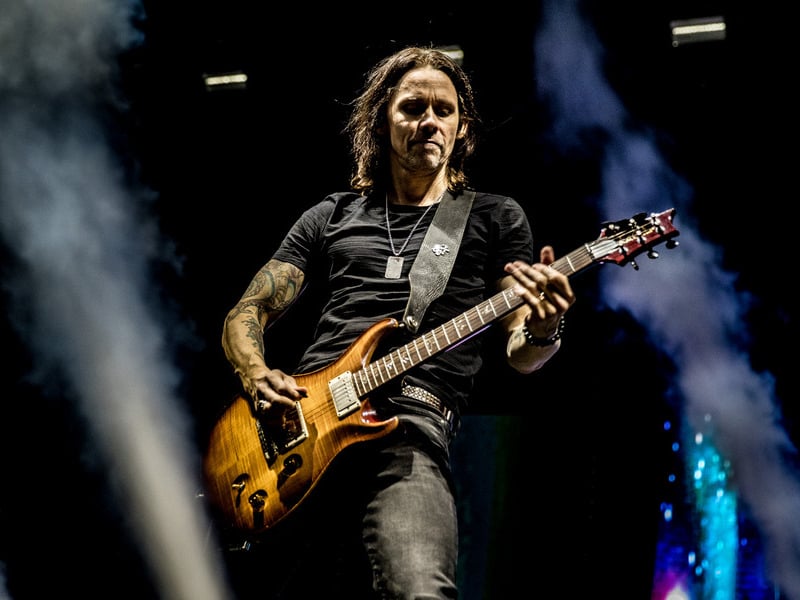 Frontman Myles Kennedy has already named his favorite tune from Alter Bridge's upcoming album, Pawns & Kings. The new collection, which drops on October 14th, is the band's seventh studio set and the followup to 2019's Walk The Sky.
During a chat with Ultimate-Guitar.com, Myles Kennedy was pushed to name his personal standout track from the Pawns & Kings and said, "Probably a song called 'Fable Of The Silent Son', which is kind of a long song, I think it's just over eight minutes long. It's a journey. I'm excited to hear how people feel about that one, and what I mean by hear about how they feel is from a lyrical standpoint."
He went on to say, "I'm hoping that it'll resonate with people because it really is kind of a 'learn from our mistakes' narrative. Y'know, it's the idea of, when sometimes you go through life, and you fall down and make your mistakes, you get up, you dust yourself off, and you learn from those mistakes, and it makes you a better person. But with that said, they are sometimes your hope is that somebody else doesn't have to make the same mistake, that they don't have to live through the same mistakes you did."
Alter Bridge was started by the three instrumental members of Creed and guitarist Mark Tremonti told us how ex-Mayfield Four singer Myles Kennedy became the final piece of the puzzle: "When we first started the band, we were desperately looking for a singer, and my buddy had brought me a Mayfield Four CD and, y'know, hearing the CD, I was blown away — this guy's, y'know, not doing anything right now and he's this good? I made demos and sent 'em his way, and he sang over them and he seemed to be into the songs and we loved what he did and he flew down January 2nd, 2004, and we've been a band ever since."
Alter Bridge kicks off its 25-date European tour on November 1st at Hamburg, Germany's Sporthalle Hamburg.