One Year Gone: The Rolling Stones' Charlie Watts Remembered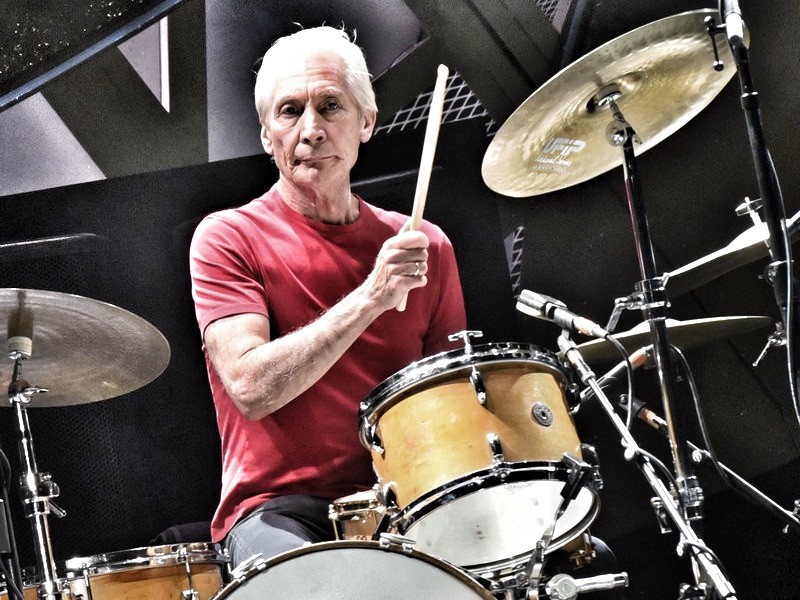 It was one year ago today — August 24th, 2021 — that that the music world was shocked to learn that Rolling Stones drummer Charlie Watts died at the age of 80. Fans had been showing concern when the news broke earlier this month that for the first time in his career, Watts was sitting out of a Stones tour due to an unspecified illness. Keith Richards' longtime collaborator and drummer, Steve Jordan was announced as Watts' understudy throughout the then-upcoming 13-city trek.
An official statement was released which read:
It is with immense sadness that we announce the death of our beloved Charlie Watts. He passed away peacefully in a London hospital earlier today surrounded by his family. Charlie was a cherished husband, father and grandfather and also as a member of The Rolling Stones one of the greatest drummers of his generation. We kindly request that the privacy of his family, band members and close friends is respected at this difficult time.
Due to Covid protocols, the Stones were unable to attend Watts' funeral in early-September 2021. Watts was laid to rest in a private ceremony in Devon.
Charlie Watts enjoyed the only stable family life of any of the Stones, having remained faithful to his girlfriend and then wife of over 55 years, Shirley, throughout the Stones' career. The couple, who raised Arabian horses, have one daughter Seraphina — and a granddaughter, her 24-year-old daughter, model Charlotte Watts.
The Rolling Stones paid tribute to Watts by posting a recent portrait of the drummer on the website, which stays frozen on the photo. Watts is the third of the original Stones to die, with co-founding guitarist Brian Jones drowning on July 3rd, 1969 at age 27, and co-founding pianist-turned-roadie Ian Stewart dying of a heart attack on December 12th, 1985 at 47.
Charlie Watts, who turned 80 the prior June 2nd, was the second-oldest Stone; co-founding bassist Bill Wyman is 85, Mick Jagger is 79, Keith Richards is 78, and Ron Wood is 75.
Coming on October 11th will be the first authorized biography on Charlie Watts, titled Charlie's Good Tonight: The Life, The Times, And Rolling Stones: The Authorized Biography Of Charlie Watts, was written by Paul Sexton and features new and intimate interviwws with the Stones and Watts' family — along with forewords by Mick Jagger and Keith Richards.
In April 2017, Watts released his latest big band album, called Charlie Watts Meets The Danish Radio Big Band. The set was captured back in 2010 in Copenhagen's Concert Hall of Denmark, following only four days of rehearsals between Watts and the musicians. The seven-song album features big band takes on such Stones classics as "You Can't Always Get What You Want" and "Paint It, Black" — along with a Bossa Nova-tinged take on "(I Can't Get No) Satisfaction."
Back in early 1962, Watts played in Alexis Korner's Blues Incorporated, who performed a Saturday night residency at London's Ealing Jazz Club. It was there that Stones founder Brian Jones frequently sat in with the band. By April of 1962, Mick Jagger joined the band, but soon decided to form his own group with Jones and childhood friend Keith Richards, naming their new combo the "Rollin' Stones" after the Muddy Waters blues classic. By early 1963, Watts joined Jagger, Richards, Jones, Bill Wyman and keyboardist Ian Stewart to become the original lineup of the Rolling Stones.
When not playing with the Stones, Watts has often worked on jazz-related projects. And in December of 1964, only a few months after the Stones released their debut album, Watts published a book, Ode To A High Flying Bird, a tribute to jazz legend Charlie Parker.
Although literally generations of rock drummers have cited Watts as an influence on their playing, Watts, a jazz aficionado, claimed not to really be a fan of rock music.
Watts, who was able to resist the lure of hard drugs throughout the '60s and '70s, developed a brief heroin addiction in the early-1980's — but soon after found the resolve to kick his demons.
Charlie Watts said that it never crossed his mind that the Rolling Stones would ever make it — let along become rock's longest lasting rock bands: "No, every band I'd ever been in lasted a week. I mean, you only lasted as long as the guy in the club, or whatever, would book you for. So, y'know, if they didn't like you, y'know, it was two gigs and that was it. So I always thought it's gonna last a week, then a fortnight, and suddenly it's 30 years."
Charlie Watts believed that had it never been for the Stones, he would've remained safe and sound in his jazz-based world: "Keith Richards taught me rock n' roll. We had nothing to do all day, but we'd just play these records over and over again, and I learned to love people like Muddy Waters and people like that, through an intensive three-year crash course, you might say. And Keith turned me on to how good Elvis Presley was. I use to hate him until then. Elvis was, like, the least sort of person I'd ever want. . . I mean, Miles Davis was more what I would — that's what I consider someone. Not Elvis, y'know?"
Charlie Watts recalled a typical gig on the band's first U.S. tour back in 1964: "Our first tour of America, I remember going to someplace, I don't know where it was, but it was in one of these, like, cow palaces, or something. And it was, like, 200 people in this huge arena all around the bandstand. And we drove in in a motorcade. That was thanks to the Beatles. I mean, they expected us to be like that."
Watts explained the deep musical kinship between himself and Keith Richards is almost like a sixth sense: "It's very easy playing with Keith. Very easy. Your only critic is yourself, really. He doesn't say, 'Oh that's 'orrible,' and you don't stop playing if whatever. It's like, 'That's how you wanna do it? See what 'appens. I didn't like it, but you liked it.' Y'know?' He's very easy like that, very easy to play with. And if it's good, he's very complimentary about it. Very comfortable to play with."
Despite all their inner-band sibling rivalries over the years, Mick Jagger and Keith Richards' love and admiration for Charlie Watts never diminished: "(Mick Jagger): Charlie's like, very quiet and he won't speak to you (laughs), and I don't know if that's a good idea. (Keith Richards): Charlie; Charlie to me is the Rolling Stones."
Ron Wood told us that although Charlie Watts loved playing jazz best of all, he couldn't hide the thrill he got from drumming for the Stones: "He hasn't lost interest, 'cause he's a jazzer at heart. I think that's what he would like to be doing, but I can see him enjoying his rock n' roll."
Bill Wyman was always astounded at the power of the Stones' drum sound — especially coming from such small kit. Wyman shed some light on the magic of Charlie Watts' drumming technique: "Drummers of today usually have about 50 or 60 items in their drums. I think he's got about seven — and he plays them great (laughs). He's an economist."
Charlie Watts admitted that although the Stones' hard partying ways always grabbed the biggest headlines, he maintained that you couldn't find two healthier guys than him and Mick Jagger: "To do what I do, to do what Mick does, he needs to do that as well. Now the two reprobates (laughs) will be . . . You have to ask Keith and Ronnie what they do, but they have another version of physical fitness."
Charlie Watts told us that as far as musicianship goes, drummers fit into a strange category: "I mean, the very nature of playing drums is a nervous twitch, really. It's a cross between being an athlete and a totally nervous wreck, really."
Charlie Watts maintained that Stones rehearsals are always far more vigorous than the actual gigs: "To do those five shows, you have to rehearse much as if you're doing 150, to get to the same. . . Y'know, if you don't play a lot — which we don't — your hands, you have to get used to playing. The rehearsals always are harder."
Watts explained that his personal interests always rested far away from the circus of the rock world: "Y'know, I've never fallen into (the) celebrity rock star thing. I've always looked to other people who aren't in that world with much more awe than rock n' roll."
Despite all the distractions around a major band like the Stones, drummer Charlie Watts was always focused squarely on the music: "I've always seen myself as a member of a band. Y'know, when I play with bands, I very much play in the band. I'm not. . . I'm very much a band member."
Keith Richards was recently asked about performing without Charlie Watts and admitted to Apple Music that it's almost too much to bear: "Man, I'm going to miss the man forever. And at the moment, I'm still, sort of, doing it in small increments — because otherwise it would be too difficult. But, I can almost feel Charlie smiling down on us every night and for the moment, that'll have to do, y'know?"
2021: FRIENDS & FANS REMEMBER CHARLIE WATTS
Paul McCartney: "I love you Charlie. I've always loved you."
Ringo Starr: "God bless Charlie Watts we're going to miss you man peace and love to the family"
Pete Townshend: "Charlie Watts wept at Keith Moon's funeral. I wish I was capable of such tears today. Instead I just want to say goodbye. Not a rock drummer, a jazz drummer really, and that's why the Stones swung like the Basie band!! Such a lovely man. God bless his wife and daughter, and I'll bet the horses will miss him too."
Elton John: "A very sad day. Charlie Watts was the ultimate drummer. The most stylish of men, and such brilliant company. My deepest condolences to Shirley, Seraphina and Charlotte. And of course, The Rolling Stones."
Peter Frampton: "I am heartbroken by this awfully sad news. Charlie was a dear friend and a gentle man. We will all miss you."
Kenney Jones: "I am so heartbroken to hear the news of Charlie Watts passing. I have so many fond memories of Charlie and will miss him dearly. My thoughts are with his family and all the Rolling Stones at this difficult time."
Brian Wilson: "I'm just shocked to hear about Charlie Watts. I don't know what to say, I feel terrible for Charlie's family. Charlie was a great drummer and I loved the Stones music, they made great records. Love & Mercy."
John Densmore: "An early mentor, a fellow jazz fan, RIP Charlie Watts."
John Fogerty: "I first saw The Rolling Stones in 1966 in the Bay Area and have been a fan ever since. Charlie Watts was one of the great drummers and will be missed. Rest easy Charlie"
Bob Seger: "So sad to hear the news of the loss of legendary Rolling Stones drummer Charlie Watts. His unforgettable rock solid backbeat will be remembered forever. Sending our thoughts and prayers to his family and friends."
Aerosmith: "We are extremely saddened to hear the passing of the legendary Charlie Watts. Our deepest condolences to Charlie's family and The Rolling Stones. Sincerely, from the guys in Aerosmith you've given us all so much! RIP CHARLIE."
Stewart Copeland: "So sad to lose a unique, iconic drummer. (and dancer) He was a quiet giant"
Brian May: "Sad sad news in the passing of Charlie Watts. Oh Lord. Deepest sympathies to his family – and to Keith, Mick and Ronnie to whom he was certainly beloved family. First picture is as I remember him, smiling and calm — from the Rolling Stones Facebook page. The second picture here is from a session I did with Charlie some years ago — the song was 'Reaching Out' — with Paul Rodgers on vocal, Andy Fairweather-Lowe on rhythm guitar and myself on electric guitar. It was a lovely moment. For some people this might be a cliché — but in Charlie's case it's the absolute truth — he was the nicest gent you could ever meet. And such a pillar of strength for the Rolling Stones – to whom he brought a touch of Jazz and a mountain of pure Class. Bless you Charlie. Rest in Peace and Rock on. Bri"
Lars Ulrich: "Charlie… Thank you for paving the way. Thank you for setting the standard. Thank you for making it swing. Thank you for being cool as f**k. Thank you for literally inspiring every single rock 'n' roll drummer on this planet."
Joan Baez: "In 2020 I painted his portrait as part of a series on my musician friends. Charlie Watts. A prince among thieves. A gentleman through and through. Rest in Peace."
Axl Rose: "Very sorry to hear of the passing of The Rolling Stones Drummer Charlie Watts. My deepest condolences to his family, the band and the fans."
Dave Davies: "In total shock Charlie Watts was a lovely guy. He will be sorely missed. Deepest sympathy to his wife, the band and all his family and friends."
Tony Iommi: "So sorry to hear the very sad news of Charlie Watts passing. He was such a nice guy and a major influence in the music business – he'll be sadly missed. My deepest condolences to his family and to Mick, Ronnie, Keith and all his friends and fans. R.I.P."
Paul Stanley: "Rolling Stones drummer Charlie Watts dies aged 80. AWFUL NEWS. One of the true timeless icons and the backbone of the Stones. Hard to fathom the loss. So very sad."
Gene Simmons: "Our prayers and hearts go out to Charlie Watts family, fans and friends. The Rolling Stones drummer played on Satisfaction, Honky Tonk Woman and hundreds more. Rest In Peace, Charlie."
Peter Criss: "As a musician it was always a comfort to know the greatest band in the world was still around. It is devastating to hear of Charlie Watts' passing. As a drummer he inspired me deeply. It is a great loss in musical history and there will never be another Charlie Watts. His unique style and technique was the heart beat of THE ROLLING STONES. He is and always will be an inspiration for us drummers. He was one of my favorite drummers and I have so much love and respect for him. He will be greatly missed. My love and prayers go out to Mick, Keith, Ronnie, and all his family and fans all around the world. May he rest in peace with the Lord in heaven. God Bless."
Joan Jett: "Charlie Watts was the most elegant and dignified drummer in rock and roll. He played exactly what was needed — no more — no less. He is one of a kind."
Lenny Kravitz: "The beat of The Stones. There are no words, every groove has spoken for itself."
Billy Idol: "Rest in peace, Charlie."
Duran Duran: "So saddened to hear about the passing of Charlie Watts. An absolute inspiration to a legion of drummers since the 1960's. A man of grace, style, dignity and composure."
Joe Elliott: "Devastating news, those in the know know he was the heart & soul of the band. . . I had the absolute pleasure of meeting him a few times, a total gentleman. . . it goes without saying he will be sorely missed. RIP Charlie"
Mike McCready: "Sad to hear of Charlie Watts passing. The Rolling Stones have always been my favorite band, and Charlie was the engine of subltle (sic) and heavy grooves. I'll put on 'Sway' which is my favorite song of all time. Any of us in a rock band wouldn't be here if it hadn't been for Charlie."
Tom Morrello: "Rock n roll would not be rock n roll without the rhythm, the style, the VIBE of this incredible musician. Rest In Peace Charlie Watts, one of the greatest and most important architects of the music we love."
Nikki Sixx: "This one hurts. To me he was the backbone to the world greatest rock n roll band. Such flair and always a gentlemen."
Vince Neil: RIP Charlie. Another Icon taken too soon. You will be missed."