Peter Frampton To Play Seated For Final Shows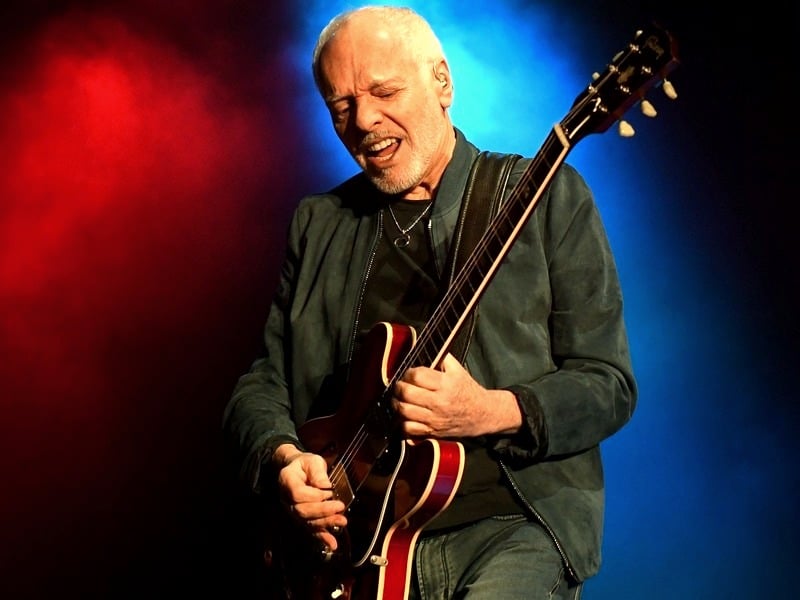 Peter Frampton revealed in a new interview with Classic Rock magazine that he'll be performing sitting down on his upcoming final shows in Europe. Back in October 2019 Frampton wrapped an exhaustive North American trek after being forced to slowly quit the road upon discovering he's suffering from a degenerative muscle disease called Inclusion-Body Myositus (IBM), that slowly weakens the body's muscles.
Frampton was set to play his final shows across Europe with a full scale tour during the spring of 2020 — until the pandemic sidelined his plans. As it stands now, eight shows are now on the books, with the Grammy-winning guitarist hitting England, Scotland, Belgium, Germany, France, and The Netherlands.
Frampton explained where he's at health-wise these days: "Well. . . my legs are not good, and I've decided I am going to sit down on these upcoming tour dates in Europe. I can't stand. That would be dangerous for me now, because I get so carried away when I'm playing that I'm liable to fall over (laughs). It's starting to affect my hands, but not enough yet, so I can still play a good lick. But I'll be honest, I'm so anxious about it. I haven't played over there in so long, and I have progressed in my disease. . . I sat down for the first time (at Buddy Holly's 85th Birthday Celebration) and. . . it felt very comfortable (laughs)."
When pressed about any specific regrets he's had over his decades in the business, Frampton admitted, "Only two things: I would've waited to make an album after Comes Alive!, and never put out I'm In You. Breaking All The Rules would've been a much better follow-up record. And I wouldn't have done the Sgt. Pepper movie."
Although Peter Frampton was able to stay an arena attraction throughout the end of the '70s, he feels that his career never recovered from the multi-platinum success of the live album. He said that his career nose-dived after Frampton Comes Alive! because there was no place left to go beyond its phenomenon: "No one knew how to make a record after that, because no one had ever made a record that huge. So that's where I was looking for professional help from those people that represented me. But the only person that really knew the answer to any question that I would ask — was me. Because, here I am asking all these people what I should do, because hell, this is the biggest record in history."