Remembering John Lennon On His Birthday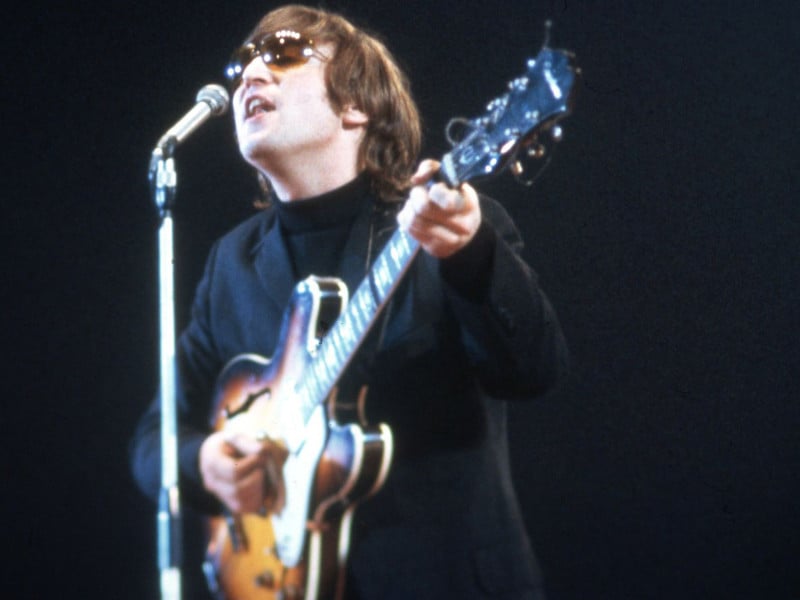 Sunday (October 9th) marks what would have been John Lennon's 82nd birthday. By nightfall, legions of fans will have made the pilgrimage to Central Park's Strawberry Fields in New York City for a day of remembrance, sing-alongs, and celebrations dedicated to the memory of Lennon. Strawberry Fields, a triangular patch of land dedicated to Lennon by the city of New York and named after the Beatles' 1967 hit, sits directly across the street from the Dakota, Lennon's Manhattan apartment building, where he was gunned down on December 8th, 1980 at the age 40.
In a bittersweet turn of events, Saturday is also Lennon and Yoko Ono's son Sean Lennon's 47th birthday — making him seven years older than his father when he was murdered. Back in 2020, Ono handed down all the family's business interests to their son, Sean. Ono, who has been wheelchair-bound for several years, is rumored to have suffered from a stroke, although no illness has been publicly revealed. On October 5th, 2020 Sean was officially appointed a director at eight companies linked to Yoko and the Beatles — including the group's company, Apple Corp. Sean has also joined the board of Lensolo, which administers his father's solo works.
Set for release on October 28th is the "super deluxe" version of the Beatles' Revolver, which will feature 28 early takes from the sessions, three home demos, and a four-track EP with new stereo and remastered original mono mixes.
Out now is Lennon, the Mobster & the Lawyer – The Untold Story, written by John Lennon's former attorney Jay Bergen. Bergen defended the former-Beatle in a multi-million dollar lawsuit against record business veteran — and known mafia associate, Roulette Records owner, Morris Levy, who took unmixed tapes of Lennon and marketed them on TV as Roots: John Lennon Sings The Great Rock & Roll Hits.
Released in 2020 was the new solo compilation, Gimme Some Truth. The set, which was produced by Yoko and Sean, features 36 songs completely remixed from scratch, using brand new transfers of the original multi-tracks, cleaned up to the highest possible sonic quality.
Also published in 2020 was the 288-page book John Lennon/Plastic Ono Band which chronicled John & Yoko's early years together and their works between 1968 and 1970.
Lennon's sons, Julian and Sean Lennon, appeared in 2020 on the BBC Radio special Lennon At 80, and apart from discussing their dad's music, they spoke candidly about their own relationship: "(Julian): Listen, more than anything, I'm just glad that we're here. That you and I love each other and are able to connect and talk so openly about any of this stuff. (Sean): Yeah, me too. (Julian): Um, um, this is, y'know — you are my family. (Sean): I know. The only brother I've got. (Julian): Don't get me cryin' over here (laughter). Next. . . Next subject, please! (Sean): I know. I honestly. . . I, I do worry about crying because sometime when I talk about songs that dad wrote. . . (Julian): Yeah. (Sean): They're just so emotional. They're hard for me to even think about — let alone listen to, some of them. Especially, y'know, the later stuff, just 'cause I have so many memories of them making Double Fantasy and some of that stuff just breaks my heart, because it just. . . it's like a time machine. It takes me right back to those moments. . . (Julian): Yeah. (Sean): . . . which were pretty tough."
2018 saw the release of the massive six-disc Imagine — The Ultimate Collection chronicling the sessions for Lennon's 1971 Imagine album. The set marks the most expansive and in-depth musical look at any Beatles-related project to date, and includes a brand new remastered stereo mix, raw studio recordings, outtakes, extras, and an audio documentary that explores the evolution of each song — plus new surround mixes on Blu-ray and a revamped Quadrasonic mix.
Also out is John Lennon and Yoko Ono's 1972 Imagine film coupled with the 2000 documentary, Gimme Some Truth: The Making of John Lennon's 'Imagine' Album. The two films are issued together on Blu-ray and DVD, with restored and enhanced 5.1 surround sound.
Available on DVD, Blu-ray, and digital formats is John & Yoko: Above Us Only Sky. The film, which produced by Britain's Channel 4 with the cooperation of Yoko Ono and the Lennon estate, features "unheard audio including the first demo of 'Imagine,' as well as never-heard-before interviews with one-time Beatle Lennon. Previously unseen footage shows him and Yoko working together in London." Above Us Only Sky was helmed by Emmy Award-winning and Oscar-nominated director Michael Epstein — best known for the 2010 LennoNYC documentary
In addition to Yoko Ono and Julian Lennon, the doc features new recollections from such key musicians in the Imagine story as bassist Klaus Voormann, drummers Alan White and Jim Keltner, photographer David Bailey, activist Tariq Ali, Lennon engineers Eddie Veale and Jack Douglas, Lennon's personal assistant Dan Richter, and Al Steckler — the American director of Apple Records, among others.
On September 7th, 2018, Yoko Ono and Sean Lennon were on hand at the Naumburg Bandshell in New York's Central Park for the dedication of the United States Postal Service's (USPS) John Lennon Commemorative Forever Stamp. Joining the Lennon's at the event was photographer Bob Gruen, Postmaster General/CEO Megan J. Brennan, and legendary New York City DJ Dennis Elsas. The stamps have been issued in a pane of 16, with a design aping a vinyl picture sleeve. The stamps themselves use a famed 1974 photo by Gruen, with the photo on the rear using the iconic 1971 Lennon shot of him at his English Tittenhurst Park estate recording "Imagine," captured by Peter Fordham.
FAMILY, FRIENDS, AND FANS REMEMBER JOHN LENNON
Yoko Ono told us that the fact that John Lennon and their son Sean share October 9th as a birthday, it's kept the day from being a bittersweet memory and an ongoing happy occasion: "It's very sweet. Because the feeling that I have — and probably Sean does, too — is the fact that John is still around, and looking over us and protecting us. So his birthday is really, a happy moment for us. A happy day for us."
Although Yoko Ono has made it her mission to keep John Lennon's artwork and unreleased music available to fans, she has held off on releasing a box set of Lennon's acoustic home demos and work tapes made over the years. Despite that, she told us that as Lennon's home demos prove, he was just as powerful a performer on his own as he was fronting a full band backing him: "John didn't need anybody — he could just do it. Because when he goes to the studio, before he goes to the studio, he's doing that at home and I think it's great, right? And then we go to the studio and we make the track and all that, and the track buries his voice, y'know? And he didn't need all of that."
Paul McCartney shed light on the personal demons Lennon dealt with growing up and spoke about the difficult family life Lennon came from: "I mean, the truth is, John was really a great guy and really a nice fella; but fame is a crazy thing and when you get the kind of fame that the Beatles got, if you're not that stable — it's tough. Now, if you look at John for his stability, you gotta look at a guy whose mother left him. . . his father left home then he was three, he was brought up by his auntie and his uncle; his auntie was living but the uncle died. Then, his mother, who used to live nearby was visiting one night, she left, she got run over by a drunken policeman and got killed stone dead when he was 16, his first marriage failed, so, y'know. . . And on top of all that, it's remarkable that he was as straight as he was, really."
George Harrison also felt that Lennon's tumultuous childhood not only shaped Lennon's life — but the Beatles' entire career: "John was, like, very tough. I mean, he had that ability to be gentle and soft and was lovely, but, y'know, he was acid, too. He gave that hard edge to the Beatles. He was an orphan, y'know? Well, he. . . his father left home and you've heard the songs, (sings) 'Mother, you left me, but I didn't leave you.'"
Ringo Starr has made it clear through the years that John and Yoko's involvement in the global peace movement greatly influenced his own take on humanity: "In many places of the world, we're in a time of peace and love. But in some places of the world, right now, there's a lot of violence gonna happen. We can only do our part, and my part is peace and love."
In 2005, Lennon's first wife and mother to his son Julian Lennon, the late-Cynthia Lennon, published her second book on the former-Beatle, titled John, in which she portrayed him as a tormented soul who never got over his childhood abandonment by his parents, when he was left at the age of four to be raised by an aunt. Shortly before her death in 2015, she told us that Lennon never overcame the circumstances of his childhood: "He was crippled inside. When you think about what he did as an art student — all his drawings and cartoons, he would do cartoons of cripples, he would imitate disabled people because he was disabled inside himself."
Although Lennon was missing for most of son Julian Lennon's life, he was able to provide him with some of the basic skills he would build upon during his own musical career: "He taught me how to play guitar a little bit. Yeah, Dad taught me some of the early, more basic chords of rock n' roll. One thing I would have to say is that I absolutely love and respect him. Not necessarily as a father, but for the work he did and his humanitarian work."
George Harrison's first wife Pattie Boyd, who spent so much time with Lennon in the '60s, told us how she remembers him: "Very funny. Very funny. Cruel as well. If anybody got on the wrong side of him, or (if) they were complete idiots, then he wouldn't fail to let them know."
Pete Best, the Beatles' original drummer, says that, although he never spoke to Lennon after the group fired him in 1962, he cherishes his times in Liverpool and Hamburg with Lennon during their all-night drinking sessions: "(My) best friend in the band was always John. (I was) friends with all of them but I was closest to John. We had an affinity which started back at the opening of the Casbah Club in 1959, it grew when we went out to Germany, you know we were the last two propping up the bars together (laughs). And of course I got to know another side of John, which was a very tender and a very loving side — which the world realized many, many years afterwards."
Elephants Memory bassist Gary Von Scyoc (pronounced: Von SY-ock) recorded several albums with John and Yoko — and is featured on 1972's Some Time In New York City. He recalled Lennon moving swiftly once he was geared up to record: "He respected us individually as players, and he knew no matter what, if he brought us a song, we were gonna come up with something. As far as John coming with those tunes, he used to come the night of, with a new song, every night — for two weeks straight. That's how we cut the album. Live in the studio is a whole new thing, because we started laying down the tracks, maybe a half-an-hour after we heard it for the first time."
Lennon's personal assistant, Fred Seaman, who worked for Lennon during the last two years of his life, recalls how the former Beatle's 1980 comeback came to happen: "The idea of recording evolved slowly over time. Initially John was told by Yoko that 1980 would be a good year to reemerge, for whatever. . . astrological reasons. John had a lot of accumulated material. Y'know, he wasn't necessarily dying to record again, but he had this material, he was restless — he wanted to work. That was his reason for being."
Jack Douglas, who produced Lennon's final sessions, explained that Lennon saw the 1980's as a positive and kinder era for society at large: "He saw the beginning of the '70s, as we all did as a time for 'me,' a time for us all to say 'now I'm going to do something for me. I've spent the '60s fighting for the cause' — whatever 'cause it was. And he was looking at the '80s as a time to say 'I'm going to do something for me, but I'm not going to step on anyone else to do it. I'm not going to exclude anyone else.' And that's what he was looking for in the '80s."
Heart's Nancy Wilson — along with sister Ann — saw the Beatles on their final tour on August 25th, 1966 at the Seattle Coliseum. She says that she remains as big a fan today as when she first heard the group in 1964: "John Lennon — Happy Birthday, man!!! He was one of the most raw nerves, embarrassing, dark, complex, genius, cynical, beloved, hilarious, poets the world could ever know. And I think one of the best things I love about . . . You have to give it up for John, was how naked (laughs) he would become (laughs) — like on the cover of Two Virgins, for example!!! I mean figuratively as well."
It's been a common belief that Lennon was out of touch with his extended Liverpool family during his later New York years, and that many of his relatives were unable to ever make contact with him. Lennon author Phillip Norman was asked if Lennon was really that isolated from his family: "No, not at all. I mean, I've seen letters that he wrote to his cousins, and he wrote to his (aunt) Mimi about his aunts and his cousins. And some of them, as I say, were planning to come over and visit him not long before his death (laughs) and he was rather perturbed because he thought too many of them would be turning up in New York."
Shortly before his 2015 death, Lennon's recording engineer Dennis Ferrante, who worked with Lennon throughout the 1970's on such albums as Imagine, Some Time In New York City, Mind Games, Walls And Bridges, and Rock 'N' Roll, best remembered Lennon for his talent and humor: "He knew what he wanted, he knew what sounded good, he wrote what he felt. One of the nicest guys I've ever worked with in the studio — the more experimenting in the studio, the better he was. He was the most creative person I ever worked with. And he had a hell of a sense of humor, (laughs) he really had a dry wit. He really was very funny."
John Lennon's mid-'70s companion May Pang recalled many nights during his infamous "Lost Weekend" when Lennon and McCartney socialized in L.A. and New York City. Pang's recent photo book Instamatic Karma features one of the only photos taken of Lennon and McCartney after the Beatles' 1970 split. She told us that a Beatles reunion was never far from her mind: "Getting him back with Paul. Paul was the biggest, obviously. And I almost got them to write. It was in January of '75, we had seen Paul and Linda (McCartney), and we'd go out to dinner, they'd come by the house. And one morning he's thinking and he says, "Hey, I wanna ask you something' and I said 'What?' he said, 'Do you think I should write with Paul again? I was just thinking — what do you think?' And I said, 'The two of you, solo-wise, you're good, but when the two of you get together there's a magic that can't be broken." He just sort of looked at me and went, 'Yeah.'"