Ringo Starr's 2019 Greek Theatre Show Coming To CD And DVD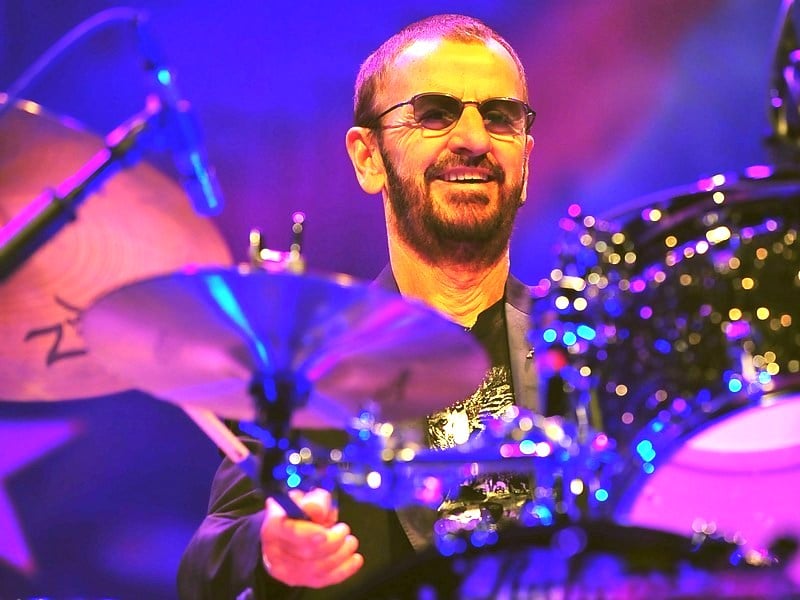 Although originally announced as a vinyl-only Record Store Day release, Ringo Starr And His All Starr Band Live At The Greek Theater 2019 is now set for CD and DVD release. The set, which drops on Black Friday — November 25th — features Ringo's previously-unissued September 1st, 2019 tour-closing All Starr Band gig at L.A.'s Greek Theater.
In addition to its famed drummer and bandleader, the 2019 All Starr's included Santana and Journey's Gregg Rolie, Toto's Steve Lukather, Average White Band and Paul McCartney sideman Hamish Stuart, and Men At Work's Colin Hay. Joining the group that night for the finale were All Starr alumnus Joe Walsh, Nils Lofgren, and Edgar Winter.
Beatlefan magazine contributing editor Tom Frangione has seen several shows each from every All Starr Band lineup since 1989 and admitted that aside from Ringo — he's a sucker for the rest of the band: "Ringo — I've gotten to the point where it's the least interesting part of the show. Because he's gonna do 'Yellow Submarine' and '(With A Little) Help From My Friends' — those two, they're a gimme, and y'know what — I'm good with it. Everybody should hear those, too. And y'know what other two they should hear — 'Photograph' and 'You're Sixteen.' They were his two Number Ones."
Ringo told us that unlike some creative representation of the band as artists, the All Starr Band tours have always been about people having a night out seeing a show jam packed with their favorite songs: "I mean, the main criteria is that you have to have hits from the '60s — which I have, the '70s, '80s and that's what we do. Y'know, as I keep saying: 'We are the 1-800 number live show.'"
The tracklisting to Ringo Starr And His All Starr Band Live At The Greek Theater 2019 is:
Disc One:
"Matchbox
"It Don't Come Easy"
"What Goes On"
"Evil Ways"
"Rosanna"
"Pick Up The Pieces"
"Down Under"
"Boys"
"Don't Pass Me By"
"Yellow Submarine"
"Cut The Cake"
"Black Magic Woman"
Disc Two:
"You're Sixteen"
"Anthem"
"Overkill"
"Africa"
"Work To Do"
"Oye Como Va"
"I Wanna Be Your Man"
"Who Can It Be Now?"
"Hold The Line"
"Photograph"
"Act Naturally"
"With A Little Help From My Friends"