Rock Hall This Saturday: Honors Still Divides Rockers & Fans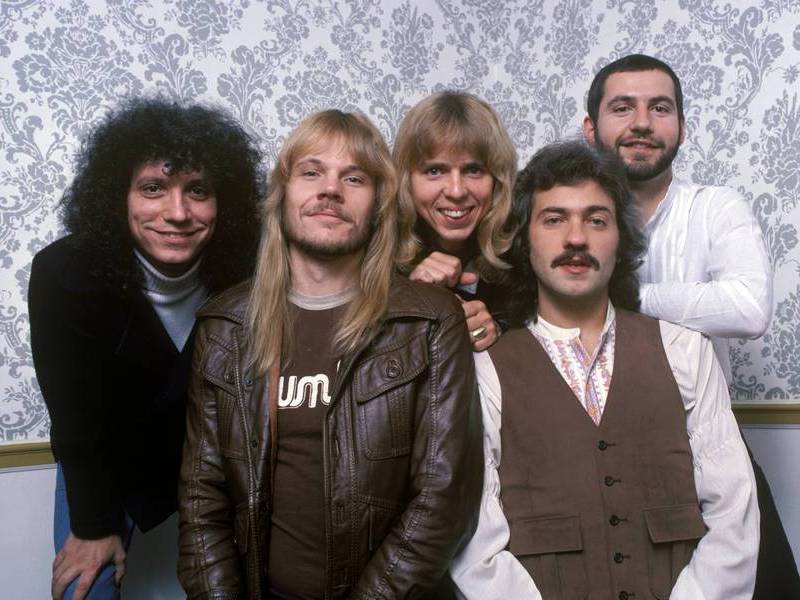 The Rock and Roll Hall of Fame will induct it's 2022 members on Saturday night (November 5th) at L.A.'s Microsoft Theater, with an edited version of the event airing on November 19th on HBO.
This year's Rock Hall inductees are Duran Duran, Pat Benatar, Eurythmics, Dolly Parton, Lionel Richie, Carly Simon, and Eminem. 2022's Musical Excellence Award will go to Judas Priest along with producers Jimmy Jam and Terry Lewis.
Early Influence Awards will go to Harry Belafonte and Elizabeth Cotten, with Ahmet Ertegun Awards going to recording engineer, producer, and executive Jimmy Iovine, R&B singer and Sugar Hill Records founder Sylvia Robinson, and attorney, Allen Grubman.
During a recent chat with Forbes, Rock Hall Chairman John Sykes revealed the event will include appearances and inductions by Bruce Springsteen, John Mellencamp, The Edge, Sheryl Crow, Alanis Morissette, Pink, Olivia Rodrigo, Maren Morris, and Zac Brown.
The 2022 Rock Hall nominees that did not make the final cut are Beck, Kate Bush, Devo, Fela Kuti, MC5, New York Dolls, A Tribe Called Quest, and Dionne Warwick.
Artists are eligible for induction into the Rock and Roll Hall of Fame 25 years after their debut release. For every handful of acts that enter the Hall each year, there are dozens that never make it past the final ballot and hundreds more who aren't even in the running.
We recently asked singer Kate Pierson how she felt about the B-52's being passed over for induction every year since 2003: "I think we should be in it — that's how I feel (laughs). I mean, I really kind of think it should be more inclusive and they should include everyone (laughs). I don't know, it just seems kind of silly to me to have this Rock and Roll Hall of Fame, y'know, they only — it's like a little club, or something. And I guess you have to lobby to get in and, yeah, it'd be great, but I'm not saying I don't wanna be in that club (laughs) but (laughs), y'know, I don't know what it takes to get in there."
With Styx still a top live concert draw — not to mention having their name now gracing moons on neighboring planets — we asked guitarist J.Y. Young how he feels about the band's chances in finally getting inducted into the Hall of Fame in view of hard rockers Journey, Yes, Rush, and Heart recently getting the nod: "Rush is something I wouldn't have expected. But because they're sort of non-traditional. They're a little more arty than the rest of us it seems. But Heart, the fact that the one sister was married to Cameron Crowe, who was obviously. . . wrote for (Rolling Stone publisher) Jann Wenner. Jann Wenner plays such a very big role in the selection process, that Heart makes sense in being the first act — and it's women, so it's unique. Yeah, Heart and Rush have now opened the door for the possibility in the future. But really, at this point (laughs), Tommy (Shaw) and I really don't care."
J. Geils Band frontman Peter Wolf is closely associated to the Rock Hall and in recent years has made it onto the Hall's shortlist a few times: "I'm someone that, y'know, appreciates what the Hall of Fame does, so, I'm honored. Also, for me, what I think the Geils Band has accomplished — besides putting on the 'hellified' shows we tried to do night after night — we really tried hard to give an awareness to artists that we worshiped and adored. I really think at the end of the day, we turned a lot of people on to John Lee Hooker, to Smokey Robinson. We turned a lot of people on to, y'know, so many artists that have gone unrecognized."
Judas Priest will finally see induction this year, albeit in the "Musical Excellence Award" category — as opposed to a straight on rank and file vote, which is how Ringo Starr was able to gain entry as a solo artist. Lead singer Rob Halford — told us even getting on the preliminary list made him proud to have the band considered part of the fabric that connects the best of rock: "It's just fantastic to be in the same category of all the other extraordinary talent is a thrill. And it just re-emphasizes the broad spectrum of what the Rock and Roll Hall of Fame represents. It's a little bit of everybody, again."
Backstage at their 2014 Rock Hall induction, Daryl Hall — who has been openly critical of Hall & Oates being ignored by the Hall of Fame for so long — was asked about how he felt to finally be inducted: "Y'know what I think? I think it's all about the past and we're about the present, if you want to know the truth. I got so much going on personally — and I know John does, too. I actually had to take time off to do this, 'cause I got so many other projects going on. I mean, that's not blowing smoke, it's really true. I got two television shows (laughs), touring (growls) — on and on and on."
Despite "The Twist" being one of the biggest and most influential hits of the rock era, Chubby Checker, who has been eligible since the Rock Hall's inaugural in 1986, is resigned to the fact that he won't be inducted: "It's not a big deal. I mean, it's not completed without me anyway. I just like to talk about what we've done in the music business and what is still being done as a result of our being in the music industry and that will just put the Hall of Fame to shame. We don't need to talk about them. It's no sense. The Hall is not completed without Chubby Checker. What we've done is so incredible. It's okay."
Three Dog Night has been eligible for induction since 1993. Co-founder Chuck Negron says they've consistently been passed over simply because the group didn't write their biggest hits: "It's a very strange thing. For some reason Three Dog Night has been stuck with this stigma that we weren't innovative and that's mind-boggling. Based all on the fact that we didn't write (our own material). We changed the music . . . the landscape of the touring business, we created stadium tours. And, y'know, if you're going to talk about writing, Elvis Presley didn't write a song."
A while back, Eric Carmen said that although the Raspberries have long been cited as "power pop" innovators and have been eligible for induction since 1997, they simply lack the political clout to get into the Rock Hall: "Having been in the music business now for 35 years, or whatever it is, and having had situations where I've bumped into Jann Wenner and some of the powers that be over there, there is so much politics involved in anybody actually getting into the Rock Hall."
Cleveland's Rock and Roll Hall of Fame recently ran an exhibit on Graham Nash, titled, Touching The Flame. We asked Nash, who has been inducted twice as a member of both the Holies and Crosby, Stills, & Nash, about the possibility of Crosby, Stills, Nash, & Young being inducted anytime soon: "Not only that — what about me? I'd like to see me in there! I'm a pretty historical figure regardless of my relationship with the Hollies or CSN or CSNY. And I definitely think CSNY is a completely different band than Crosby, Stills, & Nash — and why shouldn't they be in there?"
Back in 2013, 11 long years after becoming eligible, Heart was finally inducted into the Rock and Roll Hall Of Fame. Lead singer Ann Wilson shed some light on the fine line between being consistently passed over and finally being accepted into the Hall: "We've had occasions to go in when we're in Cleveland and do various little things at the Rock and Roll Hall of Fame, y'know, little musical events and stuff like that. I've been there a few times and seen all the cool items they have there. I know people tend to do go, when they don't get inducted into the Rock Hall, they're like, 'Oh, well it doesn't mean anything' — and then when they do, all of a sudden: 'Yeah! It's great!' It's such a hard thing for a musician, because the thing that makes you do it is the music itself."
Elvis Costello, who was inducted with the Attractions into the Rock Hall back in 2003, remains adamant that the event and honor really means very little in the grand scheme of things: "It's a box with some old things in, let's get it straight. It's a trip to the fun fair, that's all it is. It was great to sit around and see, y'know, the guys in my band's families have a night out where we celebrated that we, y'know, we've lived long enough to, y'know, have joined this crazy club. But really, in the long run, the people who put us in there I don't have any respect for."
Steve Miller, who had been critical of the Hall before he was picked for inclusion in 2016, was asked by the press what he would change about the Rock and Roll Hall of Fame — and even lashed out at a publicist trying to stymie his tirade: "Uh, yeah. Everything. The whole process is unpleasant. The whole process needs to be changed, from the top to the bottom. 'Doesn't need to be this hard, there's nothing fancy going on out there that requires all of this stuff. They need to get their legal work straight, they need to respect the artists they say they're honoring, which they don't — I don't have any of my paper work. . . is signed. I have no licensing agreements with these people, they're trying to steal my footage, they're tying to make me indemnify them. When they told me I was inducted, they said 'You can have two tickets; one for your wife and one for yourself. Want another one? It's $10,000 dollars. Sorry, that's the way it goes.' I said, 'I'm playing here, what about my band? What about their wives?' What about. . . They make this so unpleasant that they came this close. . . (to publicist) No, we're not going to wrap this one up! I'm going to wrap you up. You're going to sit over there and learn something. So, here's what you need to know. . . This is how close this whole show came to not happening because of the way the artists are actually being treated right now. So, I'll wrap it up right now (applause)." (1:31 OC: . . . up right now)
Back in 2016, Rock Hall favorite Steve Van Zandt was asked backstage about the long and slow process for classic artists to finally gain entry into the Hall: "But, it's tough, man. It's tough to get in. Y'know, it's not easy to get in. (Laughs) That's why when people don't show up at this thing, man, I get crazy! because it's so hard to get in. It's a pretty big list — J.Geils Band, y'know, high on my list. There's quite a few, still."
There have been several times during the Rock Hall's induction ceremonies that band members have been inducted but due to politics and bad blood between group members are forced to sit on the sidelines during the inductees' performances.
The first occurrence took place in 1993 when John Fogerty refused to share the stage with Creedence Clearwater Revival members Stu Cook and Doug Clifford: "(Doug Clifford): That was our night too. For the band. The band was inducted. And to have that happen, all of our children were there, including Tom's son who was going to fill in for his dad (Tom Fogerty). And then when we called John on it, he says, 'I don't like you. I won't play with you. You didn't help me get out of my contract 25 years ago.' What?! (Stu Cook): You're the guy who signed it without a lawyer! (Doug Clifford): Yeah, well."
In 2006 ousted Blondie guitarist Frank Infante tried to embarrass Debbie Harry and the other members into letting him and former bassist Nigel Harrison perform with the group, Harry made it clear they weren't welcome and afterwards said it was a tense situation: "I actually sort of expected much worse, if the truth must be known. I don't know if there's any way to really handle a situation like that. There's been, y'know, some bad feeling for a long time — there's been lawsuits — and, y'know, it's a bad feeling, really."
Stu Cook believes bad scenes between former bandmates will probably continue to happen as long as the Rock and Roll Hall Of Fame forces estranged musicians back together under the spotlight: "Creedence (Clearwater Revival), Blondie, Sly (& The Family Stone), you know all these misadventures that the Hall has had trying to push their agenda. . . Somebody's going to get hurt, y'know, their feelings hurt or there's going to be some kind of a scene. I guess they always thought that they could control it. I don't know, our induction into the Rock and Roll Hall of Fame wasn't very satisfying, needless to say."
Shortly before his 2004 death, Ramones guitarist Johnny Ramone told us he was confused by a few of some of the inductees to the Hall over the years. "I'm not sure what they consider. . . It's the Rock and Roll Hall of Fame, but you have Isaac Hayes, and Isaac Hayes is not rock 'n' roll. You have Paul Simon in and he's not rock 'n' roll. I don't really get it right at all times because I see people that are not rock n' roll."
THE FOLLOWING ARTISTS ARE NOT IN THE ROCK AND ROLL HALL OF FAME
Peter Frampton, Jethro Tull, Foreigner, Bad Company, Boston, the Monkees, Joe Cocker, Sonny & Cher, Bernie Taupin, Brian Wilson, Gram Parsons, Grand Funk Railroad, Frankie Avalon, Squeeze, Todd Rundgren, Badfinger, Big Star, the Flying Burrito Brothers, Sting, Humble Pie, Eddie Money, Harry Nilsson, Beatles recording engineers Norman Smith and Geoff Emerick, Styx, Free, Billy Idol, Duran Duran, Rockpile, Culture Club, Lenny Kravitz, the Runaways, rock photographers Jim Marshall, Ethan Russell, Gered Mankowitz, Dezo Hoffman, Astrid Kirchherr, Annie Leibovitz, Henry Diltz, and Bob Gruen; Chubby Checker, the Guess Who, rock journalist Lester Bangs, the Turtles, Phil Collins, Rolling Stones pianist and co-founder Ian Stewart, Mitch Ryder & The Detroit Wheels, Kansas, Ronnie Lane, Thin Lizzy, Joe Walsh, Delaney & Bonnie, Poco, the Dictators, Brian Eno, Television, Phil Ramone, Meat Loaf, America, XTC, the Searchers, Leslie Gore, the Raspberries, the B-52s, Paul Revere & The Raiders, Herman's Hermits, Mountain, Blue Oyster Cult, Chic, the New York Dolls, and many more.