Rock N' Roll Forefather Jerry Lee Lewis Dead At 87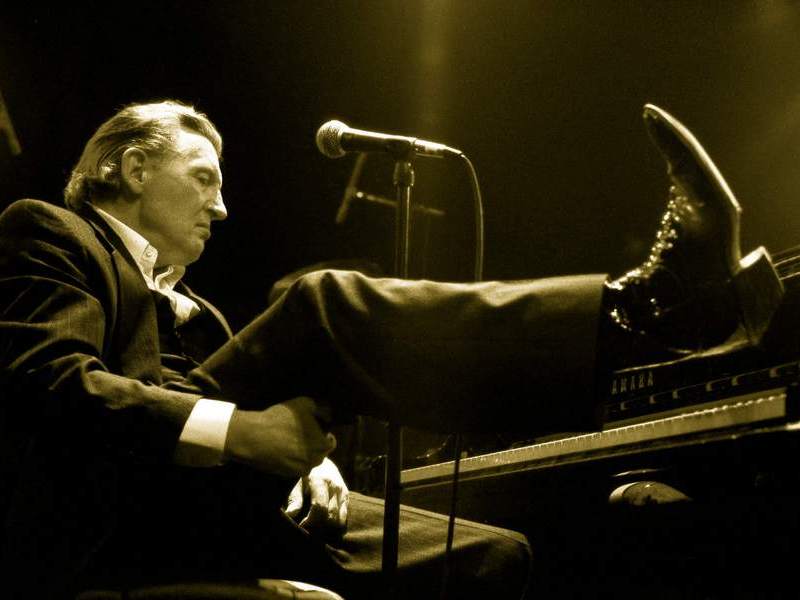 Legendary rock n' roller Jerry Lee Lewis died on October 28th just short of a month after celebrating his 87th birthday last September 29th. Lewis died due to complications from pneumonia at his home in DeSoto County, Mississippi, south of Memphis, Tennessee.
Jerry Lee Lewis is survived by his wife of the past decade Judith Coghlan Lewis; his children, Jerry Lee Lewis III, Ronnie Lewis, Phoebe Lewis, and Lori Lancaster; his sister, singer Linda Gail Lewis, and many grandchildren.
Former Memphis Mafia member Jerry Schilling, who was the longtime Creative Affairs director of Elvis Presley Enterprises — and is now the president of the Beach Boys' Brother Records Inc., managed Jerry Lee Lewis for seven years. He recalled his old friend with much love and admiration: "It was truly an honor to know, work with, and manage Jerry Lee Lewis. What a unique talent and to get to know him personally — he didn't compromise but he was a good man. I love him. I'll miss him. What a unique human being."
A while back Jerry Lee Lewis shed light on his legacy and how it both served him while also setting him back: "Jerry Lee Lewis was so far ahead of his time, the doors he was opening and the things he was doing — you could do now and there would be no attention paid to it at all. What I was doing then shocked a lot of people and it was something I had to live with and something that people never learned to live with themselves. And it took a few years to even the score up and to let people know I wasn't such a bad person after all — especially the ladyfolks (laughs)."
"The Killer," as Jerry Lee was nicknamed in high school, came of age as part of the legendary Sun Records roster in the 1950's, alongside Elvis Presley, Johnny Cash, and Carl Perkins. Although he grew up with similar influences as his labelmates, his music had a much harder edge — his acrobatic piano playing, much like his personality, was rowdy and dangerous.
Earlier this month, "The Killer" was finally inducted into the Country Music Hall of Fame. Too ill to attend the ceremony, old friend Kris Kristofferson personally presented the coveted award to Lewis at home.
With the 2021 death of the-late Don Everly, Jerry Lewis stood as the sole-surviving rock n' roll pioneer, having outlived Don's brother Phil Everly, Fats Domino, Little Richard, Chuck Berry, Bo Diddley, Buddy Holly, Eddie Cochran, Gene Vincent, Carl Perkins, and "The King" — Elvis Presley. As he predicted, he indeed was — literally — "The Last Man Standing."
In February 2020, Lewis suffered a minor stroke, forcing the legend to postpone a string of dates. Back in October 2009, Jerry Lee Lewis opened both the Rock & Roll Hall Of Fame 25th Anniversary Concerts at New York City's Madison Square Garden.
In 2013 it was reported that producer T-Bone Burnett was working with "The Killer," on an album that was to be released in conjunction with the HarperCollins publication of Lewis' recently published memoir — Jerry Lee Lewis: His Own Story — as told to Pulitzer-Prize winning author Rick Bragg. So far, no release date for the album has been announced.
In 2009 Jerry Lee enlisted some of rock's greatest icons — and his own biggest fans — to contribute to his most recent album, Mean Old Man. Among the heavyweights appearing on the set are Mick Jagger, Keith Richards, Ron Wood, Ringo Starr, Eric Clapton, John Fogerty, Mavis Staples, Slash, Tim McGraw, Merle Haggard, Willie Nelson, and Solomon Burke, among others — many of whom appeared on Lewis' 2006 set, Last Man Standing.
Highlights on Mean Old Man include Jagger on the Rolling Stones' Sticky Fingers favorite "Dead Flowers," Jagger and Richards teaming up on a rendition of the Stones' Exile On Main Street classic "Sweet Virginia," Ron Wood on the Kris Kristofferson-written title track, Eric Clapton and James Burton playing guitars on "You Can Have Her," Ringo Starr and John Mayer joining in on "Roll Over Beethoven," and Kid Rock and Slash appearing on "Rockin' My Life Away," Sheryl Crow and Jon Brion teaming up on "You Are My Sunshine," and John Fogerty appearing on a new recording of his Creedence Clearwater Revival standard "Bad Moon Rising."
Jerry Lee saw only three songs hit the Top Ten of the Billboard Hot 100 during his career. Though his debut single, "Crazy Arms," didn't cause much of a stir, 1957's "Whole Lotta Shakin' Going On" was the record that broke through for Lewis. The song first sold 100,000 copies in the South, and then an appearance on The Steve Allen Show catapulted its sales to six million nationally.
"Great Balls Of Fire" was another 1957 hit for him, and sold more than five million copies. "Whole Lotta Shakin' Going On" and "Great Balls Of Fire" were simultaneously in the Top Five of the pop, country, and R&B charts.
In 1958, Jerry Lee saw a third record hit the Top Ten as "Breathless" became a Number Seven hit.
Unfortunately for his career, he was the subject of popular scandal, too. The fact that he married his 13-year-old cousin in 1957 cost him the respect of many fans and forced him to cancel a UK concert because the fans were so outraged.
Since then, he's remarried several times and endured well-documented battles with the I.R.S., drugs, and health problems.
Jerry Lee Lewis was inducted into the Rock and Roll Hall of Fame in its first year, 1986. He has been a major influence on a number of performers, including Bruce Springsteen, who backed him up at the Concert for the Rock and Roll Hall of Fame in 1995, as well as John Mellencamp, Creedence Clearwater Revival, Elton John, and Billy Joel, among others.
In 1989 Dennis Quaid starred as Jerry Lee in the heavily whitewashed biopic, Great Balls Of Fire.
ROCKERS SALUTE "THE KILLER"
Ringo Starr: "God bless Jerry Lee Lewis peace and love to all his family."
Mick Jagger: "God bless you Jerry Lee. Your songs lit up my life!"
Keith Richards: "'Goodbye to the Killer' RIP – Keith"
Ron Wood: "R.I.P. JLL the KILLER – What a man"
Rod Stewart: "This great man had an extraordinary influence on all us early British rockers. Bless you, Jerry. Rest in peace. We will never ever forget you."
Elton John: "Without Jerry Lee Lewis, I wouldn't have become who I am today. He was groundbreaking and exciting, and he pulverized the piano. A brilliant singer too. Thank you for your trailblazing inspiration and all the rock 'n' roll memories."
John Fogerty: "Sad to hear of the passing of Jerry Lee Lewis. Love his music and I was hugely influenced by his records and live performances which were full of fire and inspiration! No one could touch him. God Bless you, Jerry Lee."
Al Jardine: "RIP Jerry Lee Lewis aka The Killer! I remember that Jerry made our show in Spain in 1990 very special. He refused to perform unless he closed the show. We had a great show!"
Dave Davies: "Jerry Lee Lewis — regardless of whatever he did in his private life he will always be known for his exceptional creative influence in the rock and roll world."
Gene Simmons: "Sadly, One of the pioneers of rock 'n' roll has passed. A rebel to the end. RIP, Jerry Lee Lewis.….Jerry Lee Lewis, Influential and Condemned Rock & Roll Pioneer, Dead"
Tom Hamilton: "Goodness Gracious!! RIP to the original ball of fire, Jerry Lee Lewis!"
Kid Rock: "I will FOREVER cherish my time with Jerry Lee on and off the stage. No question one of the best to ever do it and one of the godfathers and architects of rock n roll. Your music will always live through me, and the rest of the world! Rest in peace and Rock on Killer!!"