Rockers Salute Christine McVie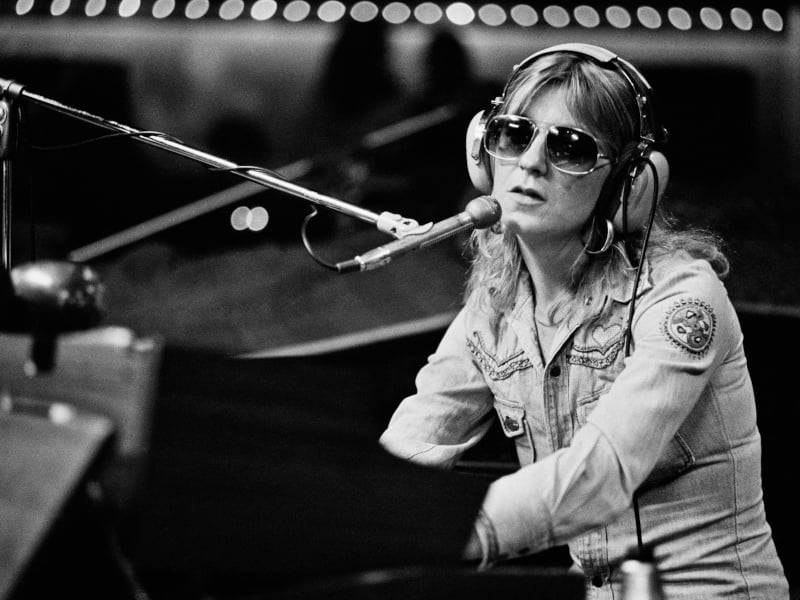 The music world and beyond have posted loving tributes to the late-Fleetwood Mac singer-songwriter-keyboardist Christine McVie. McVie, who had turned 79 back in July, died on Wednesday, November 30th, following a short illness.
Longtime collaborator and bandmate Lindsey Buckingham posted a handwritten note to Instagram paying tribute to McVie.
The note reads, "Christine McVie's sudden passing is profoundly heartbreaking. Not only were she and I part of the magical family of Fleetwood Mac, to me Christine was a musical comrade, a friend, a soul mate, a sister. For over four decades, we helped each other create a beautiful body of work and a lasting legacy that continues to resonate today. I feel very lucky to have known her. Though she will be deeply missed, her spirit will live on through that body of work and that legacy."
Back in 1998 during Fleetwood Mac's induction into the Rock & Roll Hall Of Fame, presenter Sheryl Crow reflected in glowing terms on McVie's influence on her: "Christine McVie made it cool to be the piano player in the band. She showed me that it's not about being 'pretty good' for a 'chick' — it's about being great. She showed me that a driving rock song could be written on the piano. The first time I heard her sing 'Spare Me A Little,' I was blown away, and I still have the same reaction to it when I revisit that song today."
When we last crossed paths with her, Christine McVie admitted to us that as the years rolled by, she had instinctively become the greatest editor of her material: "I've never been a really prolific songwriter. I don't write millions and millions of songs. I write when I know there's a project coming up or when I. . . It's not something that I must do all the time, every day, every day. . . So, when I do come up with a song — when I do write a song — for me, it has to be special; y'know, otherwise I'll throw it out before it gets anywhere near being finished. If I don't like the chords and I don't like the way it's going, then I'll drop it."
CHRISTINE McVIE REMEMBERED
President Bill Clinton wrote: "I'm saddened by the passing of Christine McVie. 'Don't Stop' was my '92 campaign theme song — it perfectly captured the mood of a nation eager for better days. I'm grateful to Christine & Fleetwood Mac for entrusting us with such a meaningful song. I will miss her."
The Eagles wrote: "We are deeply saddened by the news of the passing of Christine McVie. Hers was a vibrant, soulful spirit, and her music was, and will remain, a gift to the world. We had the utmost admiration and respect for Christine. We send our heartfelt condolences to her family, her bandmates, and her legions of fans."
Brian Wilson wrote: "It's so sad to hear about Christine. A wonderful singer and songwriter. She will be missed but her music will last forever. Love & Mercy to Christine's family."
Mike Love wrote: "Shocked and saddened by Christine McVie's passing. We'll miss you Christine."
Carole King wrote: "With love and respect. R.I.P. Christine McVie."
Pattie Boyd wrote: "Such sad news of the passing of Chris McVie. Rod and I knew her well. Hugely talented girl. Sending love and prayers to her family and the extended FM family x"
Bob Seger wrote: "As a singer, songwriter and keyboard player, Christine was an undeniable talent, responsible for so much of the success of the great rock band Fleetwood Mac. Our thoughts and prayers go out to her family and the band in this difficult time."
Dave Davies wrote: "I'm really upset about Christine McVie a very underrated and talented woman. A great talent"
The Doors wrote: "Rest in peace rock n' roll icon Christine McVie, singer and songwriter for Fleetwood Mac. McVie helped shape the sound of the '70s alongside her counterparts in Fleetwood Mac."
Ann Wilson wrote: "Christine was a gem. Soulful, classy and a beautiful songwriter. 'Over My Head' was always my sultry, angelic favorite. Bon Voyage sweet soul."
Sheryl Crow wrote: "I am so sad to hear of Christine McVie going on to heaven. The world feels weird without her here. What a legend and an icon and an amazing human being. RIP"
Paul Stanley wrote: "How Very, Very Sad. Those songs. That voice. She truly was the Songbird."
Aerosmith's Tom Hamilton wrote: "RIP Christine McVie. Left us too soon. What a songwriter! Never met her but always heard she was a good person. Must be a sad day for John."
Duran Duran wrote: "So so sad to hear about Christine McVie an artist I held dear and close to my heart. One of the greatest all time songwriters, singers, and band members, she radiated both purity and sass in equal measure, bringing light to the music of the 70s. RIP."
Bryan Adams wrote: "RIP Christine McVie. Thanks for the music"
Bette Midler wrote: "Christine McVie has left us. What memories, what joy, and what a legacy…"
Susanna Hoffs wrote: "Peace and love, Christine McVie."
Diane Warren wrote: "Well this is some pretty sad s***ty news. Always loved her. Always loved her songs. Sing in power Christine"
Belinda Carlisle wrote: "Oh no. The voice of an angel. RIP Forever loved."
David Coverdale wrote: "A Beautiful Soul."
Garbage wrote: "Gutted to learn about the passing of Christine McVie. Just gutted. Songbird forever."
Bret Michaels wrote: "What a tremendous loss to the music community. My deepest condolences to the family, friends & fans of Christine McVie."
Sebastian Bach wrote: "One of the rare musicians who can honestly say her voice was around us more than ever at the time when she left us"