Ron Wood, Brian May, & Van Morrison Jam With The Legendary James Burton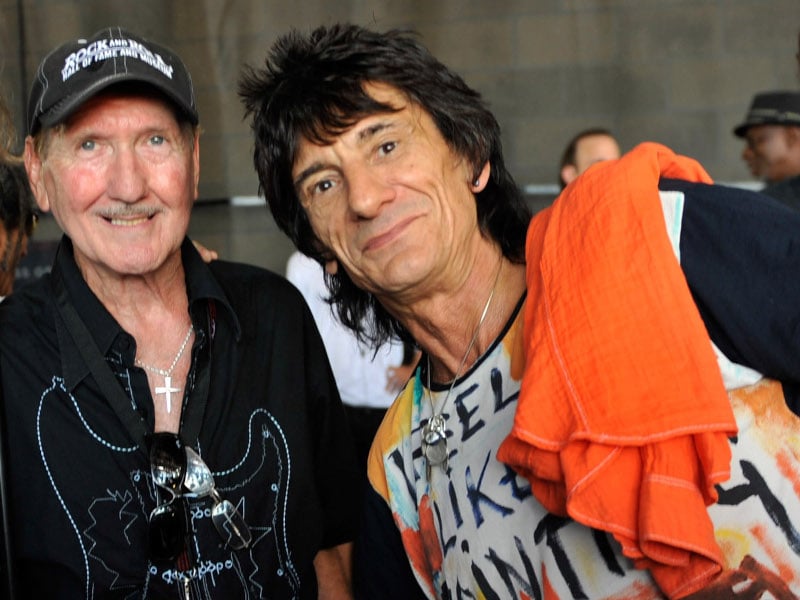 The Rolling Stones' Ron Wood, Queen's Brian May, and Van Morrison were but a few of the heavyweights performing with legendary Elvis Presley guitarist James Burton during his June 4th concert at England's London Palladium. Among the guest performers was famed guitarist Albert Lee, former-Doobie Brothers guitarist Jeff "Skunk" Baxter, and Paul Shaffer. The 83-year-old Burton has been battling countless health issues over the recent years — including kidney cancer.
As Elvis' lead guitarist, James Burton performed every show "The King" played between 1969 and 1977. In the ensuing years he toured extensively with John Denver and also played with Elvis Costello, among many others.
Highlights included early songs from his time backing the teenaged Ricky Nelson, studio work with the Monkees — featuring vocals by Micky Dolenz — along with a medley of Glen Campbell tunes and a salute to his time with Elvis.
Brian May and Ron Wood backed Burton on his Dale Hawkins' classic "Susie Q" with Brian May taking the lead on the Queen favorite "Hello Mary Lou." Van Morrison took the stage for a handful of tunes, including a particularly hot medley of Carl Perkins' "Boppin' The Blues" and "Blues Suede Shoes."
James Burton first attained fame while working for Ricky Nelson and recalled Elvis and Ricky's ultra-competitive football games in the early-'60s: "Y'know, him and Ricky were friends anyway. They played football or softball together. Elvis had his 'Memphis Mafia' guys and Ricky would have a bunch of guys that would go over. But Ricky never won any games. So one Sunday, Ricky had set it up; he called his friends that played in the Rams. He said, (laughs) 'You guys, I need some help, and we'll play Elvis' team (laughs).' And he did, he took the Rams over, and Elvis said, 'Wait a minute! (Laughs) This is not fair.' (Laughs)."