Taylor Hawkins Among The Drum Legends Featured In New 'Let There Be Drums!' Doc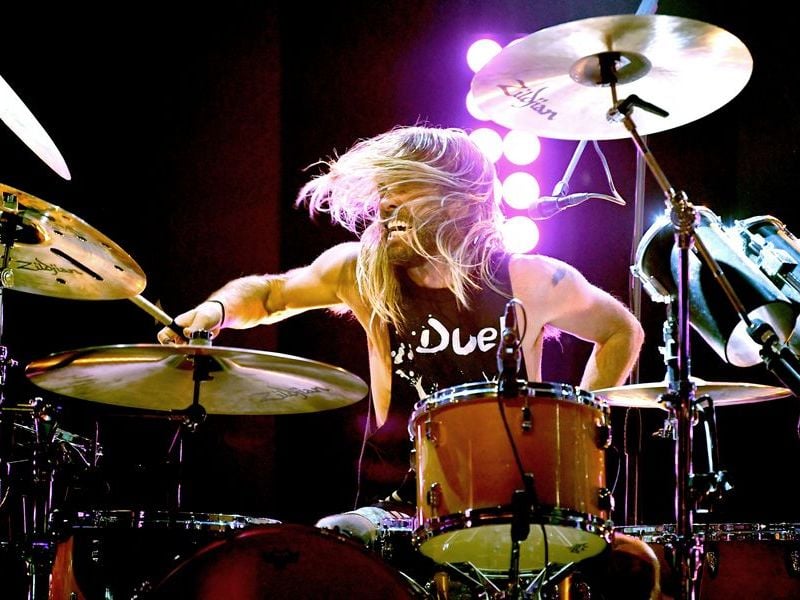 Late-Foo Fighters drummer Taylor Hawkins is but one of rock's many drum legends showcased in the new documentary, Let There Be Drums! Deadline.com reported filmmaker Justin Kretutzmann, the son of Grateful Dead drummer Bill Kreutzmann and Pete Townshend's official documentarian for nearly two decades, has inked a deal with Greenwich Entertainment for the North American rights to the film, which will hit theaters on October 28th.
Drummers featured in the doc demonstrating their love and technique are Ringo Starr, Stewart Copeland of the Police; Mickey Hart and Bill Kreutzmann of the Grateful Dead; Stephen Perkins of Jane's Addiction; Chad Smith of Red Hot Chili Peppers, Matt Sorum of Guns N' Roses — and an appearance by Mandy Moon — the only child of the late, great Keith Moon.
Justin Kreutzmann issued a statement in which he gave the backstory to the film:
The idea of doing the movie Let There Be Drums! really came to me as a gift. Literally. It started Christmas Day, 1977 when I was given a Super-8 film camera.
The first home movies I filmed were of my Dad on stage at Winterland in San Francisco. They were shot from my perspective, sitting right behind him on the drum riser so he could keep an eye on me during the Grateful Dead's performances.
Drums, and the drummers that play them, have been a major component of my entire life.
Drummer Mickey Hart says that it took him years of performing onstage before he learned to be unselfconscious behind the drum kit: "No, in the early — in the old days, as soon as the microphones went up, it was like five, six, seven, eight, nine years of being conscious of — it took quite a few years before the microphone became 'invisible.' Then after that, it was just the anticipation of playing good and the desire, and the angst and all of the stuff that comes with performance, that normally goes with it."
It was Ringo Starr's step-father, Harry Graves, who bought him a drum kit. Ringo told us that it was the only instrument he ever wanted to play: "I only ever wanted to play the drums. My grandparents used to play the banjo and mandolin, and they gave me one of each, and I had no interest. We had a piano at home, which I walked on. There was nothing else from when I was thirteen — I just wanted to play the drums. This burning desire to be a musician and to be a drummer. Just the drums."
Red Hot Chili Peppers drummer Chad Smith told us that he became an instant John Bonham acolyte the first time he heard him: "Bonham is the greatest rock drummer. He just is, hands down. Like as when people say Buddy Rich is the greatest drummer, technically, y'know, the greatest drummer ever? John Bonham, hands down, greatest rock drummer ever. Sound, he played those songs, everything he did was just, y'know, just felt good and it's just incredible. So for me, Led Zeppelin is my favorite band."