Taylor Swift Wins Big At The 2022 American Music Awards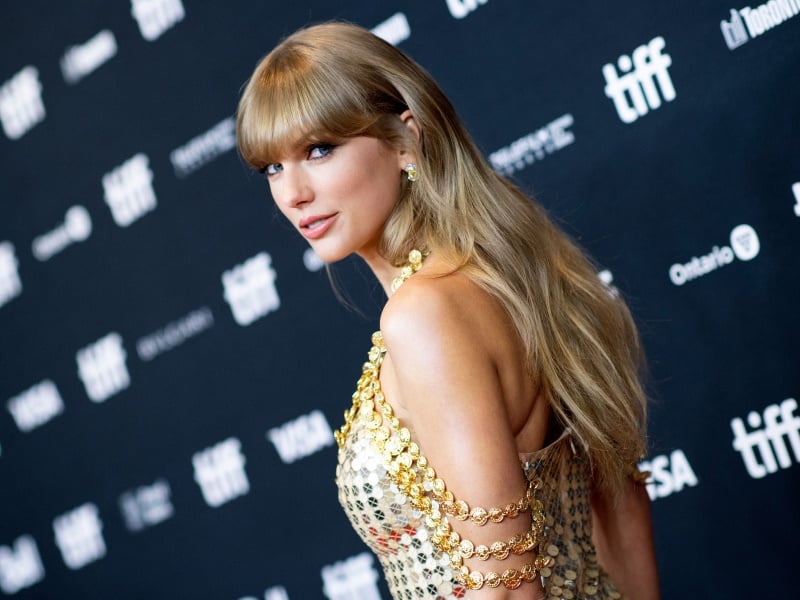 Last night (November 20th) was filled with music, fun and laughs at the 50th annual American Music Awards, which took place at the Microsoft Theater in Los Angeles.
Wayne Brady brought the funny and impromptu freestyles while hosting the night in celebration of music of all genres. Taking his job quite seriously, he even broke into a freestyle rap in honor of the award show and later did a quick dance number with professional dancer and choreographer Witney Carson, his partner on Dancing With the Stars.
Brady also gave a tribute to Takeoff of the Migos who was tragically shot and killed in Houston earlier this month.
As far as awards go, Taylor Swift took home top honors, winning Artist of the Year, as well as Favorite Pop Album for Red (Taylor's Version), Favorite Music Video for "All Too Well: The Short Film" and several others.
Dove Cameron won the award for New Artist of the Year while Dan + Shay walked away with the nod for Favorite Country Duo or Group.
And despite there being controversy surrounding Chris Brown's abruptly canceled performance in tribute of the 40th anniversary of Michael Jackson's "Thriller," Brown won the award for Favorite Male R&B Artist. The nod was presented by R&B singer Kelly Rowland, who gathered audience members who chose to boo following Breezy's win. Rowland honored Chris and thanked him for his contributions to R&B music.
Closing out the night, Smokey Robinson introduced Lionel Richie and presented him with the Icon Award. Stevie Wonder and Charlie Puth then put on a tribute performance for Icon Award winner.
WINNERS
ARTIST OF THE YEAR: Taylor Swift
NEW ARTIST OF THE YEAR: Dove Cameron
COLLABORATION OF THE YEAR: Elton John & Dua Lipa – "Cold Heart – PNAU Remix"
FAVORITE TOURING ARTIST: Coldplay
FAVORITE MUSIC VIDEO: Taylor Swift – "All Too Well: The Short Film"
FAVORITE MALE POP ARTIST: Harry Styles
FAVORITE FEMALE POP ARTIST: Taylor Swift
FAVORITE POP DUO OR GROUP: BTS
FAVORITE POP ALBUM: Taylor Swift – Red (Taylor's Version)
FAVORITE POP SONG: Harry Styles – "As It Was"
FAVORITE MALE COUNTRY ARTIST: Morgan Wallen
FAVORITE FEMALE COUNTRY ARTIST: Taylor Swift
FAVORITE COUNTRY DUO OR GROUP: Dan + Shay
FAVORITE COUNTRY ALBUM: Taylor Swift – Red (Taylor's Version)
FAVORITE COUNTRY SONG: Morgan Wallen – "Wasted on You"
FAVORITE MALE HIP-HOP ARTIST: Kendrick Lamar
FAVORITE FEMALE HIP-HOP ARTIST: Nicki Minaj
FAVORITE HIP-HOP ALBUM: Kendrick Lamar – Mr. Morale & The Big Steppers
FAVORITE HIP-HOP SONG: Future featuring Drake & Tems – "Wait for You"
FAVORITE MALE R&B ARTIST: Chris Brown
FAVORITE FEMALE R&B ARTIST: Beyoncé
FAVORITE R&B ALBUM: Beyoncé – Renaissance
FAVORITE R&B SONG: Wizkid featuring Tems "Essence"
FAVORITE MALE LATIN ARTIST: Bad Bunny
FAVORITE FEMALE LATIN ARTIST: Anitta
FAVORITE LATIN DUO OR GROUP: Yahritza Y Su Esencia
FAVORITE LATIN ALBUM: Bad Bunny – Un Verano Sin Ti
FAVORITE LATIN SONG: Sebastián Yatra – "Dos Oruguitas"
FAVORITE ROCK ARTIST: Machine Gun Kelly
FAVORITE ROCK SONG: Måneskin – "Beggin'"
FAVORITE ROCK ALBUM: Ghost – Impera
FAVORITE INSPIRATIONAL ARTIST: for KING & COUNTRY
FAVORITE GOSPEL ARTIST: Tamela Mann
FAVORITE DANCE/ELECTRONIC ARTIST: Marshmello
FAVORITE SOUNDTRACK: Elvis
FAVORITE AFROBEATS ARTIST: Wizkid
FAVORITE K-POP ARTIST: BTS
PERFORMANCES
Pink opened the show, showing off her rollerskating skills while simultaneously performing "Never Not Gonna Dance Again."
Bebe Rexha hit the stage to perform her smash "I'm Good (Blue)" featuring David Guetta.
Brazilian artist Anitta made her American performance debut with Missy Eliott and performed "Envolver."
Carrie Underwood performed "Crazy Angels."
GloRilla performed her hit single "Tomorrow 2" and was joined by Cardi B.
Wayne Brady performed a freestyle on the spot, using the words/phrases "Owes You Money," "Loofah," "Sex," "Hip-Hop" and "Tracks," all of which were chosen by audience members.
Imagine Dragons performed "Enemy" with Dreamville's JID.
A tribute of "Hopelessly Devoted to You" was performed by Pink in honor of Olivia Newton-John.
Lil Baby performed a medley of his tracks "In a Minute" and "California Breeze" from his latest album It's Only Me.
Yola performed "Break the Bough."
Dove Cameron hit the stage after her win and performed "Boyfriend."
Stevie Wonder and Charlie Puth perform tribute to Lionel Richie, referred to as a "musical tennis match of Lionel Richie copyrights," which included "Three Times a Lady," "Easy (Like Sunday Morning)," "All Night Long," "Say You, Say Me," "Brick House" and "Jesus Is Love." They ended the event with a star-studded performance of "We Are the World" with Ari Lennox, Muni Long, Melissa Etheridge, Jimmie Allen, Yola, Smokey Robinson and more.
BROADCAST AUDIO
Dove Cameron acceots Artist of the year award
"Wow. Thank you so much. This is so meaningful to me. I want to start by saying that every award that I ever win will always first and foremost be dedicated to the queer community at large. You guys have carved out such a space for me to be myself and to write music about it, and I've never felt safer or more loved and more supported, and I hope I can give you some semblance of that same feeling in my music. On the heels of what happened in Colorado Springs, I want to remind everyone how important queer visibility is and how important our community is. And I want to direct your attention to organizations like Glad and the Trevor project. I want to remind you that you are made absolutely right and you are so loved and so held, and I want to thank you for supporting me. Thank you for holding the space. I'm holding it for you too. Thanks, guys. Cheers and applause" 1:00 OC…too thanks guys Cheers and applause
Machine Gun Kelly accepts favorite rock artist of the year award
"Thank you to the fans who got me here. And I love you. I just want to say I'm petitioning for larger mic stands next time. This suit is really uncomfortable to pee in. Speaking of uncomfortable, there have been some people in the rock community who called me a tourist, but they're wrong. I'm a rocket man. I — we weren't born on the moon, but we looked at it and we were curious, and we went there supposedly. And these last two rock albums to me were me going to the moon." :42 OC….to the moon Cheers and applause
​​Dan and Shay accept Favorite Country Duo or Group
"Dan: I think this mic stand is a pretty good height for me. I think it's pretty solid. Oh my goodness. My heart is pounding right now. I just want to thank all of you guys. First of all, thank you to the fans. This is a fan-voted award. We country not be up here — y'all give it up for yourselves one time. We are so grateful to get to make country music. We are proud to represent our community here in L.A. This is unbelievable. I got to give a shoutout to my wife and boys watching at home. This is where daddy was. This is why I'm not home for early thanksgiving but I love you Ash or Ams, momma I love you. Shay: I'm so glad to make music with you. This is a dream come true to stand on this stage with you and accept this award. Thank you to our team: Lisa ray, Kurstin, Amber, Mikey, here tonight and to the fans, we – couldn't do this without you. Thank you so much for voting. You change our lives every single day. Love y'all. Thank you. Cheers and applause" :47 OC…y'all thank you Cheers and applause
Taylor Swift accepts award for Favorite pop Album for Red (Taylor's Version)
"Wow. This album is a rerecorded album, and I cannot tell you how much my rerecorded albums mean to me, but I never expected or assumed that they would mean anything to you. So I can't thank you enough for caring about this album that I'm so proud of. I have some people who made this happen who I really want to thank. Chris row who coproduced this album with me, hours and hours and hours in the studio recreating red, an album I love so much. I want to thank all the artists who featured on the vault tracks, Chris Stapleton, Phoebe Bridgers. I want to thank my live touring band who played on this album, and I want to take a moment — there was a music video that I did that I was really happy about, so I want to say thank you to Sadie sink and Dylan Obrian, I also want to take a moment to thank someone who directed the other music video, I bet you think about me, my beautiful, brilliant friend, my director Blake lively. And Mike teller and his beautiful wife Kelly teller for being in the music video. I love you guys for making this a possibilty for me and to the fans, I cannot thank you enough. This is so special. Thank you. Cheers and applause" 1:45 OC…special thank you Cheers and applause
Anitta accepts award for Favorite Female Latin Artist
"Hello, everyone. Thank you so much! Oh, I want to say first of all, thank you so much for all my fans. Second, you guys are amazing. Without this, without you guys and my whole country of Brazil, I wouldn't be here today. It's the first time for a Brazilian here winning, so — cheers and applause Second I want to say thank you to my team and my family and thank you for myself that I worked so hard too. And also, this award is to all the other nominees that I love so much, and Becky G, my friend, I love her so much and she deserves everything, and all the other nominees, rosalia, everyone else, there are no winners if there are no other people running this path with us and making a great amazing job. Thank you! Cheers and applause" 1:05 OC…job thank you Cheers and applause
Maneskin accepts award for Favorite rock song for "Beggin"
"Thank you. Thank you very much. This is very nice. I'm going to do like MGK. Thank you. First of all, I want to say that for us as Italians, we have not — cheers and applause Yeah. Shotout. We have not been told many, many times that one day we were going to be sitting next to some of the greatest artists in the world. For us, this has a double meaning. It's amazing for us. We are still kind of figuring it out. It's very surprising for us, and we never expected to win this category against this huge, huge, huge artists. So thank you once again. Thank you very much. Have a great night. Applause" :56 OC…a great night Applause
Taylor Swift accepts award for Favorite Music Video
"This short film was ten years in the making, and the only reason I got to write and direct the short film is because you the fans chose the song all too well. You chose it. No one at a record label chose it. You picked it. You said that is the song that matters to us, and it just so happens that it was the song that mattered the most to me. So, I'm very happy we agreed on that. So the people who helped me make this, I really want to say, l will say this forever, Sadie sink and Dylan Obrian, thank you so much for trusting me as a director with your immense, incredible talent. Thank you to my D.P, Marina Yang, I want to say thank you to my producer Sal germane, my production designer Ethan Tobman, my editor Ted guard and the entire crew that worked with us on this. I'm so proud of it. I'm so happy you like it too. This is so special and wonderful and — ahh, thank you. Thank you for this. Cheers and applause" 1:12 OC…you for this Cheers and applause
Taylor Swift accepts award for Artist of the Year
"You know, in the past few years, I have released more music than I did in the entire decade preceding that, and I really feel like that's down to the fact that you, the fans, made it clear that you wanted to hear lots of music that I would make. You encouraged me. And so, I found that the more music I made and the more music I put out, the happier I was. The more I just kept that channel open and just kept creating, kept making things, and the more that happened, the more you guys were like, yeah, keep doing it. And the happier I was, so I have the fans to thank, essentially, for my happiness and — cheers and applause — And I love you more than I can say. I cannot express how unbelievable it is to me that I still get to do this and that you still care, so thank you underlined with 13 exclamation points. I don't know what to say. I love you. Cheers and applause" 1:23 OC…I love you Cheers and applause
Lionel Richie accepts Icon Award
"I want to thank my kids and the mothers of my kids for keeping my kids together. Very important. And then of course there's the people along the way. Friends who have supported. Bruce, my manager, who is absolutely a dream manager. Lisa, who is actually more of the adult in the room because she has to deal with me. I'm the kid. I'm the child. But what I want to say and take this time to do is to talk to the young superstars. God has given you a light. That light is special. That light is only given to a few. When you hear the word hip, it means today. When you hear the word inspiring, it means forever. If you get a chance to have that light on you, understand what god has in store. He is not trying to tell you that your car looks great, your clothes look great. He's trying — he/she, mother, God is trying to tell you that you are chosen to inspire. Take this opportunity. That light is on you. Inspire. God bless you all. Thank you very much. Cheers and applause" 1:49 OC…you very much Cheers and applause