The Beatles Release Full Details On 'Revolver' Box Set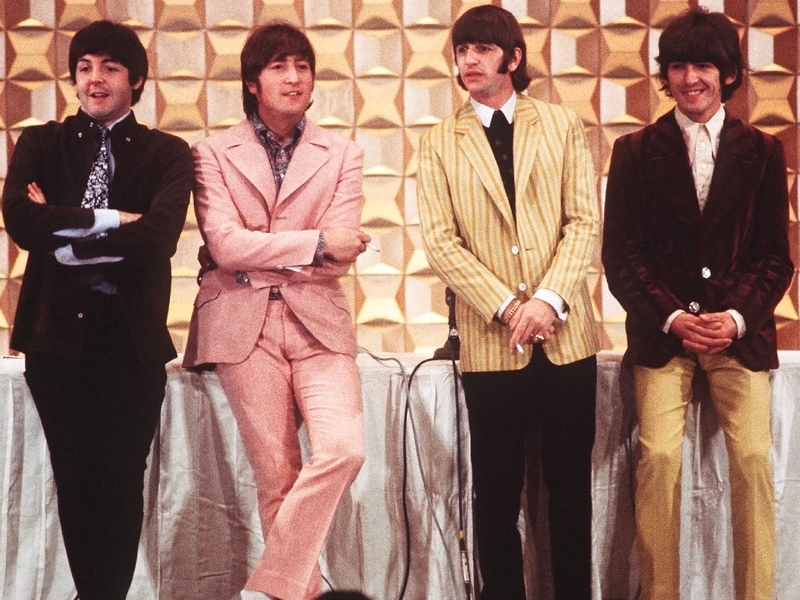 Set for release on October 28th is the Beatles' Revolver, available in several special editions. In addition to a slew of previously unheard takes from the original album sessions, Revolver's 14 tracks have been newly mixed by producer Giles Martin and engineer Sam Okell in stereo and Dolby Atmos, and the album's original mono mix is sourced from its 1966 mono master tape. The set will also be avaialbe in four-LP and two-CD sets.
According to the official announcement:
All the new Revolver releases feature the album's new stereo mix, sourced directly from the original four-track master tapes. The audio is brought forth in stunning clarity with the help of cutting edge de-mixing technology developed by the award-winning sound team led by Emile de la Rey at Peter Jackson's WingNut Films Productions Ltd.
The physical and digital Super Deluxe collections also feature the album's original mono mix, 28 early takes from the sessions and three home demos, and a four-track EP with new stereo mixes and remastered original mono mixes for "Paperback Writer" and "Rain." The album's new Dolby Atmos mix will be released digitally.
The press release also described one of the box set's crown jewels — a John Lennon "work tape" of him composing the Ringo Starr standout track — "Yellow Submarine":
Parts 1 and 2 of the Special Edition's songwriting work tape for "Yellow Submarine" reveal the song's evolution from a rather sad verse sung by John over acoustic guitar – "In the town where I was born / No one cared, no one cared…" – to its adaptation by John and Paul to suit the jollier subject matter of the chorus.
In 1966 at the time of Revolver, John Lennon and Paul McCartney sat down with the BBC and shed light on their songwriting partnership. Lennon was asked if after so many year's experience they each actually needed a partner to compose new material: "(John Lennon): No, not really — but it helps a lot. You get another point of view, as well. (Paul McCartney): The thing is, because we can do them on our own, but, one of us will just do a song and there will be one verse in it that's very bad, or something — or it's very corny or. . . and if I've written it, then I'll, sort of, take it along and sing it to John (laughs) and he'll say, 'That verse is terrible and that verse is corny.' (Lennon): You still get so involved with something, you finish it, if you're on your own, you haven't got the energy to go over it and, sort of, see, y'know, if it really makes exactly what you want. So, if you sing it over to each other — even if it's a finished song, y'know, with almost the arrangement, you're still, sort of, 'Yes that's fine.'"
The breakdown of the Revolver Super Deluxe – 5CD edition is:
DISC 1: Revolver (New stereo mix): 14 tracks
DISCS 2 & 3: Sessions (stereo & mono): 31 tracks
DISC 4: Revolver (Original mono master): 14 tracks
DISC 5: Revolver EP: 4 tracks – "Paperback Writer" & "Rain" (New stereo mixes & Original mono mixes remastered)
The tracklisting to the Revolver Super Deluxe – 5CD edition is:
CD1: Revolver (New stereo mix)
1: Taxman
2: Eleanor Rigby
3: I'm Only Sleeping
4: Love You To
5: Here, There And Everywhere
6: Yellow Submarine
7: She Said She Said
8: Good Day Sunshine
9: And Your Bird Can Sing
10: For No One
11: Doctor Robert
12: I Want To Tell You
13: Got To Get You Into My Life
14: Tomorrow Never Knows
CD2: Sessions One
1: Tomorrow Never Knows (Take 1)
2: Tomorrow Never Knows (Mono mix RM 11)
3: Got To Get You Into My Life (First version) – Take 5
4: Got To Get You Into My Life (Second version) – Unnumbered mix – mono
5: Got To Get You Into My Life (Second version) – Take 8
6: Love You To (Take 1) – mono
7: Love You To (Unnumbered rehearsal) – mono
8: Love You To (Take 7)
9: Paperback Writer (Takes 1 and 2) – Backing track – mono
10: Rain (Take 5 – Actual speed)
11: Rain (Take 5 – Slowed down for master tape)
12: Doctor Robert (Take 7)
13: And Your Bird Can Sing (First version) – Take 2
14: And Your Bird Can Sing (First version) – Take 2 (giggling)
CD3: Sessions Two
1: And Your Bird Can Sing (Second version) – Take 5
2: Taxman (Take 11)
3: I'm Only Sleeping (Rehearsal fragment) – mono
4: I'm Only Sleeping (Take 2) – mono
5: I'm Only Sleeping (Take 5) – mono
6: I'm Only Sleeping (Mono mix RM1)
7: Eleanor Rigby (Speech before Take 2)
8: Eleanor Rigby (Take 2)
9: For No One (Take 10) – Backing track
10: Yellow Submarine (Songwriting work tape – Part 1) – mono
11: Yellow Submarine (Songwriting work tape – Part 2) – mono
12: Yellow Submarine (Take 4 before sound effects)
13: Yellow Submarine (Highlighted sound effects)
14: I Want To Tell You (Speech and Take 4)
15: Here, There And Everywhere (Take 6)
16: She Said She Said (John's demo) – mono
17: She Said She Said (Take 15) – Backing track rehearsal
CD4: Revolver (Original mono master) – Album tracklist same as above
CD5: Revolver EP
1: Paperback Writer (New stereo mix)
2: Rain (New stereo mix)
3: Paperback Writer (Original mono mix remastered)
4: Rain (Original mono mix remastered)