The Cult Set For Fall Run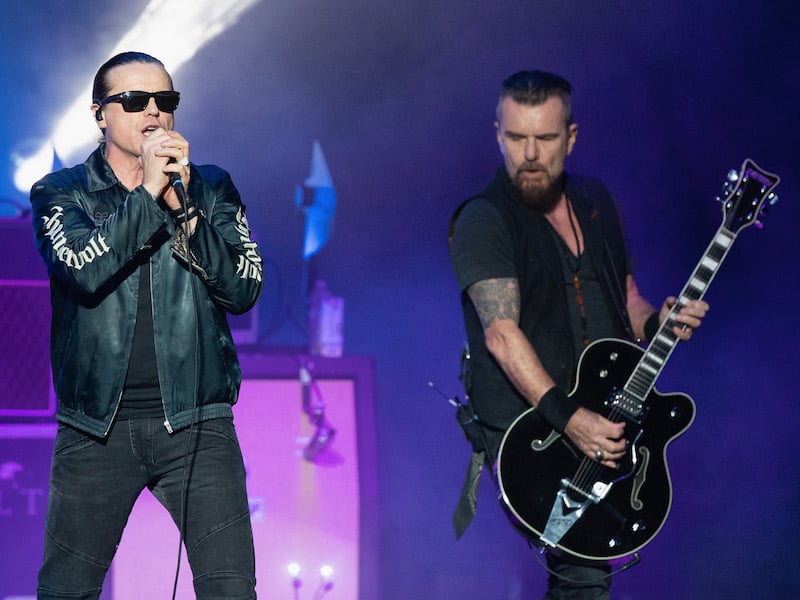 The Cult has announced 13-new fall dates. The band, which has a handful of gigs booked over the summer, will hit the road in earnest following their October 6th appearance at Sacramento's Aftershock Festival with Cold Cave serving as the openers for most of the shows.
The trek will take in stops in Nevada, Oregon, Washington, Idaho, California, Arizona, and Nevada. Tickets go on sale this Friday, June 16th at 10 a.m. local time. The Cult is touring behind its latest album, Under The Midnight Sun, which was released last October.
Frontman Ian Astbury said in the tour's announcement: "We are thrilled to announce these shows. As we close the circle from '83 to '23, we are entering into this moment to celebrate with you all, what has been, and shall continue to be, The Cult's continuing legacy."
A while back, Ian Astbury told us that he hopes the Cult offers a sense of positivity and community to fans. "I think there's a lot of violence and anger and aggression out there, there's a lot of people, like, flipping off and saying 'f*** this' and 'f*** that' without really giving any solution. I'd like to think that we've always been a band that's consistently offered lifestyle choices and solutions. We pretty much embrace everybody, anybody that's into us. I don't care whether you come from the hip hop community, or rock or alternative, or dance, or whatever. If you embrace what we do, then there's a place for you."
JUST ANNOUNCED: The Cult tour dates (subject to change):
July 12 – Northfield, OH – Center Stage at MGM Northfield
July 13 – Peoria, IL – Peoria Civic Center Theater
July 14 – Milwaukee, WI – Harley-Davidson Homecoming Festival
October 5 – Sacramento, CA – Aftershock Festival
October 6 – Reno, NV – The Grand Theatre at Grand Sierra Resort & Casino
October 8 – Eugene, OR – Soreng Theatre at Hult Center for the Performing Arts
October 11 – Spokane, WA – Northern Quest Resort & Casino
October 12 – Boise, ID – Revolution Concert House
October 14 – Shelton, WA – Little Creek Casino Resort at Skookum Event Center
October 15 – Portland, OR – Roseland Theatre
October 17 – Saratoga, CA – The Mountain Winery
October 19, 20 – San Diego, CA – Humphreys Concerts by the Bay
October 21 – Rancho Mirage, CA – Aqua Caliente Rancho Mirage
October 26 – Chandler, AZ – The Showroom at Wild Horse Pass / Gila River Hotels & Casino
October 27, 28 – Las Vegas, NV – The Pearl