The Eagles' Don Henley Turns 75!!!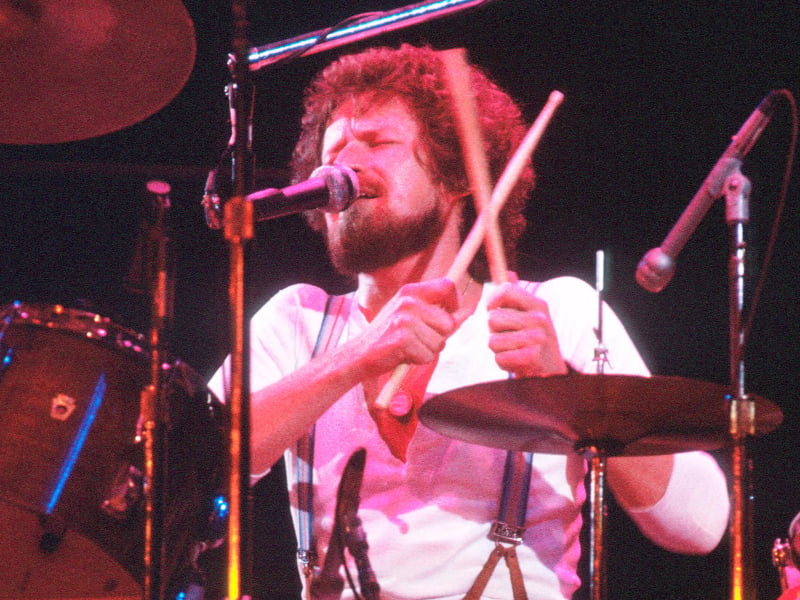 Happy Birthday to Don Henley, who turns 75 today (July 22nd)!!! Henley and the late-Glenn Frey co-founded the Eagles in 1971, and are responsible for the band's best loved songs, including "Hotel California," "One Of These Nights," "Desperado," "Best Of My Love," "Life In The Fast Lane," "Tequila Sunrise," "Take It To The Limit," "New Kid In Town," "The Long Run," and many more.
Rolling Stone recently reported Rock and Roll Hall of Fame curator Craig Inciardi along with Glenn Horowitz and Edward Kosinski were formerly charged on July 12th for "allegedly possessing a trove of stolen handwritten notes and lyrics by Don Henley, with New York officials estimating the documents are worth more than $1 million."
Inciardi and Kosinski were also charged with first degree counts of criminal possession and had previously tried to sell of the lyric manuscripts to such high profile auction houses as Sotheby's and Christie's — while attempting to also get Don Henley to buy back his stolen property.
Just released on vinyl for the first time is the Eagles' Live At The Forum '76 album. The set was originally released back in 2017 as part of the Hotel California: 40th Anniversary Collection, and was taped in L.A. in October 1976.
The live music takes up three LP sides while the final one features an exclusive etching of the artwork.
In 2020, ESPN aired the new Eagles concert Live From The Forum MMXVIII (2018). The band, which features Henley, Joe Walsh, and Timothy B. Schmit, with Vince Gill and the recently departed Deacon Frey, hit the Forum in Los Angeles for three sold-out, critically-acclaimed concerts on September 12th, 14th, and 15th, 2018. Highlights from all three shows were compiled for the band's recent 26-song live album and concert film.
On June 2nd, 2021 Don Henley appeared virtually before a Senate Judiciary subcommittee in an effort to push forward on what he believes are outdated copyright laws for songwriters and performers. He told the committee that the online services that post musical content are done so at the expense of his "brothers and sisters in the creative community" and labeling the payment structure as being "a relic of a MySpace era in a TikTok world."
In 2018 Eagles overtook Michael Jackson's 1982 masterpiece Thriller for bragging rights to the best-selling album of all time, according to the Recording Industry Association of America (RIAA). Their Greatest Hits 1971-1975 has now been certified 38-times Platinum, accounting for sales and streams of more than 38 million copies since its release in February of 1976.
In addition to the new benchmark, the Eagles' followup to the classic compilation, the watershed Hotel California album, released in December 1976, is now the third best-selling album of all time, certified 26-times Platinum by the RIAA for sales and streams of more than 26 million copies in the U.S. alone.
Recently released is Eagles: Legacy, a massive dozen disc, CD/DVD/Blu-ray set that spans the group's career with seven studio albums, three live albums, singles, B-Sides, and two concert videos.
The 15 LP version includes the vinyl debut of Millennium Concert. The CD version of the Legacy box is available for $179.98, and includes two concert videos: Hell Freezes Over (DVD) and Farewell Tour: Live From Melbourne (Blu-ray).
In 2015, Don Henley released his latest solo album, Cass County, which marks his highest charting solo set to date — debuting on the Billboard 200 album charts at Number Three — a full four spots higher than his last album, 2000's Inside Job.
In addition to that, Cass County debuted at Number One on Billboard's Top Album Sales and Top Country Albums charts marking the first chart-topping album of Henley's solo career, selling more than 87,000 units in its first week of release. Cass County features collaborations with Mick Jagger, Stevie Nicks, Merle Haggard, Dolly Parton, Martina McBride, and Miranda Lambert, among others.
In 2016, the Eagles, James Taylor, and Mavis Staples and Argentine pianist Martha Argerich, were honored with the prestigious Kennedy Center Honor. The Eagles were originally tapped to accept the award in 2015, but postponed their acceptance due to Glenn Frey's failing health.
Since originally parting ways with the Eagles in 1980, Don Henley has scored eight Top 40 hits — including the Top Tens: "Leather And Lace" – with Stevie Nicks (#6), "Dirty Laundry (#3), "The Boys Of Summer (#5), "All She Wants To Do Is Dance" (#9), and "The End Of The Innocence" (#8).
In April 2011, Henley was honored in Washington, D.C. at the 10th annual Grammys on The Hill for his advocacy on behalf of the music community. Henley was awarded the inaugural Recording Artists Coalition award.
Although the press has unsuccessfully tried to pigeonhole Don Henley's 2015 Cass County into being a "country" album, Henley maintained that it was conceived and recorded without any hangups as to where it would fit and who would be buying it: "There's been a lot of discussion when they were trying to fit in what categories to put it in (laughs), y'know, for, like, iTunes. There's been a lot of argument back and forth, 'Well, is it a country album? Is it an Americana album? Is it a pop album — what is it? And the fact is, it's all those things. It's just an American music album. I don't like to put things in boxes."
A while back, Don Henley told VH1 that he wouldn't want to be an up and coming artist trying to break into the music business: "I feel badly for a lot of these new artists, a lot of these younger artists now, who come out and sell five, six, seven, eight million copies of their first album, because that creates unrealistic expectations. And most of them will not be able to duplicate that again. I mean, I guarantee that their second album will not sell as many copies as their first album. I'm grateful that we went up slowly. Which is not to say, of course, that If you're tremendously successful your first. . . right out of the box that you won't have that success again, you have to get through the sophomore year."
Back in 2015 Don Henley was interviewed by old friend Billy Joel at Manhattan's 92nd Street Y, and spoke candidly about how and where the Eagles fit into his life these days: "The Eagles is just a part of me. Glenn (Frey) and I started that band back in 1971 and we did have a little hiatus; y'know, we parted company for 14 years — and then in 1994 realized actually that there was still a demand for our services — and so, we got back together. And it hasn't always been smooth sailing, but as we've gotten older and more mature, and as we've all gotten married and had children, y'know, that will have a tempering effect on your personality."