The Eagles' Glenn Frey Remembered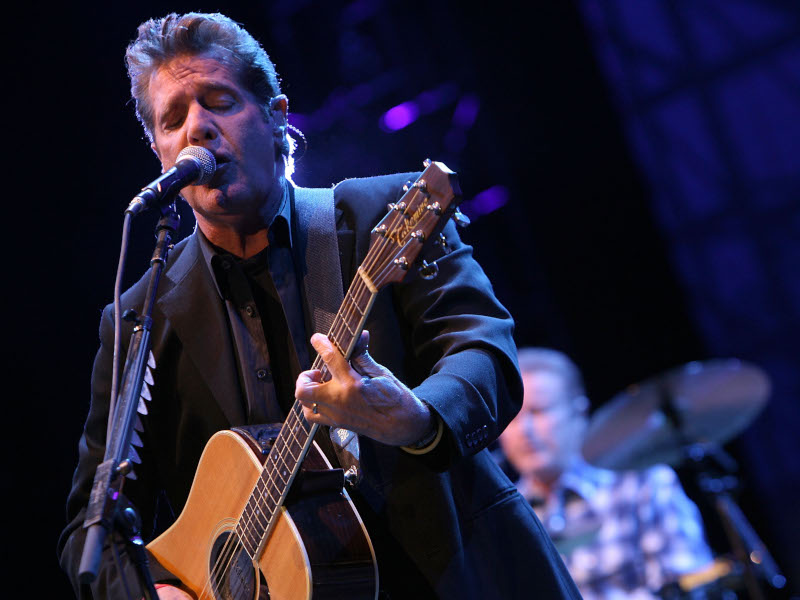 It was seven years ago today (January 18th, 2016) that Eagles' co-founder, guitarist, and songwriter Glenn Frey died in New York City due to complications from Rheumatoid Arthritis, Acute Ulcerative Colitis and Pneumonia. He was 67-years-old. Against all odds, after a period of mourning, the surviving Eagles — Don Henley, Joe Walsh, and Timothy B. Schmit — decided to forge ahead and hit the road with Frey's then-23-year-old son Deacon Frey and country star Vince Gill stepping in to cover Frey's classic songs. Deacon has since left the band as a full time touring member, but still occasionally pops up onstage with the band.
In 2019, on behalf of the Frey estate, Glenn Frey's widow, Cindy Frey, filed suit against both Mount Sinai Hospital and gastroenterologist Dr. Steven Itzkowitz. Cindy Frey is suing for $12 million in lost earnings to her family due to Glenn's death. She claims that in 2015 — the year before Frey's death — Itzkowitz was negligent in treating the Glenn's ulcerative colitis.
PageSix.com reported Cindy Frey's suit puts forth that "the doctor failed to 'promptly and properly assess the patient for respiratory issues and ignored an infection.' As a result of his death, his family was deprived of his care, guidance and support, and they have suffered pecuniary damage." The report states that Itzkowitz believes that Frey could not have earned another $12 million had he lived passed 67.
The first sign that Glenn Frey was in ill health came in November 2015 when it was announced that his upcoming intestinal surgery would push back the Eagles' 2015 Kennedy Center Honors until the following year, due to his suffering a recurrence of "previous intestinal issues, which will require major surgery and a lengthy recovery period." In 1990, Frey underwent surgery to remove a large part of his large intestines. His intestinal troubles have blocked several other Eagles events over the years; back in 1986 stomach issues prevented Frey from reuniting with Don Henley at a rare post-split benefit appearance in California, and the group's 1995 Hell Freezes Over reunion tour was thrown off track while Frey dealt with diverticulitis.
Following Glenn Frey's death, songwriting partner and Eagles co-founder Don Henley spoke lovingly of his late friend in a prepared statement:
He was like a brother to me; we were family, and like most families, there was some dysfunction. But, the bond we forged 45 years ago was never broken, even during the 14 years that the Eagles were dissolved. We were two young men who made the pilgrimage to Los Angeles with the same dream: to make our mark in the music industry — and with perseverance, a deep love of music, our alliance with other great musicians and our manager, Irving Azoff, we built something that has lasted longer than anyone could have dreamed. But, Glenn was the one who started it all. He was the spark plug, the man with the plan. He had an encyclopedic knowledge of popular music and a work ethic that wouldn't quit. He was funny, bullheaded, mercurial, generous, deeply talented and driven. He loved his wife and kids more than anything. We are all in a state of shock, disbelief and profound sorrow. We brought our two-year History Of The Eagles Tour to a triumphant close at the end of July and now he is gone. I'm not sure I believe in fate, but I know that crossing paths with Glenn Lewis Frey in 1970 changed my life forever, and it eventually had an impact on the lives of millions of other people all over the planet. It will be very strange going forward in a world without him in it. But, I will be grateful, every day, that he was in my life. Rest in peace, my brother. You did what you set out to do, and then some.
We spoke to one of Frey's oldest friends, the great Bob Seger, who described him to us as being like his "little brother." Seger, who co-wrote the Eagles' last Number One hit, "Heartache Tonight," spoke lovingly about his buddy from back home in Detroit: "I knew him 50 years, he was brilliant. He was a classically trained pianist; the chords you hear on 'The Last Resort' and on 'Desperado' — that's him playing the piano. He wrote those chords. Henley probably wrote the bulk of the lyrics, but that's Glenn. He was a brilliant pianist, classically trained since he was a very young kid. He was (laughs) a joy to be around. I looked forward to seein' him — I didn't see him all that much over the last 50 years, 'cause he was busy, I was busy, but when I did, it was memorable (laughs), 'cause he had an amazing sense of humor, and just whip smart. Whip smart. And I don't know how you quantify songwriting, but if you do it on the dollars and cents scale — he's one of the most successful songwriters that ever lived."
Seger, who dedicated his 2017 album, I Knew You When, to Frey, came up with the Eagles leader back home in Detroit and told us that Glenn Frey and music were pretty much, one and the same: "They had a nickname for him in the Eagles, they called him 'The Lone Arranger.' People would bring in a song and Glenn would arrange it. That was his nickname — 'The Lone Arranger.' And of course, he loved soul music. He loved Marvin Gaye, he loved Al Green, he loved Otis Redding — he named his last kid after Otis Redding. Otis is his youngest kid, y'know, 16-years-old."
Seger told us that it'll be rough without Glenn Frey: "Y'know, I'm gonna miss him like crazy. We would always get together whenever he came to Detroit. He was. . . He was a good kid. He was a really good kid. I never thought I'd outlive him. I really feel bad for doin' that, 'cause he should've lived longer."
Singer-songwriter J.D. Souther, who scored major solo hits with 1979's "You're Only Lonely" and his 1981 duet with James Taylor on "Her Town Too," is best known for co-writing such Eagles classics as "The Best Of My Love," "Heartache Tonight," "Victim Of Love," "New Kid In Town," and "The Sad Cafe," as well as Don Henley's "The Heart Of The Matter." We asked Souther if while composing with Henley and Frey he ever felt a friendly competition within the trio: "With those guys, yeah, 'cause we were all critical beyond belief. I mean (laughs) y'know. . . I mean we're funny guys, and we were friends so it was a blast to do, but we were very critical while we were writing it. Probably the nicest complement that you would ever hear between the three of us, if someone came up with an idea and deposited a line, the best you would probably hear from the other two guys was, 'Yeah, I think we could say that.' And that was a compliment."
Eagles songwriter and Glenn Frey's solo collaborator, Jack Tempchin, shed light on how the pair came up with Frey's 1985 hit, "Smuggler's Blues": "Glenn came down to visit me in San Diego. He had just purchased the rights to the book Snowblind, and they — he and (manager) Irving Azoff — were thinking maybe they were going to make a movie. And the deal was, 'Well, let's write a song, Jack, for this movie.' He already knew he wanted slide guitar and be a cool, bluesy thing called 'Smuggler's Blues' and have it be from the point of view of the guy that sells the drugs, y'know, and flies around. So, we both had a lot of strong political feelings about the so-called 'war on drugs,' y'know? But he already had the concept that this'll be, like, slide guitar and kinda cool. So we just started cutting it in my little studio there."
We asked Glenn Frey if he's ever truly sat down and contemplated the Eagles' importance in popular culture: "Oh listen, we are just a blip on the screen, babe. Y'know, we don't even think about those kind of things, although we've been, we've been around a while now, so we will rank as a band that was around for a while. But it's not for us to say."
HISTORY
Glenn Frey, who co-founded the Eagles in 1971 with Don Henley, Bernie Leadon, and Randy Meisner, will be remembered as one of the most important and consistent hitmakers of the 1970's for the songs he wrote with Henley, and often in conjunction with his pre-fame duo partner, J.D. Souther. Frey co-wrote such era defining tunes as "Tequila Sunrise," "Desperado," "Best Of My Love," "Lyin' Eyes," "Take It To The Limit," "One Of These Nights," "Hotel California," "New Kid In Town," "Life In The Fast Lane," "Victim Of Love," "Heartache Tonight," "I Can't Tell You Why," and "The Long Run" — along with the band's signature hit, "Take It Easy," which he wrote with Jackson Browne. Like the Beatles, the Eagles shined by featuring two distinct lead voices, with Henley and Frey divvying up their catalogue to suit each other's vocals.
Born on November 6th, 1948 in Detroit, Michigan, Frey had been playing in bands in and around the Motor City for years — and nearly permanently joined forces in the late-'60s with Bob Seger. He made his way out to L.A. not for a shot at stardom, but as a last-ditch effort to reunite with his ex-girlfriend who had moved west to become a singer. He soon teamed up with J.D. Souther to form the short-lived duo, Longbranch/Pennywhistle, who released one album in 1969 on the Amos label. Frey soon met his musical fate while he and the rest of the soon-to-be Eagles backed Linda Ronstadt for a 1971 summer tour. The Eagles originally split in 1980 and reformed in 1994 and have toured the world regularly ever since.
The Eagles' last collection, 2007's Long Road Out Of Eden, was the band's sixth chart-topper and was the highest selling album of the year. To date, it has sold over seven million copies in the U.S. alone.
With the Eagles, Frey earned six Grammy Awards, and with the band and on his own, landed 24 singles in the Top 40 — including the chart-toppers "Best Of My Love," "One Of These Nights," "New Kid In Town," "Hotel California," and "Heartache Tonight."
The Eagles, who were inducted into the Rock and Roll Hall of Fame in 1998, have sold over 120 million albums globally. The Recording Industry Association of America (RIAA) has certified the band's 1976 compilation, Their Greatest Hits 1971-1975, 38-times Platinum, accounting for sales and streams of more than 38 million copies since its release in February of 1976. The Eagles' followup to the classic compilation, the watershed Hotel California album, released in December 1976, is now the third best-selling album of all time, certified 26-times Platinum by the RIAA for sales and streams of more than 26 million copies.
Don Henley and Glenn Frey were induced into the Songwriters Hall of Fame in 2000.
Following the Eagles' 1980 split, Frey's solo career initially boomed, teaming up with Eagles songwriter Jack Tempchin for a string of Top 40 hits — including the 1985 Top Two hit, "You Belong To The City" which was featured on the soundtrack to Miami Vice, "Smuggler's Blues" — which inspired an episode of the NBC cop drama — and kicked off an acting career for Frey, who was featured in a notable cameo in Cameron Crowe's 1996 film Jerry McGuire. Frey also scored a Top Two hit in '85 with a tune he didn't write — "The Heat Is On" — as featured in the classic Eddie Murphy comedy, Beverly Hills Cop.
In 2012, Frey released his first solo album in nearly 20 years, the standards collection, After Hours. The set, which was long awaited followup to Frey's last album, 1992's Strange Weather, featured a string of American classics — but stretched the "American Songbook" genre to include songs through the 1960's, including Burt Bacharach & Hal David's "The Look Of Love" and Brian Wilson and the Beach Boys' Pet Sounds closer, "Caroline, No."
In 2013 the Eagles released History Of The Eagles Part 1 & 2, the band's three-hour documentary. The three-disc set includes the bonus disc, Eagles Live At The Capital Centre – March 1977, featuring never-before-released performances from the band's two-night stand at Landover, Maryland's Capital Center during the legendary Hotel California tour.
In 2014 Glenn Frey inducted Linda Ronstadt into the Rock and Roll Hall of Fame. The Eagles — with special guest Bernie Leadon — toured the world throughout 2013, 2014, and 2015.
Frey was posthumously awarded the Kennedy Center Honor in December 2016.
2018 saw the release of the definitive Glenn Frey solo retrospective, the four-disc set, Above The Clouds: The Collection. Highlights on the set include such solo hits as "The Heat Is On," "The One You Love," "Part Of Me, Part Of You," "You Belong To The City," and "Smuggler's Blues," among others. In addition, the set includes a live DVD featuring Frey performing some of his most beloved Eagles classics taped live on September 15th, 1992 in Dublin, Ireland.
Above The Clouds is most notable for the first CD reissue of the 1969 self-titled Longbranch/Pennywhistle album featuring Frey and frequent Eagles collaborator, J.D. Souther.