The Who Expands Upcoming Fall Tour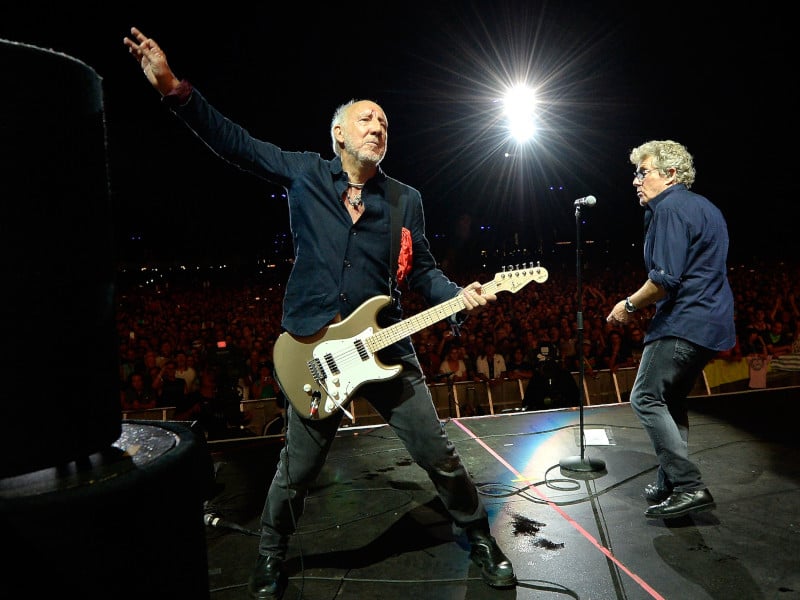 The Who has just rolled out two additional dates for the fall leg of its 2022 "Who Hits Back" tour. New stops just added to the itinerary are October 24th at San Jose, California's AP Center and October 30th at Phoenix, Arizona's Ak-Chin Pavilion. Both concerts will feature Mike Campbell & The Dirty Knobs serving as the opening act.
The shows, which play with a full symphony orchestra performance, are split into three parts — with an opening set including a substantial portion of Tommy, along with such classics as "Who Are You," "Eminence Front," and "Join Together."
A third portion of the show welcomes back the orchestra and tackled key tracks from 1973's Quadrophenia, among other classics.
In an interview posted a while back on TheWho.com, Roger Daltrey spoke frankly about the physical toll live work takes on him: "The energy. You're asking someone, basically, to play a football match five nights a week. And we're not spring chickens anymore. I mean, I know we don't leap about quite as much as we used to, but most of the energy is in the singing (and) getting the voice out to do what it does emotionally. Pushing all those emotional buttons every night, it's physically exhausting."
Pete Townshend told us that for the time being, he sees the Who remaining an ongoing concern: "Looking ahead, I'm not sure. . . I mean, Roger has said, y'know, he doesn't know how much longer he can sing the way that he's singing, but he's singing incredibly well — and has been for the last five, six years — I mean, better than ever, I think. But, he has said he doesn't know how long he can go on doing that. But at the moment, I'm not saying that this is the end of anything. We all have brands now, which you can take into Vegas, if you want to. It's so strange to have that brand that is bigger than either of us."
UPDATED: The Who tour dates (subject to change):
October 2 – Toronto, ON – Scotiabank Arena (with Steven Page)
October 4 – Detroit, MI – Little Caesars Arena (with Steven Page)
October 7 – Elmont, NY – UBS Arena (with Steven Page)
October 9 – Columbus, OH – Schottenstein Center (with Steven Page)
October 12 – Chicago, IL – United Center (with Steven Page)
October 14 – St. Louis, MO – Enterprise Center (with Mike Campbell & The Dirty Knobs)
October 17 – Denver, CO – Ball Arena (with Mike Campbell & The Dirty Knobs)
October 20 – Portland, OR – Moda Center (with Mike Campbell & The Dirty Knobs)
October 22 – Seattle, WA – Climate Pledge Arena (with Mike Campbell & The Dirty Knobs)
October 24 – San Jose, CA – AP Center (with Mike Campbell & The Dirty Knobs)
October 26 – Sacramento, CA – Golden 1 Center (with Mike Campbell & The Dirty Knobs)
October 28 – Anaheim, CA – Honda Center (with Mike Campbell & The Dirty Knobs)
October 30 – Phoenix, AZ – Ak-Chin Pavilion (with Mike Campbell & The Dirty Knobs)
November 1 – Los Angeles, CA – Hollywood Bowl (with Mike Campbell & The Dirty Knobs)
November 4, 5 – Las Vegas, NV – Dolby Live (with The Wild Things)