The Who News Roundup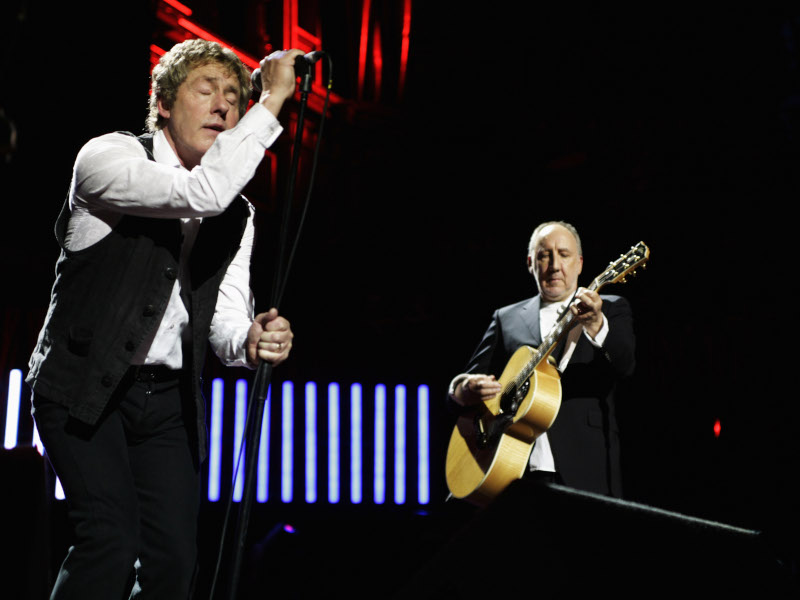 DALTREY CUTS SOLO GIG SHORT
Roger Daltrey was forced to cut short his solo concert on Saturday night (February 11th) in Clearwater, Florida. The Who frontman finally gave up during a rendition of the band's 1970 deep cut "Naked Eye" and told the crowd: "I'm going to do myself some serious damage here and I'm not going to do it because I'll never sing again. I'm sorry. I am not a robot. I'm definitely not a robot. I'm not doing this to myself anymore. Thank you so much for coming." (ABC Action News)
Roger Daltrey told us that he belongs to the old-school breed of rockers, who believe that the only way you end up keeping in shape for rock is by actually performing it: ["You can do all the exercises in the world, but it doesn't keep it road-fit. It's like a boxer training. Y'know, a boxer can train, train, train, train — 'doesn't get him ring-fit."] SOUNDCUE (:08 OC: . . . him ring-fit)
 
TOWNSHEND PREPPING SOLO SINGLE
Pete Townshend's wife, musician/orchestrator Rachel Fuller, revealed on her Facebook page that Townshend is prepping his first new solo single in 29 years. The acoustic-based track, titled, "Can't Outrun The Truth," was written by Fuller, produced by Charlie Pepper, and engineered by Townshend's brother-in-law, Jon Astley. The track originally appeared in the 2020 Jude Law film, The Hat. All proceeds will benefit the Teenage Cancer Trust. No street date has been announced.
During a chat at The New York Public Library, Pete Townshend revealed a new, key component about how he approaches his life and art: ["And I think I have learned some stuff about myself. I think all kinds of things. I think the main revelation was to realize that at some point, probably quite recently — maybe as recently as 15 years ago — I made the decision to be happy. And that has been very, very difficult for me to do, because I never felt that it was a very serious occupation (laughter)."] SOUNDCUE (:26 OC: . . . very serious occupation (laughter))
 
THE WHO DROPS LIVE 'BABA O'RILEY' VIDEO
The Who has just posted the first teaser from its latest live set, The Who With Orchestra Live At Wembley, which drops on March 31st. The collection will be issued as a two-CD/Blu-ray or three-LP set.
Part of the reason for Pete Townshend's eagerness to play out with the Who over the past two decades is his connection with their drummer of the past 27 years — Zak Starkey: ["He studied at the feet of Keith Moon. He was eight years old when I first met him, his dad is Ringo Starr, but Keith Moon bought him his first drum kit. He was a big Who fan as a kid. So when John (Entwistle) passed away, suddenly there was Zak and I — and then what I realized is that he and I have this extraordinary chemistry. And it's innate. It's a chemistry that's based on the fact that whatever I do, he's already doing it."] SOUNDCUE (:23 OC: . . . already doing it)