Top 30 Hair Metal Albums Ranked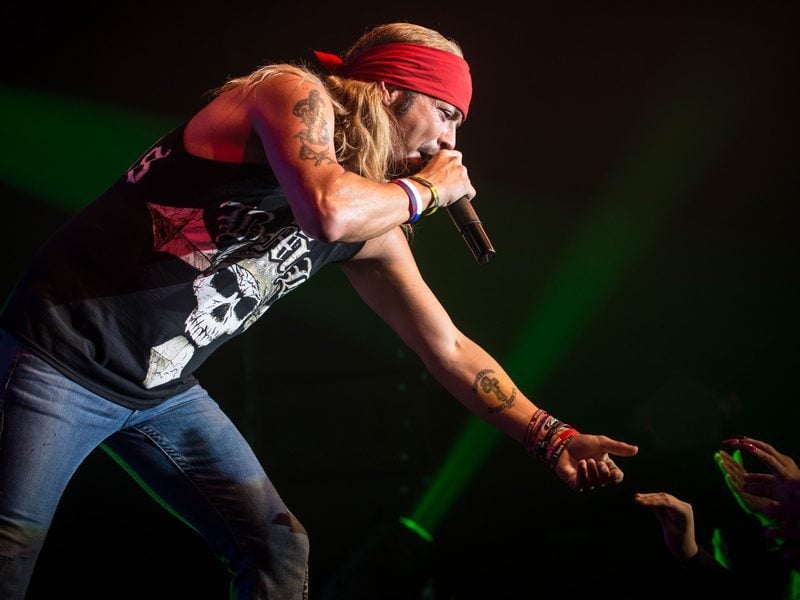 The editors of Loudwire have ranked the "Top 30 Hair Metal Albums." The new list features Motley Crue's 1983 Shout At The Devil at Number One, Def Leppard's fourth album, 1987's Hysteria coming in at Number Two, with Ratt's 1984 classic Out Of The Cellar sitting at Number Three. Coming in at Number Four is Skid Row's 1989 self-titled set debut, with Bon Jovi's 1986 multiplatinum behemoth, Slippery When Wet, rounding out the Top Five.
Poison scored two albums on the new list with their 1986 debut set, Look What The Cat Dragged In, coming in at Number 10 and its 1988 followup, Open Up And Say… Ahh! sitting at Number 24.
Poison frontman Bret Michaels, who was born and raised in Pennsylvania, has often been looked upon as one of the true survivors from the infamous '80s hair metal scene of Hollywood's Sunset Strip. He explained that a huge part of his success was believing in himself and Poison's talent: "So I go to L.A. — we're starving — and the person I bet on, I bet on myself. We have no money, and we would get offered these publishing deals; they would hear songs like 'Every Rose (Has It's Thorns)' that have sold seven, eight, 10 million copies of these singles, and people were like, 'Hey, we'll give you. . . ' Now, 'member, this is a starving musician I'm 'starving' starving and they offer — they say, 'We're gonna give you 100 grand and we'll own your publishing' — and you're going, I didn't even know what 100 grand was then — I'm like, 'That's a lot of money.' But then I bet on myself, and I said no. I want to be in control of my career, I wanna be in control of my music, where it goes, what it sounds like — for better or for worse."
Loudwire's "Top 30 Hair Metal Band Albums":
1. Motley Crue, Shout At The Devil (1983)
2. Def Leppard, Hysteria (1987)
3. Ratt, Out Of The Cellar (1984)
4. Skid Row, Skid Row (1989)
5. Bon Jovi, Slippery When Wet (1986)
6. Twisted Sister, Stay Hungry (1984)
7. Cinderella, Night Songs (1986)
8. W.A.S.P., W.A.S.P. (1984)
9. Def Leppard, Pyromania (1983)
10. Poison, Look What The Cat Dragged In (1986)
11. Quiet Riot, Metal Health (1983)
12. Whitesnake, Whitesnake (1987)
13. Motley Crue, Dr. Feelgood (1989)
14. Dokken, Tooth And Nail (1984)
15. Winger, Winger (1988)
16. Tesla, Mechanical Resonance (1986)
17. Kix, Blow My Fuse (1988)
18. Warrant, Dirty Rotten Filthy Stinking Rich (1989)
19. Great White, …Twice Shy (1989)
20. David Lee Roth, Eat 'Em And Smile (1986)
21. Twisted Sister, Under The Blade (1982)
22. Steel Panther, Feel The Steel (2009)
23. Enuff Z'Nuff, Strength (1991)
24. Poison, Open Up And Say… Ahh! (1988)
25. Razormaid, First Cutt (1987)
26. Slaughter, Stick It To Ya (1990)
27. Badlands, Badlands (1989)
28. Y&T, Mean Streak (1983)
29. Faster Pussycat, Faster Pussycat (1987)