Unseen 1961 Beatles Cavern Club Photos Discovered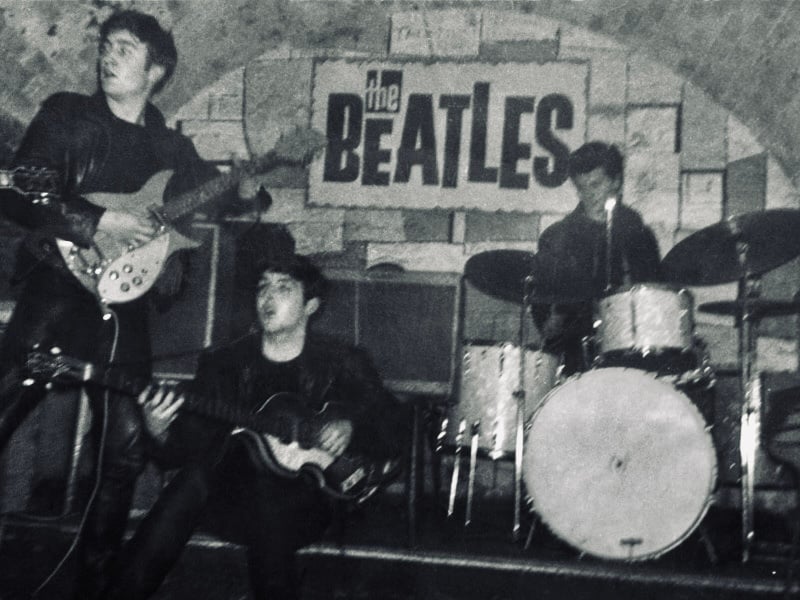 Two previously unseen photos of the pre-fame Beatles performing at Liverpool's Cavern Club have mysteriously popped up online. The two shots — one featuring John Lennon singing and the other Paul McCartney belting out a tune — were shot in July 1961, following the band's second trip to Hamburg, Germany. The photos, featuring drummer Pete Best, were taken at either one of the band's lunchtime or evening gigs at the subterranean venue.
The band is already decked out with their first professional guitars; George Harrison with his Futurama — a cheap knockoff of the Fender Stratocaster, Lennon with his Rickenbacker 325, and McCartney with his first signature Hofner "violin" bass.
A while back, Paul McCartney pointed out that with Liverpool being a seaport city, kids were fed a steady stream of popular music they never would've heard had they had been stuck out in the sticks: "Y'know, it's that thing where kids know about something and the grown-ups don't know about. And that gives it a totally magic air. And you were getting friends who had, like, blues records, and stuff, in Liverpool being a seaport, a lot. I think you'd get a lot of imports, and C&W, and blues — there was a lot of that knocking around. Chuck Berry and Ray Charles 'What I'd Say,' and stuff like that."
Hollies singer-guitarist, Liverpudlian Terry Sylvester, replaced Graham Nash in the band and made his bones in such Liverpool groups as the Escorts and the Swinging Blue Jeans. Having played the Cavern Club countless times, he told us that although an immensely historic and legendary venue — at the end of the day, the place was dump: "It was horrible. It was smelly. It smelled of disinfectant. There was only one way in; there was no back door, so everyone had to come in carrying the amps up and down the stairs all past the people comin' in. Very small place, very small. You'd be playing to 200 people. Maybe 300."
During John Lennon's 1970 Rolling Stone interview, he set the record straight once and for all about the Beatles' abilities as a live act: "We were four guys, that. . . I met Paul (McCartney) and said, 'Y'wanna join me band? And then George (Harrison) joined, and then Ringo (Starr) joined. We were just a band that made it very, very big — that's all. Our best work was never recorded, y'know? We were performers — in spite off what Mick (Jagger) says about us — in Liverpool, Hamburg, and around the dance halls, y'know? And what we generated was fantastic, when we played straight rock. And there was nobody to touch us in Britain, y'know? But as soon as we made it, we made it — the edges were knocked off. Y'know, Brian (Epstein) put us in suits and all that and we made it very, very big — but we sold out. The Beatles' music died then — as musicians. That's why we never improved (laughs), y'know? As musicians, we killed ourselves then, to make it. We always missed the club days, 'cause that's when we were playing music."