Van Halen's 1993 Live Album Set For Expanded 'Record Store Day' Release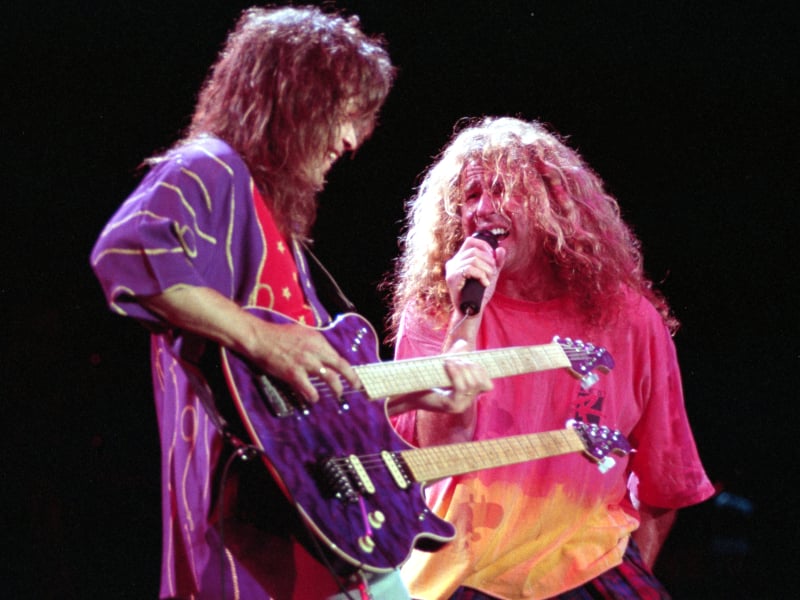 Van Halen's first live album — 1993's Live: Right Here, Right Now — will make its vinyl debut on Record Store Day (April 22nd) as a limited edition four-LP set. The double-platinum collection will be limited to 7,500 copies on 180-gram translucent red vinyl and available exclusively at select independent music retailers for $99.98.
Live: Right Here, Right Now kicks off a series of upcoming vinyl releases spotlighting Van Halen's time with Sammy Hagar, which will be overseen by the band's long-time engineer Donn Landee. Additional information about those releases will be announced in the near future.
According to the announcement, "The vinyl collection has all 24 songs from the original CD release, plus three additional live recordings. This marks the first time that audio for two of the tracks — 'The Dream Is Over' and 'Eagles Fly' — will be released, as they were previously available only on the DVD version of Live Right Here, Right Now. The third track, 'Mine All Mine,' was recorded in the summer of 1993 during the second leg of the tour and was previously released as part of a European CD maxi-single for a live version of 'Jump.' All tracks from the original live album were newly remastered from the 5150 studio master tapes by Bernie Grundman, who also cut the lacquers."
The late-Eddie Van Halen admitted that Van Halen-type music was all he and his brother Alex knew how to play: "We have never conformed to any trend, and I think that most bands that last are bands that are true to themselves. Y'know, look at the (Rolling) Stones — they don't all of a sudden start doing rap. The great bands, they stick to what they like, and what moves them. And Van Halen is the type of band — I'm not putting ourselves in any category, saying we're great — but we are true to ourselves. We don't change, just because that's the flavor of the month."