James and Kim's Bright Spots " St. Patrick's Day Edition"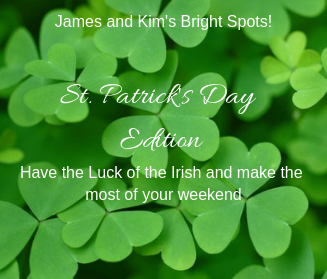 6th Annual St. Chatty's Day Parade
March 16, 1-2pm, The parade will step off at 1:00pm onto Main Street, take a right on Market, take a slight right onto Georgia Ave ending at Miller Park on MLK.
The 6th Annual St. Chatty's Day parade is a free community event to celebrate St. Patrick's Day In Chattanooga. Over 50 floats will stroll the streets of downtown Chattanooga!
6th Annual St. Paddy's on the Parkway
March 16, 2pm-12am, The Honest Pint
Chattanooga's official St Patrick's Day block party returns. The 6th annual Party on the Parkway festival uses Patten Parkway to celebrate with an outdoor stage, food and beer vendors, and a kid zone with interactive games and crafts. The event has partnered with Chattanooga's Kids on the Block, and the outdoor event will immediately follow their St Chatty's Day parade!
2019 Lineup includes:
Nick Lutsko | The Molly Maguires | Psychic Dungeon | Summer Dregs | I Can Japan | Kerchief | Dirty Blonde | Ayla Sylver | Monday Night Social | The Scarlet Love Conspiracy | Better Thieves | Stringers Ridge
Shamrock City
March 16 & 17, 8:30am-5pm, Rock City Gardens
Get your green on for Rock City's 12th Irish celebration and festival featuring music, food and other fun entertainment! See the waterfall turned green! Enjoy listening to several bands scheduled to perform in the Pot of Gold Pavilion. Taste some Irish food, specialty beer and Rock City's famous fudge with a "green" twist. And bring your friends and family for many more fun activities.
West Village Saint Patrick's Day
March 16, 4-11pm, Chestnut St. 
Chattanooga's West Village district is the perfect place to spend St. Patrick's Day. This special St. Patty's Day event has something for both children and adults. Entertainment will include live music, green beer gardens, food trucks, and a laser light show that is sure to impress.
Lucky Leprechauns, we'll be pouring some stout ones this Sunday to celebrate the Irish. Crafts for the kiddos too! Wear your green and enjoy St. Patrick's Day at Collegedale Market.