James and Kim's Bright Spots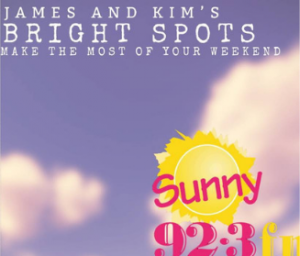 James and Kim's Bright Spots
Masquerade Ball Father Daughter Dance
A Masquerade Ball is the theme of the 12th annual dance for fathers and daughters that benefits Four Points Inc. This nonprofit assists families involved in domestic violence as well as working to prevent domestic violence. 6:30-9:30 p.m. Friday, Feb. 15 at The Colonnade, 264 Catoosa Circle, Ringgold, Georgia $10 adults, $5 child
Crabtree Farms
Tie The Knot: A Ropes Class | 6-8 p.m. 2/15 | Crabtree Farms of Chattanooga | 1000 E. 30th St. | $25-$55 | Participants of this knot-tying class will also be able to enjoy local artisan cheese, chocolates from The Hot Chocolatier, and can bring wine or beer.
Big Band Fever with the CSO
The Big Band is back for their annual tribute to the best of the swing era. On-stage dancing is just a part of the party atmosphere at this audience favorite. February 16th 7:30pm, Tivoli Theater
Fences
The Chattanooga Theater will produce August Wilson's Fences. This winner of the Pulitzer Prize and Tony Award for best play is set in 1957 and explores what holds families together (and drives them apart) in a powerful story filled with humor, love, hope, failure and triumph. The play follows Troy, a former Negro League baseball star whose prime came before Jackie Robinson broke the color barrier in Major League Baseball. After Troy's rapid rise ends, he is forced to let go of his dreams and deal with his headstrong athletic son who has a chance to go so much further than he did. RATED PG-13.

February 15-March 3
Chinese New Year Celebration at CDM
Celebrate the Year of the Pig when the Creative Discovery Museum hosts its Chinese New Year celebration, a colorful party with authentic food and dance, from noon to 4 p.m. on Saturday, Feb. 16.
"Creative Discovery Museum's Chinese New Year event is a special time for families to celebrate a cultural tradition while engaging in a rich and colorful arts experience," says Liza Blair, CDM arts manager.