James and Kim's Memorial Weekend Bright Spots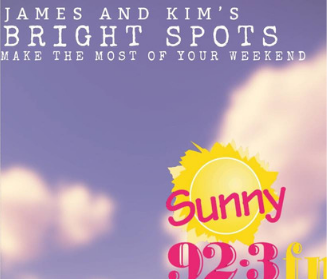 James and Kim's Memorial Weekend Bright Spots
AirPower History Tour of the Commemorative Air Force
A B-29 Superfortress FIFI and B-24 Liberator Diamond Lil, will be heard over the skies of Chattanooga this week when they visit Lovell Field Airport as part of the AirPower History Tour of the Commemorative Air Force.The two bombers are to be accompanied by the P-51 Mustang "Gunfighter", the C-45 Expeditor "Bucket of Bolts", T-6 Texan and T-34 Mentor trainers and a PT-13 Stearman. Open 9:00 a.m. until 5:00 p.m. today through Sunday, May 26. Access to the ramp where the warbirds are parked is $15 for adults, $8 for children ages 10-17 and free for children nine and under. www.airpowertour.org.
1890's Days
Memorial Day weekend for over 40 years, Ringgold puts on a street festival that brings over 20,000 people to a town of about 3,500. This two-day event takes place Friday evening 6PM to 10PM and all day Saturday 9AM to 10PM in historic downtown Ringgold, GA. There are more than 100 food, arts, and crafts vendors, live music on multiple stages, music and dance contests, a parade, classic car show, a fireworks display Saturday night and much more. Admission is FREE and all events are family friendly.
The Chattanooga Market and Street Food Festival
The Chattanooga Street Food Festival boasts a weekend-long gathering of the best food trucks from all over Tennessee! These food-passionate individuals/teams/food-truckers come together in Chattanooga to celebrate a diversity of food that is uniquely theirs by bringing it right to you! The cultural diversity of foods available will please everyone in your group. The Chattanooga Street Food Festival is a FREE event offering the chance to indulge in a mixture of cultural foods sure to please any taste palette. If you're a foodie at heart you don't want to miss out on this weekend! And, Sunday coincides with Chattanooga Market.
Finster Fest 2019
The annual festival honoring the life and legacy of Summerville's famous folk artist, the Rev. Howard Finster, will be in Paradise Garden on Saturday and Sunday of Memorial Day weekend, May 25- 26, 11 a.m. – 5 p.m. Over 65+ folk and fine artists will show their art. Three areas of music will showcase blues, folk, bluegrass, roots, country, and gospel from the southern region to Los Angeles. General Festival Admission: $5, children 12 and under are free
Memorial Day Ceremony at Chattanooga National Cemetery
Saturday, more than 2,000 Scouts, Scout families and Scout leaders will come together on Saturday, May 25, to continue the tradition this year.The morning will begin with a ceremony at 8 a.m. at the Armed Forces Pavilion. The Choo Choo Chorus will sing the national anthem with guest speaker Bud Alley. On Monday, everyone is invited to attend this year's annual Memorial Day ceremony at Chattanooga National Cemetery beginning at 11 a.m.