James and Kim's Weekend Bright Spots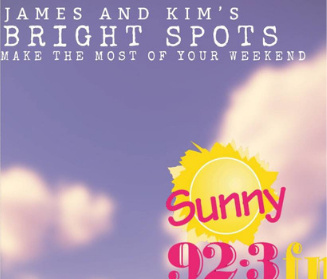 Saturday
Get out and walk! With the first day of sunshine in a very long time, we recommend just getting outside! Walk the Walnut Street Bridge, check out the southern part of the TN Riverwalk, visit Reflection Riding or take a leisurely stroll through downtown. Enjoy a beautiful and mild Saturday in January!
Check out the Chattanooga Library this weekend for fun events. There are kid clubs and baby bounces all weekend. Here is the full slate of events for this weekend, click here

See a free screening of Frozen in the West Village on 8th Street
Fun and games begin at 4:00 and a screening of Disney's 'Frozen' at 6:00.
Grab your blankets, camping chairs, and a cup of hot cocoa, and meet us in the heart of downtown Chattanooga. Admission is FREE
Join Anime Blast Chattanooga and MomoCon for a Chattanooga cosplay spectacular at Ice on the Landing! Open to all for Ice Skating & Photoshoot, Saturday Jan 5th, 3pm-6pm at Ice on the Landing at the Choo Choo
Costs: Photoshoot, free. The park charges a rink fee and a small skate rental fee, if you wish to skate.
Sunday
Are you ready to celebrate the new year

in a new

way?
Celebrate the new year with us and brave the freezing waters of Lula Lake! This is the ONE day out of the entire year we allow the public to swim in Lula Lake.
Ticket prices: $50 – Jumper $10 Spectator 1pm-4pm
Proceeds benefit the Lula Lake Land Trust