James and Kim's Weekend Bright Spots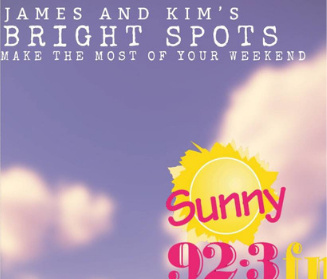 Make the Most of your Weekend!
Navy Band
America's Navy is coming to Soddy-Daisy, one of 25 cities in 10 states to host a performance by the United States Navy Band during its 2019 tour — one of the signature outreach programs of the U.S. Navy.  The U.S. Navy Concert Band performance is scheduled for Feb. 22, at 7 p.m. at the Soddy-Daisy High School Gymnasium. FREE
Con Nooga
Chattanooga's largest multifandom convention, opens Friday, Feb. 22, for its 12th year with more than 160,000 square feet of fan fun offered at the Chattanooga Convention Center and The Chattanoogan hotel. Fans of anime, comics, artists, science fiction, horror, cosplay, fantasy, films, gaming, the paranormal and more genres will find something to interest them at Con Nooga.
$60 for a three day pass for adults/ $25 for a 3 day pass for kids
A Roaring Success
Family Promise of Greater Chattanooga (Family Promise) will be celebrating 20 years of service to the Chattanooga area on February 22, 2019 with a "Roaring 20th Anniversary Celebration" at The Read House. This event is expected to be one of the most memorable evenings of 2019 and will feature live jazz music, casino tables, heavy hor dourves, cocktails.
Houston Museum's Antiques Show & Sale
Art glass lovers and antique collectors from all over the region flock to Chattanooga every year for the Houston Museum's annual three-day Antiques Show & Sale. Held at Stratton Hall, the show features dozens of booths from some of the country's top antiques dealers and specialists. Glass expert Dean Six, with Blenko Glass, will give a talk and offer appraisals. Show tickets, good for all three days, are available online or at the door for $10 per person.February 22 & 23: 10 a.m. – 6 p.m.
February 24 : Noon – 4 p.m.
Collegedale Market
The Collegedale Market is open on Sundays from 11a-4pm. Come enjoy crafts, food vendors and more! Fresh produce,local art and live music!