James and Kim's Weekend Bright Spots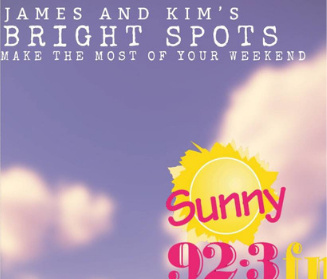 James and Kim's Weekend Bright Spots
Thursday February 28, 2019
Stand Up For Conservation
Benefit for Reflection Riding Arboretum & Nature Center at The Comedy Catch. $20. A silent auction and comedy show. 5:30-9:30 p.m.
* All proceeds go to toward the arboretum's teaching, the endangered red wolf species survival plan, and educational programming for over 16,000 school children annually.
Friday March 1st-3rd
Tri State Home Show
You will find hundreds of vendors with doors, pools, spas, electronics, green energy tips and more. It is all brought to you by the Home Builders Association of Greater Chattanooga. Also, don't miss the Hullco booth where you will find Luther's Model T car that is being raffled off for the Medal of Honor Museum. March 1st,2nd,3rd. Tickets $10 10-8p , 10-8 and 11am-5pm
Chattanooga Marathon
The Erlanger Chattanooga Marathon is a not-for-profit locally owned and operated race weekend that consists of a marathon, half marathon, team relay, 5k and kid's fun run. The race was established in 2016 when our founding partners came together with the mindset of creating a professional event that would have a positive impact and benefit the local community. March 1st-3rd at Finley Stadium
Saturday March 2, 2019
Amuseum for the Creative Discovery Museum
Relive your college days with this fun party happening Saturday night!
6:00 p.m. Tailgate (VIP Tickets Required)
7:00 p.m. Let the Party Begin (General Admission Registration Opens)
11:00 p.m. Lights Out
The party includes a special performance by The Velcro Pygmies, starting at 9 and lasting until 11.
Saints and Sinners Mardi Gras Ball
The Mystikal Krewe of Indulgences is hosting its 24th annual Mardi Gras celebration. Enjoy Cajun food, hors d'oeuvres, open beer & wine, liquor cash bar, party favors, dancing, live Dixie Land Band, & help us crown our king and queen of Chattanooga Mardi Gras. Our celebration goes to raise awareness for Charles H. Coolidge Medal of Honor Heritage Center. Join us to Laissez and le Bon Temps Rouler…Let the Good Times Roll! The Westin Chattanooga
Sunday March 3rd, 2019
Collegedale Market
The Collegedale Market is open on Sundays from 11a-4pm. Come enjoy crafts, food vendors and more! Fresh produce,local art and live music!