James and Kim's Weekend Bright Spots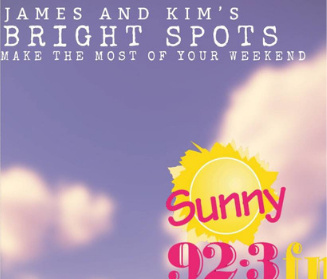 James and Kim's Weekend Bright Spots
Chattanooga Theatre Centre
THE LION KING, JR. is a rich and beautiful production using music, movement, fabric, and puppets that reflect the classic story of this inspiring coming-of-age tale. Fridays at 7 p.m., Saturdays and Sundays at 2:30 p.m. (Appropriate for 1st grade and up)
PRICE:$12.50 adullts, $10 kids and students
Christian Family Theater: Aladdin Jr
Aladdin Jr. October 25-2627 at Brainerd United Methodist Church. Disney's Aladdin JR. is based on the 1992 Academy Award®-winning film and the 2014 hit Broadway show about the "diamond in the rough" street rat who learns that his true worth lies deep within. Cftchattanooga.com
Remembering Our Heros Living History Day
Immerse yourself in the past at the 6th Cavalry Museum's Living History Day on Saturday, October 26, from 10:00 a.m. – 4:00 p.m. In addition to touring the museum, visitors can see a number of World War II living history displays and talk with dressed re-enactors on the polo field outside the museum. Admission is free.
Spooktacular Sculptures in the Sky
Don your Halloween duds and get ready for some high-flying family fun Oct. 26 (rain date Oct. 27) from noon-6 p.m., when the skies at the 33-acre Sculpture Fields will be filled with colossal and colorful kites, stunt kites and Rokkaku battle kites Sculpture Fields is partnering with River City Kites for this free event, In addition to kites, visitors will enjoy music, activities, a costume parade, local food trucks and a beer tent. And it'll be volunteers from the public battling it out and above with Rokkaku fighting kites.
ChattaJack
The ChattaJack 31 is a paddle sport event that travels through the Tennessee River Gorge for over 31 miles. It starts at Ross's Landing and ends at Nickajack Lake. The paddle sports participating are…stand- up paddle board, kayak, out-rigger canoe, canoe and prone paddle boarding. This event is considered one of the best paddle board races in the country on pace to become one of the largest within the industry.
2019 Red Clay Pow Wow
The Annual Red Clay Pow Wow is happening October 26-27, 2019 at the Red Clay State Historic Park in Cleveland, Tennessee. See Native American Dancers, visit craft booths and demonstrations enjoy the primitive encampments and living history sites and listen to wonderful entertainers. $10 admission per car.