Local Looks This Week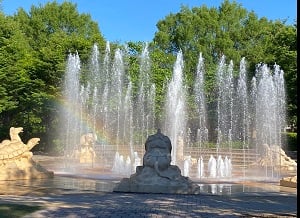 Nightfall continues this FridayJune 17th, downtown in Miller Plaza. The free shows begin at 7 with "The Original F.B.I.", and at 8:00 it's local band "Opposite Box". Meet your friends, or make new ones, Friday night in downtown Chattanooga. At Nightfall.
Your Chattanooga Lookouts are home through this Sunday June 19th, hosting the Biloxi Shuckers; most are night games but there is a Business Person's Special game this Wednesday the 15th, which begins at 12:15, during lunch. Tickets are at Lookouts.com
Bonnaroo starts this Thursday June 16th in Manchester, Tennessee, but gates are already open. Up to 70,000 music lovers are expected to attend; TDOT is working very hard to keep traffic flowing smoothly on I-24 at the Manchester Exits, exits 111 through 114.
Middle Cross Baptist Church at 4009 Norcross Road meets this Thursday June 16th from 10am until noon, to sew gifts for residents of nursing homes. Volunteers are welcome, and you do NOT need to be a good seamstress. Donations of materials are needed as well. Call for details (423) 877-5742
Don't miss the Ice Cream Safari, at the Chattanooga Zoo, this Saturday night June 18th from 4 til 7pm. Enjoy all-you-can-eat ice cream and other sweet treats, while seeing the animals get their cold treats as well. Tickets are at ChattZoo.org. It's this Saturday night.