Make the Most of Your Weekend!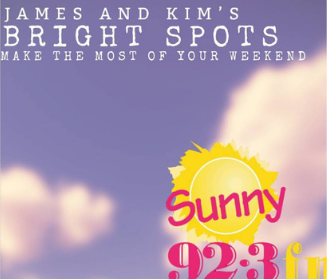 James and Kim's Weekend Bright Spots
23rd Annual National Cornbread Festival
On Saturday and Sunday over 27,000 festival-goers from throughout the southeast gather in South Pittsburg to enjoy the sights, sounds and tastes of the 23rd Annual National Cornbread Festival.  Located 30 miles west of Chattanooga, TN, this quaint southern town hosts a celebration of cornbread, often considered the cornerstone of southern cuisine. Be sure to check out this year's schedule of events, line up of musical artist, and craft and food vendors. Admission $7
The Chattanooga Market
The Chattanooga Market will open this spring on Saturday, April 27th AND Sunday, April 28th for a ceremonious full weekend start to kick off the season. A local staple, the Market blends a farmers and artists market with community ties. Every Sunday, the Chattanooga Market features farms and food artisans selling produce, meats, cheeses, breads and specialty prepared foods, keeping the selection varied and fresh. Additionally, we host local and regional artists and crafters offering unique finds such as pottery, jewelry, photography, apparel, home and beauty products…. fresh cut flowers are a big draw too.
BBQ Boogie and Blues
Join Downtown Calhoun and the Gordon County Chamber of Commerce/Convention & Visitors Bureau for the 7th Annual BBQ Boogie & Blues on April 26 & 27, 2019 – an event the Kansas City BBQ Society has declared a nationally sanctioned BBQ competition! In addition to BBQ, festivities include live entertainment, food and arts & crafts vendors, kids zone, Amazing Race, and much more – come join the fun!
Bug-a-Palüza is returning to Camp Jordan on April 27-28, 2019!
This two day festival features a VW car show with classes for air-cooled and water-cooled, a huge swap meet with vendors selling new and used parts, and a campout Friday and Saturday nights. Plus plenty of food, contests, prizes, and more. Custom hand-crafted trophies will be awarded at 3PM on Sunday.All proceeds benefit the Ronald McDonald House Charities of Greater Chattanooga.
Spectator entrance is just $5 per person for the entire weekend. Children 12 and under admitted free.
Sweet Tea and Sunshine Festival
The 2nd annual Sweet Tea & Sunshine family festival and craft fair is a family-friendly festival for all ages to enjoy! A NEW event we have added this year is a Sweet Tea Competition!! Customers will pay a tasting-fee and enjoy samples of various Sweet Teas and vote for their favorite Sweet Tea! We will have food trucks, live entertainment on stage, petting zoo, beauty pageant for kids ages newborn – high school, FREE inflatables, games, craft vendors, and much more!
Saturday 10:00 am – 6:00 pm & Sunday 12 noon – 5:00 pm.
FREE ADMISSION! FREE PARKING! Located at the Greenway Park & Pavilion in Cleveland, TN!