Make the MOST of your weekend!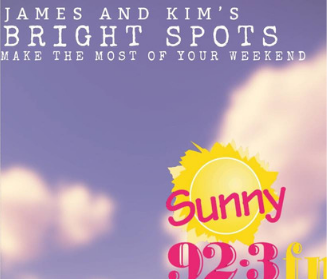 James and Kim's Weekend Bright Spots
Riverbend 2019
Riverbend Festival has been one of Chattanooga's signature events for 37 years, drawing an annual crowd of nearly 650,000. The festival is held at Ross's Landing on the beautiful downtown riverfront. Headline performers are featured on the Coca-Cola Stage, a barge that's been converted into a full concert stage. The barge floats just off shore against a large collection of amphitheater seats built into a hillside at the water's edge.
Friday, May 31: Keith Urban
Saturday, June 1: Macklemore
National Trails Hike Day at TN State Parks
Enjoy free ranger-led day hikes, night hikes, history hikes, nature hikes or trail clean-up hikes. With more than 1,000 miles of trails ranging from easy, paved trails to rugged backcountry trails to scenic waterways. TN State Parks have something for everyone.
Summertime on the Square
Enjoy a Free family festival at Cambridge Square in Ooltewah Over 100 Craft and commercial vendors, food vendors, inflatables, petting zoo and live entertainment! Sat, June 1st from 11:00 AM – 5:00 PM EDT
Choo Choo Chorus
The Choo Choo chorus is proud to present "A Salute to Disney" on June 1 at 3pm at GPS. Tickets $18 in advance and $20 at the door
Sports
Chattanooga FC June 1st- game time is 7:30pm at Finley Stadium
Chattanooga Red Wolves June 1st-game time is 7pm at David Stanton Field
Chattanooga Lookouts home games on Sunday June 2-6th
The Little Owl Wildlife Festival at Audubon Acres
The Little Owl Wildlife Festival & 5K is fun for all at Chattanooga's oldest wildlife sanctuary!The event begins with a 5K race on Audubon Acres' trails, followed by live music, vendors, guided nature hikes, art activities for kids, wildlife and historical demonstrations and much more. $6 adults, $5 Seniors $3 kids/ 5 and under free 9am-12pm