Make the Most of your Weekend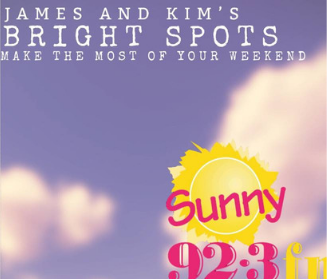 James and Kim's Weekend Bright Spots
Live music Fridays!
Nightfall in Chattanooga-Free
Off the Rails Dalton Music Festival-Free
Apollo 11: First Steps Edition Launch party at the Imax
Audiences will once again experience the thrill of one of humanity's greatest achievements when Apollo 11: First Steps Edition launches at the Tennessee Aquarium IMAX Theater on Friday, June 14. . Dr. June Scobee Rodgers, the Founding Chairman of the Challenger Center for Space Science Education will be the featured speaker for the launch of Apollo 11: First Steps Edition at the Tennessee Aquarium IMAX Theater Friday, June 14 at 7 p.m. A portion of the proceeds from opening day screenings will support the Challenger STEM Learning Center at The University of Tennessee Chattanooga.Tickets: $11.95 adults; Children (3-12) $9.95
VALLEY VIBES MUSIC & ARTS FESTIVAL
VALLEY VIBES MUSIC & ARTS FESTIVAL is the first of its kind in Trenton town nestled between two mountains. Bring some chairs or a blanket and enjoy a full day of FREE MUSIC, work from local artists, food trucks, stand-up comedy, and prizes — all beside a calm creek in Trenton, Georgia.
We're taking donations all day to benefit the Tri-State Area Food Bank. June 15 11am-9pm Free
The 32nd Annual Spring Garden Tour
Sponsored by the Master Gardeners of Hamilton County takes place on Saturday, June 15 from 10 a.m.-6 p.m. and Sunday, June 16 from 1-6 p.m.This year's tour features two public educational gardens and four private gardens located from the North Shore to Hixson and Red Bank.Tickets for the entire tour are $20, good for both days, and can be purchased on the day of the event at any of the gardens on the tour.
Chattanooga's Colors of Cancer Festival and 10K Run / 1 Mile Walk
Join us for a festival with a 10k run & 1 mile fun-run benefiting the American Cancer Society – come out decked in whatever color you're honoring, whether it's lung, breast, childhood, skin – the list goes on – we want YOU to show your colors while we save lives and celebrate.201 Riverfront Pkwy Chattanooga, TN 37402 : June 15, 2019 Time: 8:00 AM to 1:00 PM Phone: (423) 499-2606
Chattanooga Market Brews and Blues
They have you covered for Father's Day at the Chattanooga Market. Let Dad relax and enjoy some local blues music on the EPB stage and even sample some local craft brews to boot. The whole family will enjoy lunch from one of our eateries or food trucks (did someone say bacon cheeseburger?!?) We'll have fresh cuts of meat, farm cheeses, produce…all the makings for a home cooked dinner. Don't forget a unique gift for dad too from one of our local artists!