Wet Nose Wednesday!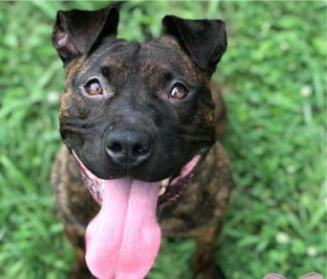 Meet Layla and Watermelon!
Layla 37610536
Layla is a fun, spunky, active 5-year-old Pit mix. She loves butt scratches and enjoys a nice bouncy romp around the yard. Layla makes cute little snorting noises when she eats and when she plays with toys. You can't help but laugh when this pig impersonator is prancing around with a toy in her mouth. Layla is still working on her leash manners. At the shelter, we have found her to ignore other dogs – when they approach her, she simply turns away. Layla enjoys hiking and water and she really enjoys hanging in your lap. Give this gal a week to decompress form her long stay here and Layla will be a wonderful, smart, funny and well behaved pet. If you are interested in Layla, please bring all family members, both human and canine, to meet her!
Watermelon 40171545
Our Wet Nose Wednesday cat is Watermelon. We don't know why she's named Watermelon, but we'll just have to go with it! Watermelon is a 5-year-old kitty who is looking for a loving home. She is a polite, mild-mannered girl, just right for some snuggling. She doesn't mind being held and petted. She doesn't want to be held all the time – she has her cat reputation to uphold, after all – but she won't put up a fight if you want to love on her. She's the kind of kitty who will bask in your affection then wander off to lie in the sunshine and watch the world around her. Come meet this sweet girl today at the Humane Educational Society.